Immunotherapy eradicates cop's cancer
Despite years of treatment to prevent recurrence of skin cancer, Ian McDonell's melanoma–a disease that killed his brother–spread to his brain and body. In 2017, he started an innovative immunotherapy treatment. A year after finishing immunotherapy, all scans show his cancer is gone.
Ian McDonell was off-duty, walking along a bike path in August, when he saw men fighting. He called the police and tackled one of the men who tried to run away. But Ian's courageous action is all the more remarkable because the summer before he was bedridden from cancer.
"I thought back to a year ago," said Ian, "and there's no way I would've even been out walking."
Back up five years, Ian's brother was dying of melanoma, and his father had just died of cancer. Ian's wife insisted he see his physician to check out a mole on his back. It turned out to be an ulcerated nodular malignant melanoma–an aggressive form of skin cancer.
Ian had surgery to remove it and a lymph node from his left groin. Several weeks later, he had a lymph node removed from his armpit. Although he had no signs of cancer, considering his family's history, Ian was high risk for relapse.
The 47-year-old Staff Sergeant with the Ottawa Police was referred to oncologist Dr. Michael Ong, a specialist in skin and urological cancers at The Ottawa Hospital. After discussing all options, Dr. Ong recommended Ian participate in a clinical trial using a targeted chemotherapy known to dramatically shrink melanoma, and being tested to improve cure rates.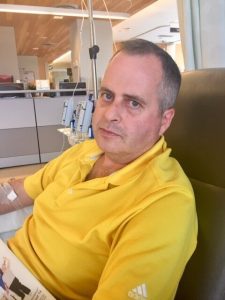 "Immunotherapy does not directly affect the cancer itself. Instead, immunotherapy unmasks the cancer to your immune system."
Ian took the treatment between November 2013 and August 2014 while still working full time, and continued intensive regular imaging scans after treatment to monitor for relapse. Ian was feeling very well at a standard monitoring visit in June 2017, but shockingly his CT and MRI scans showed sobering news. He had half a dozen tumours in his groin and abdomen, and three more tumours metastasized to his brain. Ian's cancer was stage 4. Historically, patients with brain metastases live about four months.
Given the severity of the findings, Dr. Ong suggested an aggressive approach–a recently approved immunotherapy treatment.
"The idea of immunotherapy is not new. There have been clinical trials for decades. But only recently have we been extremely successful," said Dr. Ong, who is also an assistant professor at the University of Ottawa.
Although, the connection between the immune system and cancer has been recognized for over a century, understanding how the immune system works against cancer has been the biggest challenge for scientists.
Initially, efforts were made to stimulate the immune system to make it attack the cancer. But the game-changer was the discovery that there are key molecules, called immune checkpoints, on cancer cells that suppress the immune T-cells, and prevent them from attacking the cancer. These immune checkpoints cloak the cancer from the immune system. New drugs called immune checkpoint inhibitors remove this cloak, and allow the immune system to naturally attack and destroy the cancer.
"The idea of chemotherapy is to kill off cancer directly," said Dr. Ong. "There are potential side effects, because chemotherapy tries to poison the cancer. In contrast, immunotherapy does not directly affect the cancer itself. Instead, immunotherapy unmasks the cancer to your immune system by flipping some switches on T-cells, and the body's own immune system does the rest."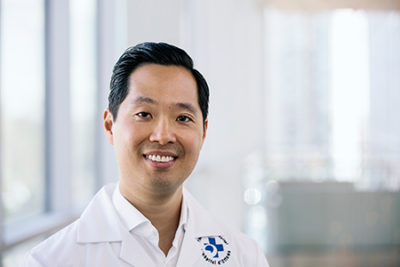 Immunotherapy is having the most success in patients with melanoma, like Ian. The first trial that demonstrated its effectiveness with this form of skin cancer was presented at an oncology conference in Chicago in 2010. The study results showed the median improvement in survival time was four months. Dr. Ong said, initially, the findings didn't seem very impressive.
"It was just another clinical trial report, and four months didn't sound like a long time," said Dr. Ong. "But the reported improvement was the median change. What we didn't realize until later was that while the immunotherapy didn't work for 80 percent of patients, 20 percent of patients were actually cured of their metastatic melanoma. When data was looked at in 10 years, all of the responding patients were still alive."
Since then, immunotherapies have been developed and tested in clinical trials that have increased the one-year survival rate for advanced melanoma from 25 to 80 percent.
Ian started on a combination of two immunotherapies, a big advance since 2010 and recently approved for use by Health Canada. He said the immunotherapy treatment is given intravenously in the chemotherapy unit at the hospital's cancer centre. The whole process took two hours for each treatment, and Ian was scheduled for one dose, every three weeks for four treatments.
Ian did one round, then had CyberKnife radiotherapy treatment. High doses of radiation were directed at his brain tumours. He bravely continued with the second round of immunotherapy, but was so sick, he had to be taken off the treatment and started on steroid medications to slow down the immune system. Ian felt better, but his immunotherapy was on hold.
At the end of September, Ian had some new weakness in his face and there was worry about his cancer getting worse. It wasn't. His scans showed one tumour had shrunk from 25 to 10 mm, and another tumour had shrunk from eight to four mm.
Dr. Ong said, "Looks like something good is happening here," and recommended trying a single immunotherapy rather than two. Ian received the treatment in mid-November 2017. He found it extremely challenging again and was very sick.  All his treatments were stopped.
"But it did the trick," said Ian.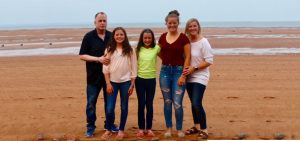 Two months later in January 2018, Ian had a PET scan to assess the status of his cancer. A PET scan uses a radioactive sugar that highlights colour images where the cancer cells are. No colours lit up when Ian had the scan. Then he had an MRI, and there were no signs of any tumours in his brain. All three were gone. In April, he had a CT scan, and another again in July. Nothing showed up on the scans. He was tumour free. All trace of his cancer was gone.
At an appointment after the last scans, Dr. Ong told Ian that when he had first seen him in 2013, options for immunotherapy or targeted chemotherapy weren't available. Four years later, thanks to incredible advances in immunotherapy, there was hope.
"In the last five years, we've gone from having very poor options to having many effective options for melanoma. That's because cancer therapy continues to develop at a very rapid pace," said Dr. Ong. "We, at The Ottawa Hospital, are constantly participating in practice-changing clinical trials. The standard of care is constantly changing, as it should. We are constantly trying to push the limits of cancer treatment."
The Ottawa Hospital is a leader in cancer immunotherapy research, both in terms of developing new therapies and in offering experimental treatments to patients. Currently, there are 69 active cancer immunotherapy clinical trials being conducted at the hospital. Dr. Ong currently has 50 patients on immunotherapy clinical trials, but there are hundreds of patients on similar active clinical trials at The Ottawa Hospital.
People with melanoma skin cancer are young: 30 to 50. Melanoma that involves lymph nodes is very aggressive, and historically 50 percent of patients will have a relapse and spread of melanoma. However, new treatments, including immunotherapy, have between a 43 and 53 percent reduction in the risk of recurrence.  At The Ottawa Hospital, many patients are participating in a study to see if two immunotherapy drugs are better than one to reduce the chance of relapse even more.
As a result of successful immunotherapy treatments, patients like Ian are now faced with survivorship issues. Living without cancer.
Ian found he had to rethink what he wanted to do. He has been on sick leave from the Ottawa Police Services since August 2017 when the cancer returned.
"When the provincial exams for police services came up, I said, 'I'm gonna write it, because I've got a bit of hope now.' I wrote the inspector's exam and I passed," said Ian.
Immunotherapy has given the father of three his life back and a future to see his family grow up. He'll also continue to tackle more crime.
The Ottawa Hospital is also conducting basic and translational research in immunotherapy. For example, Dr. Michele Ardolino recently made a breakthrough in understanding immunotherapy, which could allow this approach to work for many more people with cancer.
Read more about immunotherapy research.
---
As research has proven to be the best way to improve treatments and even find cures for cancer and other devastating diseases, The Ottawa Hospital is raising funds for clinical trials.
More Great Stories
My why is you
Robert Noseworthy was diagnosed with a childhood leukemia at the age of 30. This was rare for someone his age and his prognosis was grim. 30 years later, he gives back to cancer research through THE RIDE with his grown children by his side.
Buying time: 7hrs, 52 stitches
Leata Qaunaq knew something was wrong when her husband Joellie arrived to meet her and their daughter at the airport near Arctic Bay, Nunavut. He was talking, but not making sense.
The gift of time with family
Mom of three, Vesna, is living with terminal metastatic breast cancer. She is hoping clinical trials will continue to extend her life so she has more time with those she loves.