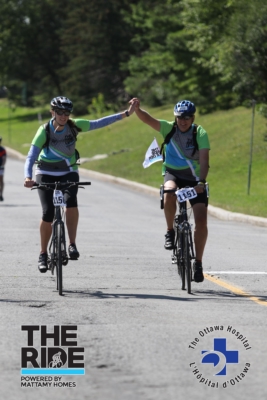 On October 21, 1988, Robert was diagnosed with acute lymphoblastic leukemia — a childhood leukemia. He was living in Montreal at the time with his young family, including Julianne who was 18 months and his infant son, David.
His prognosis was grim. "I was given a 13% chance of survival with 6 months to live. My doctor in Montreal said it was very unusual for a 30-year-old to have a childhood leukemia."
And so, the cancer journey began for this father of two. It would include numerous rounds of chemotherapy and radiation treatments and then he was in remission but the journey didn't end there. "In March 1989, I received a bone marrow transplant from my sister, who was a six-on-six match."
Thanks to that match, Robert beat the odds. He gives full credit to cancer research as the reason for being here today and he never forgets that. In fact, that's what attracted him to THE RIDE. "That is my why. I do my small part and ride to raise funds for cancer research."
Giving back has been important to Robert. It's also been important to him to instill that in his children as they grew up. "I received all this help but now it's time to give back."
Indeed, you can see Julianne takes great pride in that lesson from her father and she marvels at his strength. "He's been an inspiration. Not just from a medical standpoint or as a role model but being able to complete 120 km at 60 years old. And, to be physically fit enough to do that, especially after everything he has gone through. I hope that I can do that at 60."
THE RIDE-Noseworthy tradition continues. The first two participants to register for the 2019 edition of THE RIDE, were this father-daughter duo. They make it a full family weekend. They drop off their bikes on Saturday and then head to a restaurant for a pasta dinner and gear up for the early morning start on Sunday.
Sitting side by side, it's not hard to realize the tight bond between Robert Noseworthy and his daughter, Julianne. They laugh, finish each other's sentences, and joke with one another.
It's a family bond, which runs deep.
Robert is a cancer survivor and not a day goes by that he doesn't appreciate each moment he's had to share with his two children, who are now adults.
Julianne says they love the experience and year five will be no different. "The encouragement you get from everyone around and the volunteers is just phenomenal. I always get teary when we start and teary when we end, as they announce him as a cancer survivor. We wouldn't be able to do that or accomplish that without research."
As a cancer survivor, Robert says THE RIDE is very meaningful to him, especially when he meets other cyclists who are flying the survivor flag on their bikes, like him. "Only a cancer survivor knows what a cancer survivor has gone through. If you haven't been through it, to be told you have the big "c" is…it's unique."
He adds that the survivor flag is a bond which brings this special group together. "When I'm on THE RIDE and I see other survivors, I'm patting them on the back and saying good job, I'm glad you're here. Congratulations. This survivor flag means a lot to me."
For Julianne, THE RIDE is about family. It's about giving back as a family to The Ottawa Hospital and advancing research.
"Family is the word that sums it up quite nicely for us. We are close and we like to do these kinds of things together and support each other. If it wasn't for cancer research and everything my dad had been through, we wouldn't be the family that we are today."
Glancing over at her father, with a smile, Julianne says, "My why is you."
---
More Great Stories
'I walked through my darkest fears and came out the other side.'
It would be a routine mammogram, which would turn Annette Gibbons' world upside down. The Associate Deputy Minister in Agriculture and Agrifood Canada would soon begin her breast cancer journey but she put her complete trust in her medical team at The Ottawa Hospital.
Buying time: 7hrs, 52 stitches
Leata Qaunaq knew something was wrong when her husband Joellie arrived to meet her and their daughter at the airport near Arctic Bay, Nunavut. He was talking, but not making sense.
The gift of time with family
Mom of three, Vesna, is living with terminal metastatic breast cancer. She is hoping clinical trials will continue to extend her life so she has more time with those she loves.