Starting the Day with Hope
Seventeen years ago, The Ottawa Hospital Foundation hosted the first President's Breakfast. Three hundred business and community leaders gathered to hear hospital President and CEO Dr. Jack Kitts talk about his vision. Three patients described how The Ottawa Hospital saved their lives. Their powerful testimonials filled that hour-long breakfast with hope and compassion and inspired the guests' support.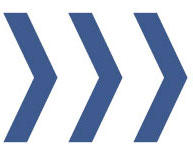 The annual President's Breakfast has now raised more than $11 million for The Ottawa Hospital. From funding research, to building the cancer centre, and purchasing state-of-the-art equipment, the breakfast provides crucial funding to help improve patient care.
On Wednesday, September 12, 561 guests were as inspired by the testimonials as the guests were at that first breakfast 17 years ago, donating an astonishing $807,000 to patient care and research. Four powerful speakers told how their lives changed in an instant and were saved by the expertise and world-class treatment at The Ottawa Hospital. Here are their stories: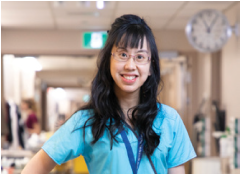 Jeanette Cheng
Twelve years ago, Jeannette Cheng headed out with friends for a white-water rafting adventure, but ended up in a serious car accident. Jeannette, the most critically injured, was airlifted to the Regional Trauma Centre. She had multiple operations to repair broken bones and damaged organs, and spent four months recovering in the hospital and rehabilitation centre. The compassionate care Jeannette received inspired her to become a nurse. Today, she works in the Surgery Division at The Ottawa Hospital.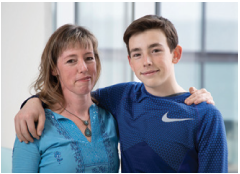 Spencer Ottens
Ellen Ottens' four boys had had their fair share of bumps, bruises, and broken bones. But when she took her teenaged son, Spencer, to the doctor about a strange bump in his nose, she wasn't prepared for the diagnosis. He had an enormous tumour in his head. Neurosurgeon Dr. Fahad Al Kharayf and ear, nose and throat specialist Dr. Shaun Kilty performed an eight-hour minimally invasive surgery, removing the tumour through Spencer's nose. Today, Spencer is back playing his high school sports.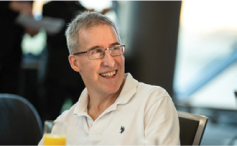 John Chafe
John Chafe's plans of working in the financial sector were sidetracked by an aggressive form of multiple sclerosis (MS). One day, John heard neurologist Dr. Mark Freedman on the radio talking about a groundbreaking study he was working on with hematologist and scientist Dr. Harold Atkins to see if an innovative stem cell transplant would halt an aggressive form of MS. John volunteered to participate and, in 2001, he became the second person in the world-first clinical trial that virtually eliminated any new MS activity and stabilized his disease. This winter, John skied with his wife and eight-year-old daughter.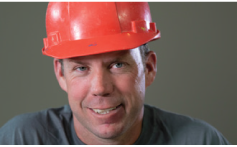 Adrian Molloy
When the blade on Adrian Molloy's power saw partially severed his arm, he was rushed to The Ottawa Hospital. He was one of the first to benefit from an initiative that extended the time from 30 to 60 minutes for an ambulance to head directly to the Regional Trauma Centre at the Civic Campus, bypassing the nearest community hospital. Trauma staff worked quickly and saved Adrian's arm. Adrian is back on the construction site with full use of his arm and enjoying every moment with his wife and three children.

Thanks to generous support from donors like you, The Ottawa Hospital is providing advanced treatment with state-of-the-art technology.