Help us change the lives of our cancer patients and have a lasting impact on generations to come.
At The Ottawa Hospital, we are committed to providing an exceptional level of care for our cancer patients, approaching each case with medical excellence, practice and compassion. Our reputation for world-leading research and patient care attracts to Ottawa some of the brightest and most capable health-care professionals in the world who help us deliver extraordinary, personalized treatment and care to patients in our community.
Over the next 15 years, Canadians will see a 40 percent increase in cancer diagnoses, with almost one in two developing cancer in their lifetime. Our ability to translate research into patient therapies, coupled with one of the best-equipped cancer centres in the country, means we are well-positioned to face this challenge cancer – and win. But we can't do it alone.
Our supporters are a critical part of our success as we strive to challenge the boundaries of cancer care and research.
Your support today will have a lasting impact on our patients facing this devastating disease.
This World Cancer Day, you can have a direct impact on the thousands of cancer patients who need our help.
Our Cancer Stories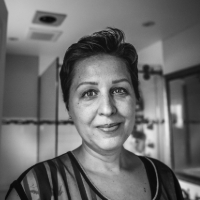 Vesna Zic-Côté
Patient, Metastatic breast cancer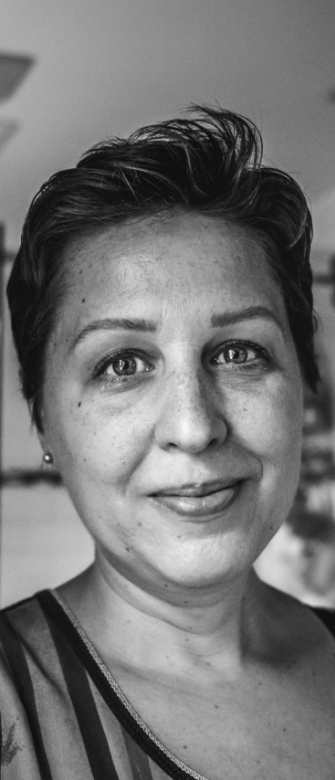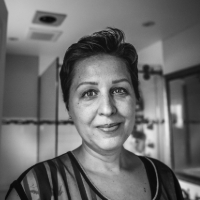 Patient, Metastatic breast cancer
Vesna Zic-Côté
 "In 2012, I was diagnosed with early stage breast cancer. Despite the standard treatment of surgery, chemotherapy, radiation and hormonal treatment, the cancer returned four years later. It had spread to my lungs, bones and lymph nodes.
I am now living with incurable stage 4 metastatic breast cancer. My current regimen includes treatment at The Ottawa Hospital Cancer Centre, self injections, and a daily chemotherapy agent.

Metastatic breast cancer is treatable, but not curable. When I was first diagnosed, my life expectancy was being measured in months. Now, with cautious hope, it might be a few years. But I am a 43-year-old mother. And wife. And daughter. And sister. I need more time. Time to see my young children through elementary school, time to watch my family grow and share in all the joys that life brings. Time to celebrate anniversaries with my husband, and birthdays with my niece and nephews. Time with my beloved family and friends.

There is so much that needs to happen to make this a reality for me. I will need new treatments when my current regimen fails me. I need research in cancer therapies and a health-care system that is streamlined and accessible.
Sadly, early detection does not prevent all cancers from returning and spreading. We need research to understand why, and treatment to extend our lives.

On behalf of all of us living with incurable cancer - finding joy between injections and scans and blood work and appointments, living with hope and making a difference - thank you for your support."

- Vesna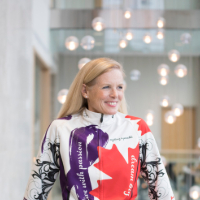 Sindy Hooper
Donor & Patient, Pancreatic Cancer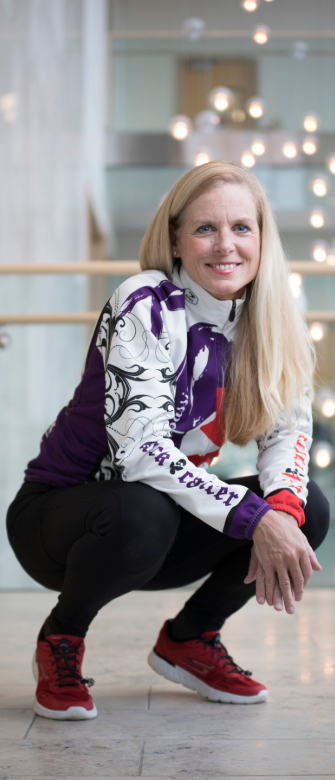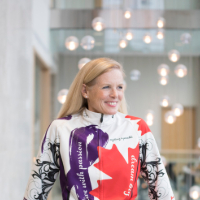 Donor & Patient, Pancreatic Cancer
Sindy Hooper
It's about making every moment count when it comes to how Sindy Hooper lives her life. Sindy was diagnosed with pancreatic cancer six years ago. Odds of survival were slim for her, just like other patients faced with this diagnosis. "My life changed forever when I was diagnosed with pancreatic cancer. The average survival for this cancer is only 6 months, 75% die within the first year, only 6% live for 5 years."
Sindy has defied the odds from her diagnosis and through her treatment, which included two major surgeries, chemotherapy and radiation. In fact, she has become an inspiration to those who cross paths with her. That inspiration began when she was determined to participate in an Ironman race between chemotherapy treatments.
She completed that race.
Sindy also continues to inspire through her determination to raise money for cancer research. Sindy and her team, #MEMC – Make Every Moment Count, supports The Ottawa at Taramack Ottawa Race Weekend.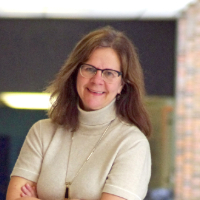 Donna Jakowec
Patient, breast cancer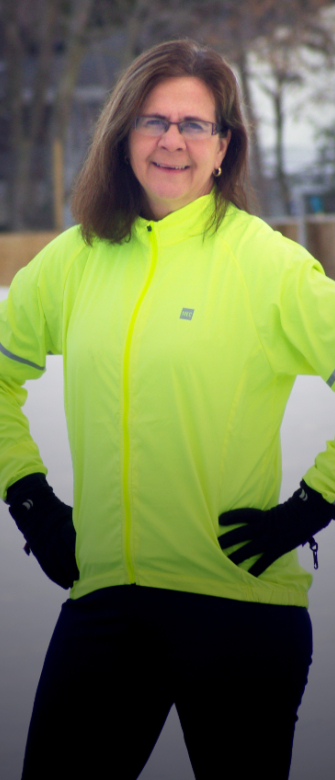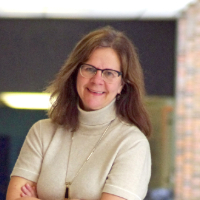 Patient, breast cancer
Donna Jakowec
Last year, 7,658 people in our community heard the words, "You have cancer."
When Donna Jakowec, mother of two, heard those words, her breath caught and her heart raced. She was devastated and terrified.
Like many others in her position, the 54-year-old turned to The Ottawa Hospital for hope. Her oncologist, Dr. Mark Clemons, had a plan. Her treatment and care would be informed by the latest research. Research made possible through support from donors like you.
"Thanks to advances in cancer research, Dr. Clemons was able to personalize treatment for me. When I left his office, I believed I was going to be okay," Donna recalls.
All of us at The Ottawa Hospital are inspired by the courage and determination of patients like Donna. But not all of them will live to watch their children get married or to meet their grandchildren. With your support, we'll provide our patients with access to doctors, technology and research that will give them their best chance to survive. And we'll provide the best possible care to every person who turns to us in urgent need of the latest treatment options.
Help us reach our goal of 7,658 donations in honour of each new cancer patient diagnosed at The Ottawa Hospital last year.
Help us be ready for those whose diagnosis is still to come, along with the many other patients we serve.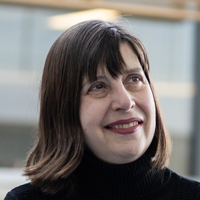 Andrea Redway
Patient, Lung Cancer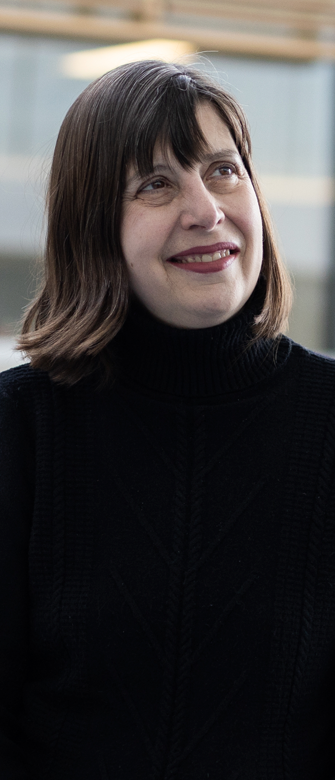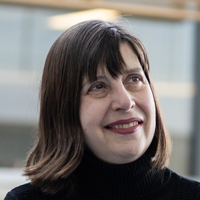 Patient, Lung Cancer
Andrea Redway
As a lawyer, Andrea Redway has worked on international initiatives relating to justice reform. She's travelled the world tackling big projects and has always been ready to face new challenges head-on—but nothing could have prepared Andrea for a stage 4 lung cancer diagnosis. This diagnosis rocked her world and left her wondering how long she would survive.
The first signs of trouble appeared in January 2015 when Andrea developed a cough that persisted. In March, she left on a work trip abroad. It was an exciting career opportunity with the added bonus of being able to bring her husband and two children, who were 8 and 11 at the time. Three weeks after returning home, the cough continued and she couldn't shake her jet lag. "Usually I'm over jet lag in a week. I was still so exhausted, and thought maybe I had pneumonia," recalls Andrea.
"Here I was, 47 years old and I had no risk factors. I would never have thought that I could get lung cancer." – Andrea Redway
Andrea received a referral to a family doctor and an x-ray was ordered. The results showed a large mass on her lung. Within a week, she received the grim diagnosis—stage 4 lung cancer. The cancer had already spread to her bones, adrenal glands, brain and there were early signs of it in her colon. She was shocked beyond belief. "Here I was, 47 years old and I had no risk factors. I would never have thought that I could get lung cancer."
Dr. Nicholas was aware of a new clinical trial, published in the New England Journal of Medicine. It was an immunotherapy treatment specifically used to treat stage 4 lung cancer, but it wasn't yet available in Canada. He applied for the compassionate care program with the drug company and Andrea was given one dose of the drug, Nivolumab. Today, Nivolumab is now routinely used to treat many people with lung cancer. It is also used to treat other cancers, most notably melanoma.
But Andrea's cancer continued to progress and she became very sick. Back in hospital, it was discovered that she had a perforated bowel. She recalls the situation being dire, "I needed emergency surgery or that was going to be the end of the line for me."
Given the progression of Andrea's cancer, it was uncertain if surgery was a viable option, but her care team at The Ottawa Hospital wanted to give Andrea the chance to have more time with her family. "Dr. Guillaume Martel, who is my saviour, did the surgery. Here I am today as a result," says Andrea.
Once she recovered from surgery, Andrea was able to resume treatment to take on the cancer, which had ravaged her body. One month later, she received her second dose of immunotherapy. "I continued with immunotherapy for about two years. I completed my treatment in September 2017 and I've been great ever since."
Eight months after starting treatment, Andrea's scan showed the cancer was gone from outside of her lungs and the primary tumour on her lung had shrunk to about half. "When the tumour showed up on the scan originally, it was six centimeters. Now, it's about 2.5 centimeters. It's been described as mostly necrotic or dead."
While Andrea did experience side effects like fatigue, dry eyes and joint pain, she says it was a small price to pay because immunotherapy was a game changer. "Everything else is gone. It's amazing—totally amazing. With little kids, we've had so many special moments since then."
Dr. Nicholas explains how much cancer treatment has improved in just four years since Andrea's initial diagnosis. "Immunotherapy has become a standard part of the treatment of lung cancer over the past four years or so. There are rare patients like Andrea for whom it is an extraordinarily effective treatment, much better than any other therapy we've had in the past."
However, Dr. Nicholas adds that not every lung cancer patient has a positive response like Andrea, and more research needs to be done. "There is a lot of ongoing research into why some tumours respond to immunotherapy while others do not, and whether we can do anything to alter non-responding tumours in order to make them respond."
Today, Andrea continues to embrace those special moments, grateful to be watching her children grow.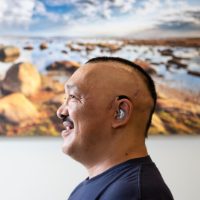 Joellie Qaunaq
Patient, brain cancer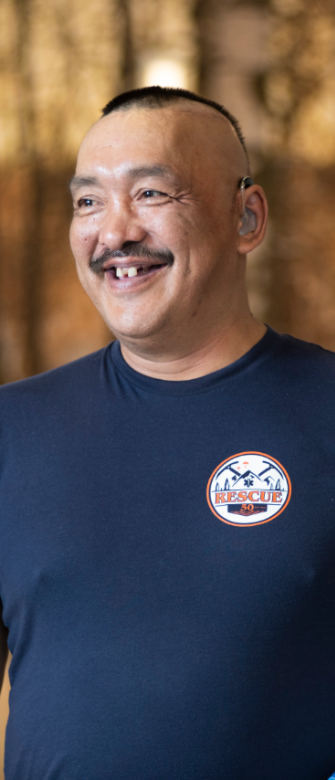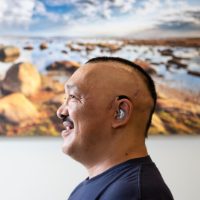 Patient, brain cancer
Joellie Qaunaq
Joellie Quanaq has 52 stitches on the left side of his head from the seven-hour surgery to remove a brain tumour. He had to leave his family, friends, and community of Arctic Bay on northern Baffin Island to come to The Ottawa Hospital for treatment because it is only centre that treats patients from Nunavut. Joellie was guided through his cancer treatment and care by an Indigenous Nurse Navigator at the hospital's Indigenous Cancer Program, which aims to improve access to cancer care services in a respectful, culturally appropriate way. After surgery and radiation, Joellie returned to Nunavut with chemotherapy pills, minimizing his trips to The Ottawa Hospital, which allowed him to continue treatment at home. 
Glioblastoma is one cancer that always returns. And Joellie's did. After almost a year since his discharge, Joellie's health deteriorated and sadly, he passed away on May 5, 2019. He was cared for by people who loved him and his family beside him.
Thanks to donations from our generous community, researchers at The Ottawa Hospital have made tremendous breakthroughs in improving cancer treatments. It's patients like Joellie who inspire our care givers and researchers to strive for a cure.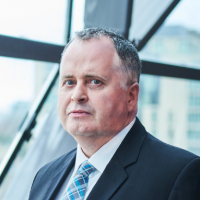 Ian McDonell
Patient, melanoma skin cancer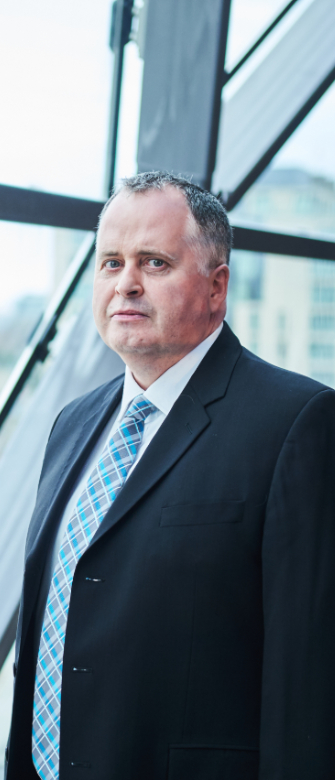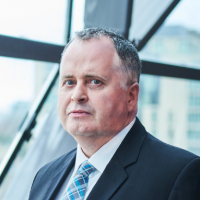 Patient, melanoma skin cancer
Ian McDonell
Ian McDonell was off-duty when he saw men fighting on a bike path last August. He called the police and tackled one of the men. Ian's courageous action is even more remarkable because the previous summer he was bedridden from cancer.
"A year ago," said Ian, "there's no way I would've even been out walking." In 2013, Ian was diagnosed with melanoma―an aggressive form of skin cancer. After surgery to remove the cancerous mole and lymph nodes from his left groin and armpit, the 47-year-old Ottawa Police staff sergeant began a 10-month targeted chemotherapy treatment. However, in June 2017, his medical scans showed tumours in his abdomen, as well as his brain. Ian's cancer was stage 4.
Ian's oncologist Dr. Michael Ong, a specialist in skin and urological cancers at The Ottawa Hospital, suggested an aggressive approach―a recently approved immunotherapy treatment.
"Immunotherapy does not directly affect the cancer itself. Instead, immunotherapy unmasks the cancer to your immune system," said Dr. Ong. "And the body's own immune system does the rest."
Immunotherapy is most successful in patients with advanced melanoma, increasing the one-year survival rate from 25 to 80 percent.
Ian started immunotherapy, but it made him so sick he was taken off the treatment. Yet in September 2017, his MRI scans showed that his tumours had shrunk. Ian received a single second treatment in mid-November.
"It did the trick," said Ian.
Nothing showed up on his follow-up scans. All trace of his cancer was gone. When Ian had been diagnosed in 2013, options for immunotherapy weren't available. In four years, research and clinical trials had changed that. The Ottawa Hospital is a leader in cancer immunotherapy research, both developing new therapies and offering patients experimental treatments. Currently, 69 active cancer immunotherapy clinical trials are being conducted at the hospital.
Immunotherapy gave the father of three his life back to watch his children grow up, and work at tackling more crime.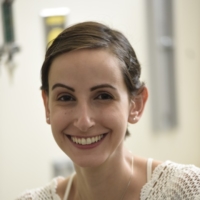 Stefany Dupont
Patient, acute lymphoblastic leukemia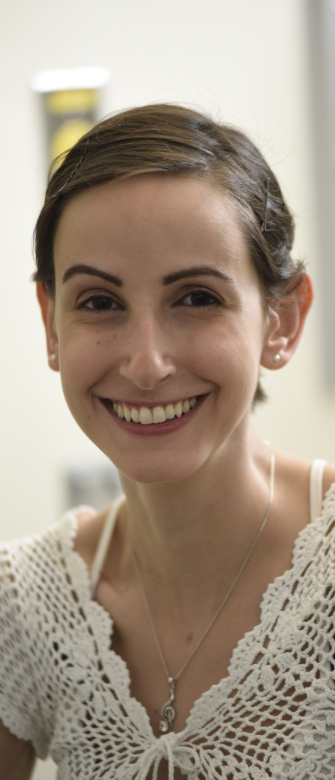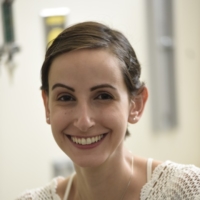 Patient, acute lymphoblastic leukemia
Stefany Dupont
Stefany Dupont's leukemia symptoms have disappeared. Her disease was put into complete remission by a revolutionary new treatment called CAR-T cell therapy. It's having such high success rates in patients with blood cancers that The Ottawa Hospital is developing its own CAR-T program and clinical trials. The hospital is playing a lead role nationally with this made-in-Canada CAR-T approach.
Stefany was first diagnosed with acute lymphoblastic leukemia (ALL) when she was 13.
Children with leukemia are given a strict chemotherapy protocol that effectively cures more than 90 percent of patients. Unfortunately, this was not the case with Stefany.
She was in remission for five years but, in 2010, her leukemia came back. She was now 18, an adult, and began receiving treatment at The Ottawa Hospital. A regimen of chemotherapy was followed by a hematopoietic bone marrow stem cell transplant in October 2015. Stefany, however, had another relapse a year and a half later. Adults with leukemia who relapse after a transplant have less than a 10 percent chance of survival.
"Stefany was unlucky enough to relapse within two years of her transplant," said Dr. Jill Fulcher, Stefany's doctor, who specializes in malignant hematology and is a clinician-investigator at The Ottawa Hospital. "But her leukemia came back with a blast and she was very sick. Palliative management was all we had to offer patients with ALL who relapsed so soon post-transplant."
Dr. Fulcher and fellow colleague Dr. Natasha Kekre, a hematologist and associate scientist at The Ottawa Hospital and assistant professor at the University of Ottawa, knew that clinical trials in the United States, using CAR-T cell immunotherapy, showed amazing results in children and adolescents with leukemia and blood cancers, putting many into long-lasting remission.
For patients, like Stefany, who are extremely sick and out of options, CAR-T cell therapy offers hope, which is why Dr. Kekre is leading the charge to bring CAR-T cell immunotherapy to The Ottawa Hospital. Health Canada approved the first version of the therapy in September 2018. A pharmaceutical company-led trial began recruiting patients at the hospital in late fall with the first patient receiving treatment in January, making The Ottawa Hospital one of the first hospitals in Canada to participate in these trials.
However, this treatment was not yet available in Canada when Stefany needed it. So, her only option at the time was to try to join a CAR-T clinical trial at the Children's Hospital of Philadelphia, which was having great success. 
CAR-T cell therapy is a relatively new treatment that uses the patient's own immune cells to treat their blood cancer. T-cells play a critical role in the immune system by killing abnormal cells, such as cells infected by germs or cancer cells.
"Previous CAR-T trials have shown dramatic responses in patients who normally have a 10 to 20 percent long-term survival rate with standard therapies. The short-term response rate with CAR-T cells has been 70 to 80 percent," said Dr. Kekre. "That's why Stefany, who had a bad disease that didn't go away with chemotherapy, got referred for the trial."
"CAR-T therapy is very promising, but it is still very new," said Dr. Harold Atkins, a hematologist-scientist who is working with Dr. Kekre to bring CAR-T trials to The Ottawa Hospital. "More clinical trials are needed, particularly to study the long-term effects."
Stefany was able to go to Philadelphia and had a CAR-T cell infusion in September 2017. At her first three-month assessment, she had a bone marrow biopsy that showed she was still in remission. Positive news that meant the treatment was working.
Three months later, after getting the all clear that her leukemia was in remission, Stefany went on a well-deserved trip.
She visited Sydney, Brisbane, Melbourne, went scuba diving at the Great Barrier Reef, and hang-gliding over the shores of Byron Bay. It was a wonderful break after the intensive treatment.
CAR-T therapy will soon be more available in Canada, as researchers at The Ottawa Hospital, working with colleagues across the country, are developing a "made-in-Canada" approach for CAR-T cell clinical trials.
"We are making our own Canadian CAR-T cell program," said Dr. Kekre. "Because our CAR-T cells are considered experimental, they will only be available as part of a clinical trial."
Dr. Kekre said patients with ALL, lymphoma, and other blood cancers could benefit from this treatment. The hope is that one day CAR-T cell therapy may also be a treatment for a variety of cancers, such as breast and colorectal, that have solid tumours. It is through clinical trials conducted at The Ottawa Hospital that innovative treatments for more cancers will be discovered.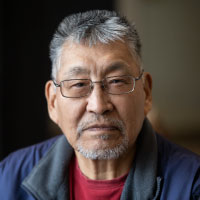 Saila Kipanek
Patient, rectal cancer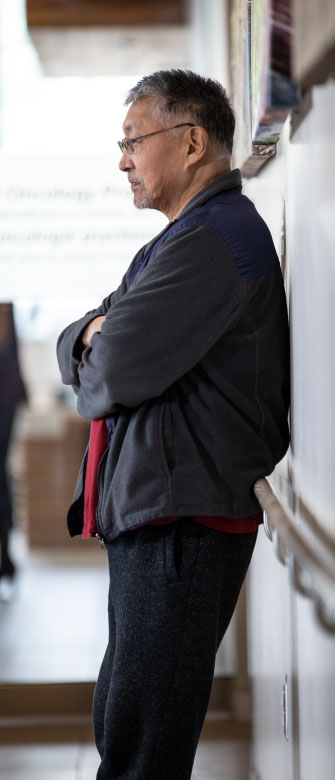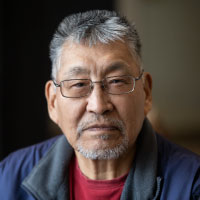 Patient, rectal cancer
Saila Kipanek
After cancer diagnosis, Saila Kipanek, a traditional Inuit carver, couldn't have imagined how important his life's work would be for his recovery. 
When Saila was diagnosed with rectal cancer, he knew his best chance for survival was treatment at The Ottawa Hospital. But uprooting his life in Nunavut, to be treated in Ottawa, away from his family, friends, and community would prove to be a challenge. It took a toll on his mental health.  
But staff at The Ottawa Hospital would go the extra mile to make him feel at home.
A wholistic approach to healing 
It was a cold February day, when Saila woke up in a post-op recovery room. He was feeling like a shell of his former self. Having spent months away from his home and his loved ones while undergoing cancer treatment, which included chemotherapy, radiation and surgery, he was suffering from extreme depression.  
Not long after Saila's surgery, Carolyn Roberts, a Registered Nurse and First Nations, Inuit, and Metis Nurse Navigator for the Indigenous Cancer Program, took Saila to Gatineau Park. As they sat by the river, Saila shared that his mental health was "in his boots" – but, he knew exactly what he needed to heal. "What I really need is to carve," he explained to Carolyn. "Carving would help me feel like myself."
Treating patients from Nunavut in Ottawa 
The Ottawa Hospital Cancer Centre, through an agreement with the Government of Nunavut, is the provider of cancer services to residents of Baffin Islands and eastern Nunavut. For this reason, patients like Saila travel thousands of kilometres to receive the very best treatment and care in Ottawa. However, coming to such a large city away from familiar culture, language, and food can make them feel isolated, and take a toll on their mental health.  
Patient-centered health care  
The role of the Nurse Navigator within the Indigenous Cancer Program is diverse and patient-centered. An important part of Carolyn's role is to listen to the needs of each patient and work to the best of her ability to accommodate those needs. "If you just listen," said Carolyn, "patients tell you what they need to heal."  
Carolyn did just that. After listening to Saila's struggles, she was determined to help him. It was at that moment that Carolyn took it upon herself to find a space within the hospital for Saila to carve.  
She approached Kevin Godsman, then one of the Managers of Facilities, to see if there was a room that Saila could use to carve in. With help from his colleagues, he found a room and fitted it out with furniture, tools and a vacuum.   
A grand opening 
A party was organized for the grand opening of Saila's carving room. It was an emotional moment for him, realizing he would be able to carve again. 
For the next six weeks, while he underwent his chemotherapy and radiation treatment, Saila carved.  
His depression lifted, and his cancer was halted. 
"Glad I got back to carving," said Saila. "Grateful I'm doing it again. It helped in the long run." 
When he returned home to Iqaluit, he took his pieces with him and finished them. At a follow up appointment in September 2018, he brought his finished carvings back to show the team what they helped him create.  
"They turned out even better than I imagined," said Kevin. "It's nice to know that The Ottawa Hospital has a little part in the making of them too." 
Today, Saila is feeling strong and well, and grateful for the compassionate care he received at The Ottawa Hospital.  
The Ottawa Hospital is a world leader in cancer research. From our unmatched expertise in oncolytic viruses to ground-breaking immunotherapy, to revolutionizing the clinical trials process, we have earned an international reputation for changing what the world knows about cancer and how we treat it.
Cancer Research Successes
Margaret's gift
Ovarian cancer claimed Margaret Craig's life. Now her generous gift is opening new doors to preventing the disease.