Growing up, Dan Lynch learned to help others whenever he could. It was something instilled in him as a young boy by his parents and it's a quality he's carried throughout his life. It's what inspired him and his wife, Wendy, to leave a gift in their will to support multiple myeloma research at The Ottawa Hospital following his care at the Cancer Center's Medical Day Care Unit.
Born and raised in Montreal, Dan spent 30 years as an aircraft mechanic. He met Wendy in 1988, thanks to some mutual friends who invited them to a party. Two years later, they married and by 1991, they settled on a picturesque piece of property in Green Valley, Ontario — near Lancaster. It's a sprawling 43 acres which keeps Dan busy. "There's always something to do here with about 200,000 trees. I'm up early to feed the dog and cats, and then I'm on my way, but by 1 p.m. I need to relax because I get tired easier these days," he says.
Flu-like symptoms and concern for his kidneys
The reason for his fatigue these days dates back to July 2019. It all started when he had persistent flu symptoms for two weeks — he just couldn't shake them. Wendy's prompting convinced him to go to the Glengarry Memorial Hospital in nearby Alexandria. "Blood tests revealed my creatinine levels were extremely high, and there were concerns about my kidney function," explains Dan.
"I never realized how important The Ottawa Hospital was until I needed it. Until 2019, I had never been sick in all of my 66 years."

– Dan Lynch
Based on those test results, doctors had Dan transferred by ambulance to The Ottawa Hospital for possible emergency dialysis. However, following further testing, Dan and Wendy received a devastating diagnosis. "The doctors told me that the problem with my kidneys was the result of my having cancer – multiple myeloma," he remembers.
The news was shocking. While Dan hadn't been feeling well, he never imagined the words cancer or multiple myeloma.
What is multiple myeloma?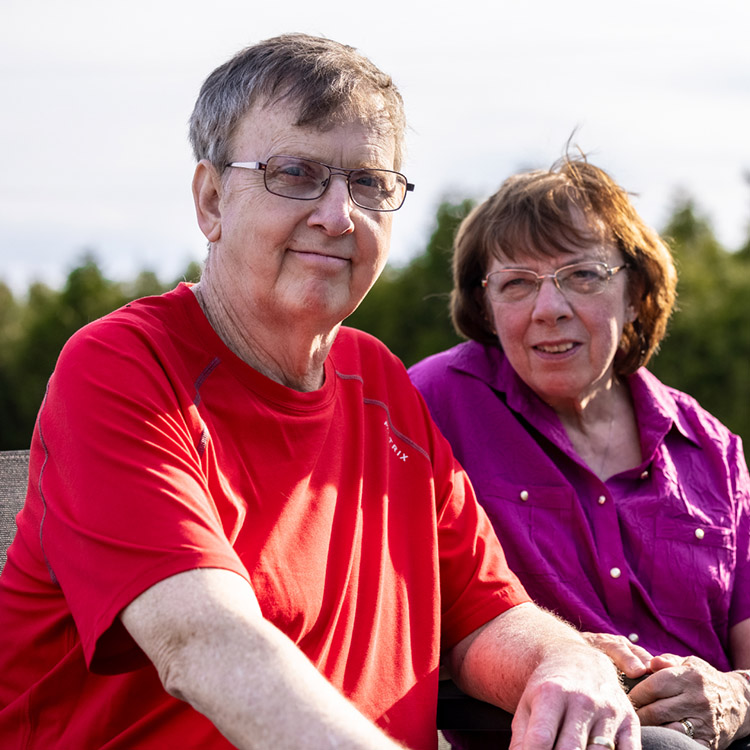 Multiple myeloma is a rare form of cancer that forms in plasma cells. These cells are a type of white blood cell that produce antibodies to help fight off infection. When someone is diagnosed with multiple myeloma, their plasma cells are changing, dividing uncontrollably — making more cells that are abnormal.
Symptoms can include bone pain, fatigue, and weakness from anemia, kidney abnormalities — all symptoms that Dan had experienced.
Men are more likely than women to be diagnosed with multiple myeloma and the median age of diagnosis is 68. This form of cancer is discovered through routine blood tests for other conditions, or a doctor might order a test for it if a patient has the symptoms. There are a variety of ways to treat patients with this type of cancer, including a stem cell transplant.
"It was a learning experience and we'll always be a part of the hospital because of the care Dan received."

— Wendy Lynch
There are two major types of stem cell transplants. Allogeneic, when stem cells come from a donor, and autologous, when a patient, like Dan, can provide their stem cells.
Initially, Dan remained in hospital for about ten days to stabilize him. He then returned to our Cancer Centre every Friday for chemotherapy treatment for 16 weeks. This would prepare him for a stem cell transplant and Dan learned he could be his own donor. "Not everyone is able to donate their own stem cells. I felt very lucky to be able to do so, thus reducing the chances of infection and/or incompatibility with the donor's cells," he admits.
Medical Day Care Unit plays a crucial role
By January 2020, Dan's care team had harvested his stem cells, four bags in fact, and froze them in preparation for replacing them back into his body. On February 17, Dan was admitted to the hospital and given a large dose of chemotherapy. Two days later — his reinfusion day — his now healthy stem cells were placed back in his body, giving Dan a new lease on life.
"I'm in remission. The disease is not curable, but it can be treated. The staff at the Cancer Centre saved my life."

— Dan Lynch
Both of these procedures happened as an outpatient in our Medical Day Care Unit (MDCU). The Ottawa Hospital Transplantation and Cellular Therapy (TCT) Program performs about 200 transplants a year. Our TCT program was the first program outside of the United States to receive accreditation from the Foundation for the Accreditation of Cellular Therapy (FACT), which sets the global standard for top quality patient care in cellular therapies. The TCT provides care across four sites including the MDCU where Dan received his stem cell transplant.
"I'm in remission. The disease is not curable, but it can be treated. The staff at the Cancer Centre saved my life," says Dan.
Forever grateful to The Ottawa Hospital
On March 7, 2020, he returned home to the couple's sprawling land — the property that brought so much joy to him and his wife — to start the next chapter of their lives.
Today, Dan and Wendy are thankful for our hospital — admitting they didn't realize the significant role it played. "I never realized how important The Ottawa Hospital was until I needed it. Until 2019, I had never been sick in all of my 66 years," he says.
"Take some time to think about what you can do to help others. It feels good to make a positive contribution to help the hospital both now and in the future."

— Dan Lynch
For Wendy, standing alongside her husband throughout this journey and witnessing the incredible care he received, fills her with gratitude. "It was a learning experience and we'll always be a part of the hospital because of the care Dan received."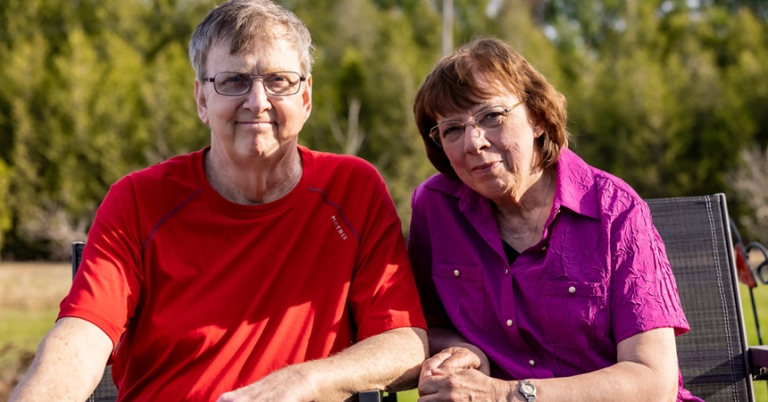 The couple decided they wanted to do something significant to say "thank you" to our hospital. Thinking back to those values taught to him many years ago by his parents, Dan and Wendy decided they would leave a gift in their will to support The Ottawa Hospital. "We're so grateful for what they did for me. Thanks to all the doctors, nurses, orderlies, nursing assistants, and volunteers who work so hard for patients like me. Their compassion and professionalism towards their patients under difficult circumstances is beyond reproach. Now I want to help the people who saved me." Dan adds, "Drs. Gregory Hundemer, Arleigh McCurdy, and Michael Kennah played an important role in my care, and I can't thank them enough."
Dan also offers some friendly advice to others about planning for the future. "Try to do what you can and do all you can. Take some time to think about what you can do to help others. It feels good to make a positive contribution to help the hospital both now and in the future. We never know what will happen. A devastating diagnosis to you, your family, and friends can hit when you least expect. The members of the treatment teams at The Ottawa Hospital will always be there for us; let's be there for them now and in the years to come."