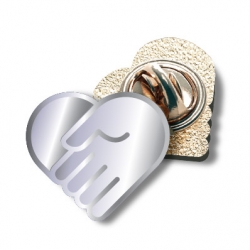 Kindness. Courage. Discovery.
Who went beyond to help you or a family member at The Ottawa Hospital? Perhaps it was a caring smile, a warm blanket, a comforting voice during a difficult time, or access to a clinical trial when all hope was lost. The Gratitude Award honours extraordinary acts of kindness, courage, and discovery.
Whether it's a doctor, nurse, support staff, researcher, or volunteer, each day our team at The Ottawa Hospital provides the most compassionate care to our patients. Giving in their honour is a special way to say "thank you".
Recipients will receive a newly designed pin to proudly wear, and a personalized message letting them know how their hard work and dedication to our hospital didn't go unnoticed. The amount of your gift will be kept confidential.
If you'd like to recognize a special group, please get in touch with us to make arrangements.
"The program is amazing and allows me to contribute in a way that is meaningful and heartfelt to the people who provide unparalleled care and compassion to patients like me." – Jennifer Miriguay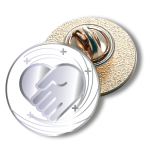 NEW! Milestone recognition
The Gratitude Award Program now includes a milestone recognition for individuals who receive multiple pins. Once a recipient reaches their fifth Gratitude Award pin, they will instead receive a newly designed Milestone Pin to recognize this special achievement. Milestone Pins are awarded in subsequent increments of five — 10, 15, etc.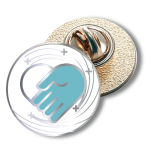 NEW! Team recognition
Sometimes a whole team has an impact! If you want to recognize a large team from our hospital, please contact us at 
gratitudeaward@toh.ca
. If you choose this method, the team will receive a certificate to display proudly and one specially designed team pin will be presented to the manager of the team, the unit, or the floor you would like to recognize, for a special donation in their honour to our hospital. It takes a team to provide world-class care — what an incredible way to say thank you!
Meet some of our Gratitude Award recipients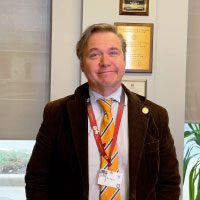 Dr. Paul Beaulé
Chief of Orthopaedic Surgery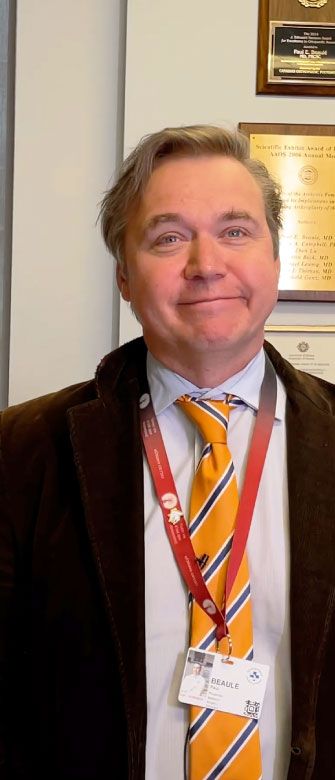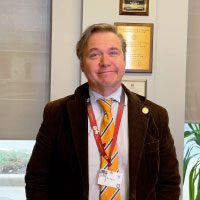 Chief of Orthopaedic Surgery
Dr. Paul Beaulé
Dr. Paul Beaulé is the Chief of Orthopaedic Surgery at our hospital. He specializes in surgery
of the hip — in both preservation and replacement. His team works to make a real difference in the quality of life for our patients. 
Dr. Beaulé explains there was once a time when hip surgery was a long and painful recovery, but the care has changed significantly for patients. "Today, thanks to advances in medicine, we can return patients to a pain-free life incredibly quickly."
That's what made it special for him when he received a pin from an 18-year-old patient, who never expected to be in such pain or need hip surgery at such a young age. Today, they're pain free, back at school, and deeply grateful for the care from Dr. Beaulé and his team.
"It was a huge honor and a privilege to be recognized by my patient, as we are there to serve them. That's what it's all about, getting our patients back to living their normal lives and sporting activities as well. Our patients who thought they would never be able to get back on their bike, would have to give up running, or would be living in pain for the rest of their time, have their lives back. That's why I love my job!"
"Feels great to get back to regular activities and to be able to start university. I am deeply grateful for the expert care you and your team provided."

— Chanel Robertson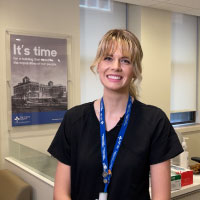 Shannon Curran
registered nurse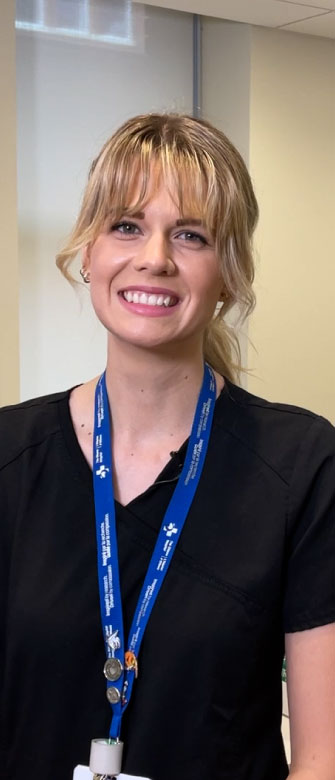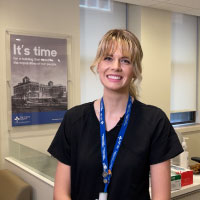 registered nurse
Shannon Curran
Meet Shannon Curran. She's a registered nurse who has been working the COVID floor at our hospital. It's been a challenging time learning to adapt to the new protocols in place and finding ways to help ill patients with no family member by their side. It was a special moment for Shannon when she was presented with her pin.
"For me, before I received a pin, it didn't really mean much to me. However, after the experience I had with the family who honoured me with the pin — that all changed. I was present at the time of death of one of my patients, alongside her daughter. This was the first death I witnessed in my young nursing career. It was a very moving and humbling experience.
This pin is now a reminder of the time I shared with that patient and her family and I wear it with pride each day at work.
I just love my job. My career as a nurse consists of wonderful, moving experiences each day alongside my colleagues who are like family to me!"
"Shannon was with me during the last minutes of my mother's life on Sunday, November 15, 2020. She was kind, supportive, compassionate, professional, and wonderful."

— Leanne MacMillan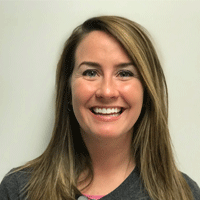 Laura Douglas
Registered Nurse, Emergency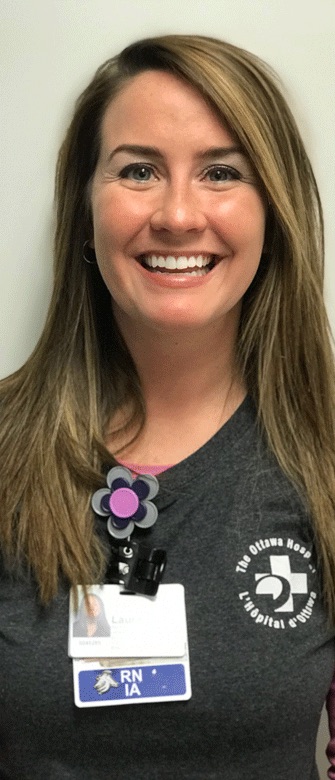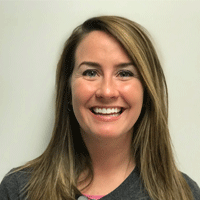 Registered Nurse, Emergency
Laura Douglas
"I received my gratitude award pin on a chaotic Monday in the emergency department, and I remember smiling the entire day."
"I love my job, and it's truly the patients and families that make the many challenging days in my career all worth it. The emergency department can be an intimidating place, and I'm honoured to know I was able to make a small difference!"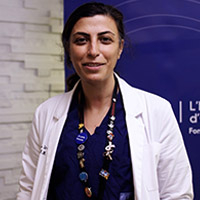 Dr. Darine El-Chaâr
maternal-fetal medicine specialist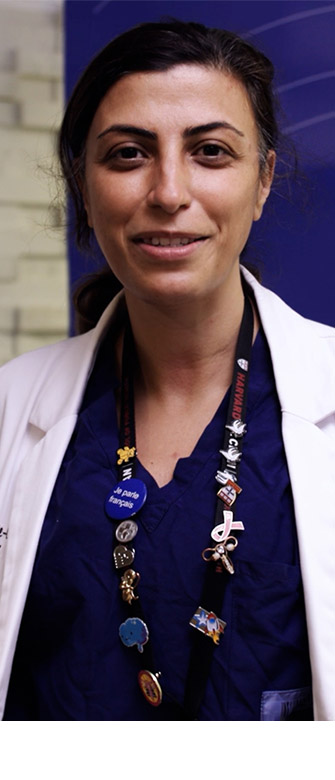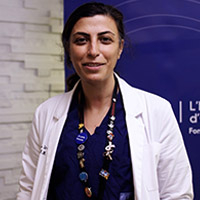 maternal-fetal medicine specialist
Dr. Darine El-Chaâr
This is Dr. Darine El-Chaâr, a maternal-fetal medicine specialist. She has been the recipient of multiple pins over the years, and she says it's always truly humbling to be acknowledged in this way by her patients.
"It's nice to be appreciated or to read how much your care impacted your patient; it offers a perspective that they may not have shared with you before.
I have been part of The Ottawa Hospital for a while now. First, as a student, then as a resident, and now as staff, so of course this place is home. Having a donation made in my honour to continue to improve care is always a nice reward.
When I look at the pins, it reminds me why I am a physician. The most rewarding part of my job is being able to support a family through a difficult pregnancy. There is a special place in my heart delivering rainbow babies, which are babies born to families who have gone through a previous loss."
"Many thanks for the continuous support and compassion during our pregnancy. We felt safe for the delivery of our second child under your care."

– The Young Family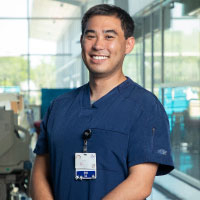 Brian Eng
Registered Nurse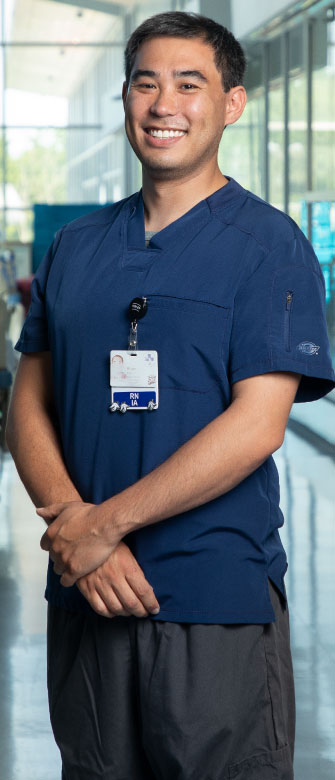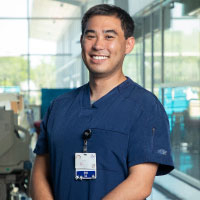 Registered Nurse
Brian Eng
Brian Eng is a registered nurse at our hospital. His role changed with the arrival of the pandemic — not only wearing PPE but stepping in to connect patients with their family members, including taking tablets in Ziploc bags into rooms. Being honoured for his kindness and compassion wasn't something that was expected.
"As nurses, we all strive to deliver the best care to our patients — for recognition or not.  Just being able to help a family who was losing a loved one and ensuring that they were comfortable throughout this very important life event is something that just comes naturally. 
Going above and beyond the call of duty to support not only the patient, but the family, is critical during these times. This is the premise of holistic care — that the family is as important as the patient. And I think as nurses we are ready and willing to support whomever needs help in the crisis they face."
"Thank you for the excellent care you provided for my daughter at the beginning of the hospitalization. We are frequent flyers at the hospital and therefore know how valuable it is to be cared for by someone who is professional, kind and who goes above and beyond."

– Chantal Lussier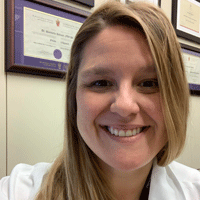 Dr. Samantha Halman
Program Director, General Internal Medicine residency program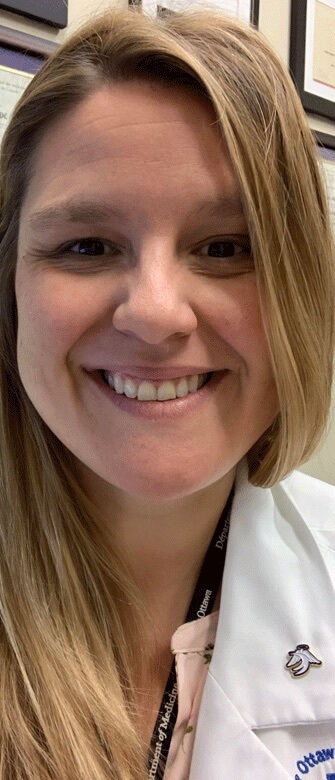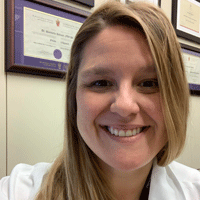 Program Director, General Internal Medicine residency program
Dr. Samantha Halman
"I wouldn't want to do anything else," says Dr. Samantha Halman, regarding her work in General Internal Medicine. "Internal Medicine is fascinating – we solve puzzles, we follow patients through acute illness all the way through the spectrum of health/disease and we get to make an impact along the way." Samantha's favourite part of her role? "Working with learners to help patients understand illness better and hopefully help them feel better – even if we can't always fix everything. I am extremely fortunate to work with an amazing group of colleagues who are thoroughly dedicated to what they do – it's a wonderful team to be a part of!"
"In many ways, being honoured through the Gratitude Award Program means more to me than any other award I've received!"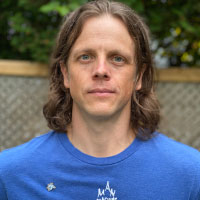 Jeff Hamill
Research Safety and Biosafety Compliance Officer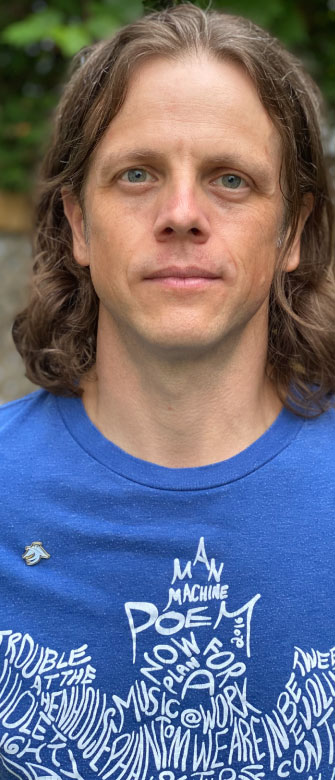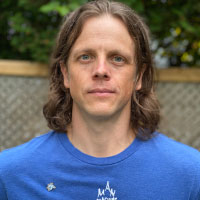 Research Safety and Biosafety Compliance Officer
Jeff Hamill
As the Research Safety and Biosafety Compliance Officer, Jeff Hamill's day can be a combination of tasks that are vital to keeping our research team safe. He does everything from training new staff, conducting workplace inspections, and writing policies to maintaining and updating inventories and monitoring compliance. Jeff's been recognized by his colleagues at our research institute for his extraordinary work during the pandemic.
"Promoting a culture of safety — that's at the root of everything the research safety office does. Even more so now, people need to feel they are safe coming to work. At the end of the day, knowing that I've done everything I can to ensure the safety of my colleagues, that's what keeps me coming back.
It was humbling, to be honest, when I received the pin. You never expect to be recognized simply for doing your job. For someone to think highly enough of the work that you do and how you go about doing it, then to go the extra step to bestow such an award, is truly humbling.
There are others who contribute to the work that I do that makes my job a lot easier, so when I look at the pin I received, I think 'Can I share this?'
"It's not easy to be tasked as the "enforcer" of safety guidelines, but your good nature and wit have been very much appreciated as you fulfil this absolutely essential role in support of all our researchers."

— Anonymous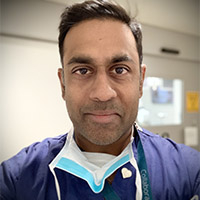 Dr. Prasad Jetty
Vascular surgeon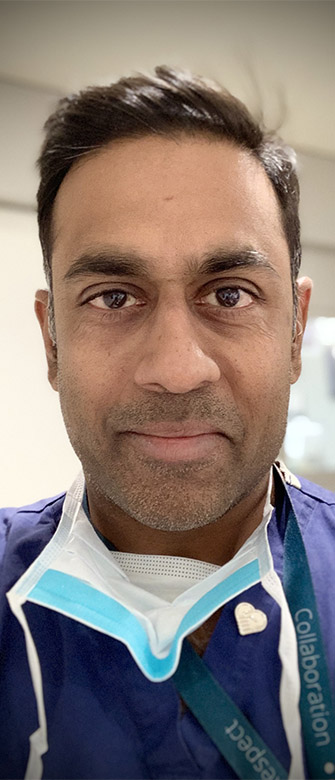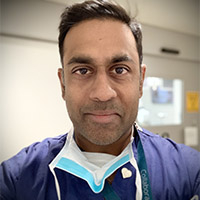 Vascular surgeon
Dr. Prasad Jetty
Dr. Prasad Jetty is a vascular surgeon at The Ottawa Hospital and is the Director of Research in the division of vascular surgery. His focus is to fix blood vessels with minimally invasive endovascular therapies. This technique has revolutionized vascular care. Patients can now undergo treatment of major blockages or aneurysms of their arteries through small pinhole incisions with balloons and stents, allowing them to go home the same day as surgery and speeding up recovery times.
For Dr. Jetty, it was an honour to receive a Gratitude Award pin.
"The words written by my patient were so touching. I called him immediately to thank him and he reiterated how he is reminded of me every day since his original surgery over 2 years ago.
The pin is more than a small piece of metal. For me it represents the compassion and dedication that goes into delivering care to my patients by our entire vascular family team, including the other five vascular surgeons in our group practice, our trainees, nurses, and my wonderful administrative assistant Debbie.
As a vascular surgeon, we begin every operation with one goal in mind – to save a life, a limb, or improve quality of life. Although the operating room can be an intense, stressful, and a technically demanding environment, it has become my quiet place. All the noise from the outside disappears very quickly and I go into a flow state that is very calming and allows me to perform at my best. But when I look back over the years, it's not the specific operations that I remember the most, it's the personal connections I've made with patients that has made my work so memorable and gratifying."
"I am grateful every day for having had such a good doctor."

— Gilles Marleau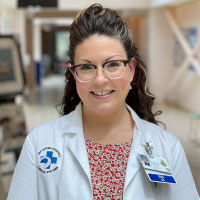 Jessica McDougall
Registered Nurse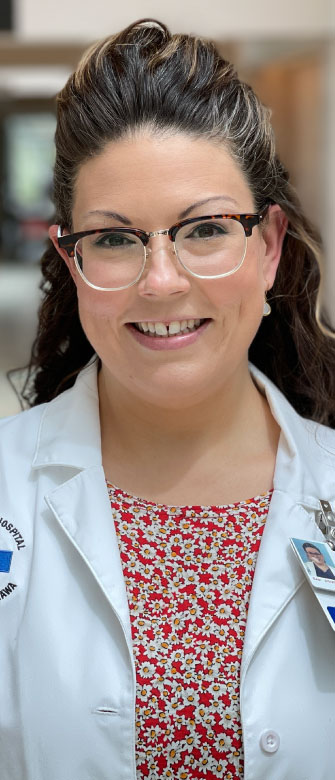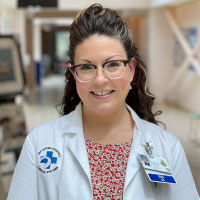 Registered Nurse
Jessica McDougall
You will find registered nurse Jessica McDougall at the Riverside Campus of our hospital. She's a part of the Renal Transplant Team, where she loves her work as a Live Kidney Donor Coordinator. For Jessica, being recognized for her role by a patient was a significant moment in her career.
"When I received my pin, it meant the world to me. I actually became quite emotional when my manager presented me with it and read aloud the accompanying patient letter during a team meeting. It has been a challenging year for everyone. Hearing from patients that we are making a difference makes it all worthwhile.
I consider myself so fortunate and humbled to work with the most generous and giving people like our patients. Our team supports and facilitates the education and evaluation of living kidney donors. These patients come forward to learn about donating one of their kidneys and sometimes proceed to do this. This is a procedure they need only to benefit someone else - sometimes someone they have never met. It is incredibly inspiring, and I cannot adequately explain in words how blessed I feel to be a part of it."
"Throughout the 14 plus month journey you were 100 percent at my side. Your empathy and patience never faltered in spite of my numerous questions and requests for information. My heartfelt gratitude for everything you do for kidney donors and recipients."

Margaret Lerhe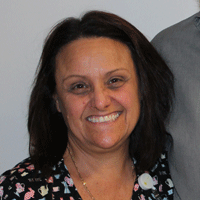 Mariella Miron
Orderly, Medical Oncology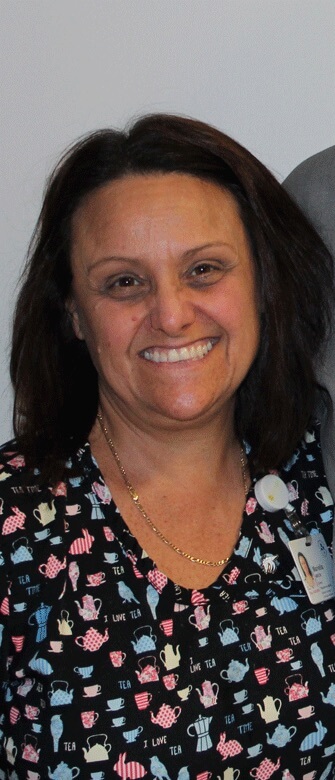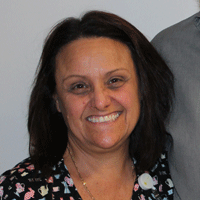 Orderly, Medical Oncology
Mariella Miron
After working at a palliative care home in high school, Mariella knew she was meant for a role in healthcare. "Becoming a Health Care Aide has been honor. Helping patients physically and emotionally, sharing a smile or sometimes a hug can help calm the fear" says Mariella.
I have been here on 5 East for 17 years and continue to love my work every single day!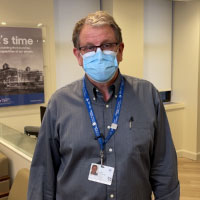 Colin Morehouse
Registered Nurse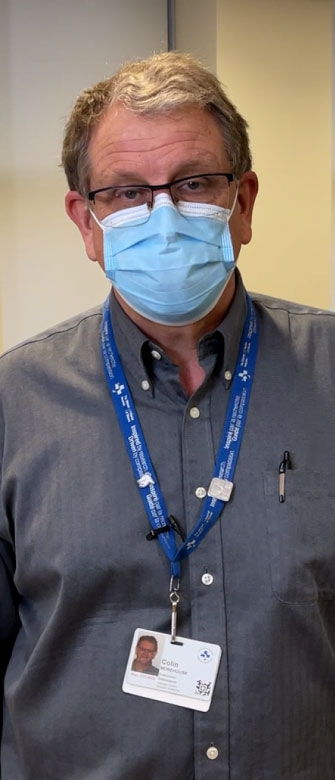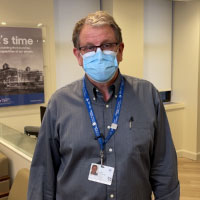 Registered Nurse
Colin Morehouse
For 33 years, Colin Morehouse has been a registered nurse. Today, he's an Infection Control Professional working with a team responsible for the surveillance, reporting, and investigation of infections or clusters of infections in our hospital. Colin was presented with his first pin in April — it was unexpected and humbling for this long-time employee.
"To be recognized by a patient's family is a reminder of why I enjoy my profession. Every day it is important to do what we can for everyone we meet at the hospital. For me, I try to treat everyone they way I would want to be treated both professionally and personally. In this case, it was touching to know that I made a difference to this patient's daughter. Having lost my own mother without being able to be with her due to COVID restrictions, I could empathize and felt it was important to try to safely allow her to spend time with her mother.
When I look at the pin it is a reminder of what I do and the fact that it made a difference to someone."
"I cannot thank Colin enough for opening the doors which allowed me to be with my mom for her last few hours on earth last November. The "Sandy Cove" Nova Scotia connection has overwhelmed me."

— Leanne MacMillan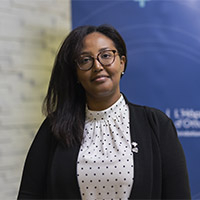 Iman Mousa
clinical manager of the Eye Care Program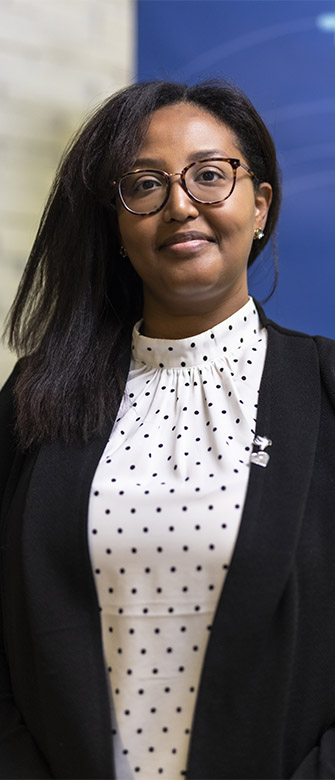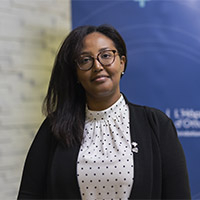 clinical manager of the Eye Care Program
Iman Mousa
Meet Iman Mousa, clinical manager of the Eye Care Program at our hospital where specialized eye care takes place at three locations: the Eye Care Program at the Riverside Campus, the Eye Institute at the General Campuses, and a satellite location at Focus Eye Centre.
Iman loves working with a team dedicated to helping patients. While, she's thankful to be recognized through the Gratitude Award Program, she also wants to acknowledge the rest of her team.
"I would never be able to support any patient without the resources our hospital offers its employees. The staff at Eye Institute are the face of our department, and I'd like to recognize them as well.
It's why I love my job — we have a common goal; we work together to provide exceptional patient care. The support we provide each other and our patients makes it easy to come to work with a smile on my face.
This pin reminds me that it's the small gestures that mean the most. Listening, understanding, and providing patients with a platform to express their needs is what our patients value the most."
"In her role as clinical manager, Iman was responsive, fast, efficient, and warm. It was impressive how she treated me and the staff member who took me to her for help. I got an insight as to how and why the Eye Institute team works so well together."

- John MacDiarmid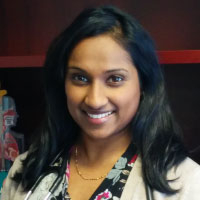 Dr. Sunita Mulpuru
Respirologist and clinical researcher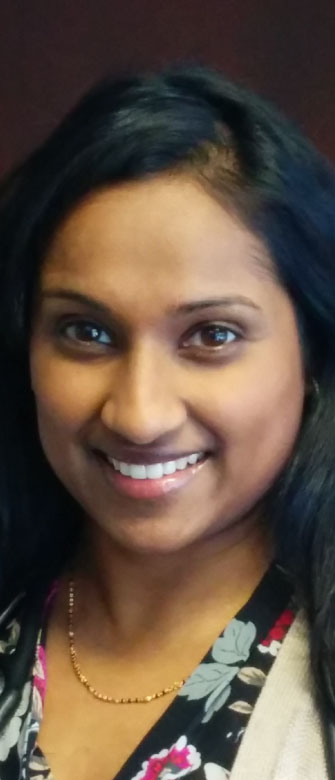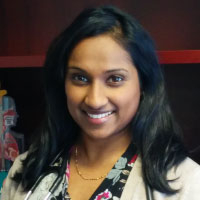 Respirologist and clinical researcher
Dr. Sunita Mulpuru
Dr. Sunita Mulpuru is a respirologist and clinical researcher here at our hospital. She cares for patients with chronic lung disease, as well as patients in hospital who have respiratory illnesses.
As you can imagine, this is a high-risk patient population when it comes to COVID-19. It's been a very stressful time for these patients, with many feeling isolated due to the length of this pandemic.
It's Dr. Mulpuru's acts of kindness and discovery that inspired a patient to honour her and say "thank you" with a pin.
"I am so thankful to receive this recognition from a patient.  As a respirologist, I see the tremendous burden that chronic lung disease has on an individual's quality of life and well-being. This is what motivates me to provide compassionate, high-quality healthcare, and to engage in meaningful clinical research that will improve the lives of Canadians living with chronic lung diseases.
I wear my pin with pride. It's a reminder of the special impact I had on a patient and I'm grateful to be recognized."
 "Dr. Mulpuru, you truly are an angel, you make me feel like I matter, making my health a priority to you. Thank you for being there for me. You are an amazing person and an amazing doctor. "

— Fred Lapointe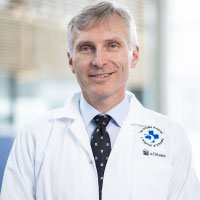 Dr. Garth Nicholas
Medical oncologist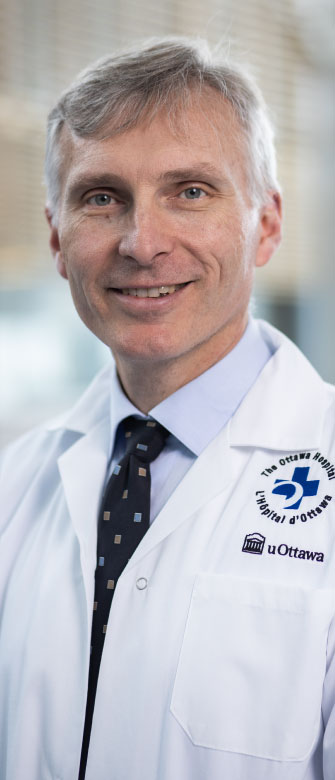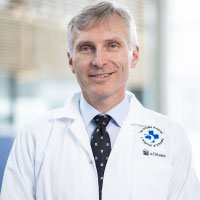 Medical oncologist
Dr. Garth Nicholas
Meet Dr. Garth Nicholas — a medical oncologist at our hospital. Dr. Nicholas has received several pins to recognize his acts of kindness, courage, and discovery for patients he has cared for over the years. Each pin holds special meaning for Dr. Nicholas. 
"Because of the kinds of cancers that I treat many people are quite sick, or do not have as much time left to them as they would like. In that context, it's very touching that any of them take the time to say "thank you", whether it's with a pin or in some other way. It is humbling that people with so many other things going on, and so many pressures on them, they still make this effort to express appreciation. 
The families of patients who have passed have also recognized me. I often get to know them over time, and my sadness over the loss of those relationships compounds my sadness at the death of the patient. Sometimes the pin is a good impetus to re-establish contact after a few months, to see how everyone is holding up. I have really appreciated those opportunities when I've had the chance.
I think the best thing I can do in my job is to provide kindness at a moment where people are not necessarily expecting it. Almost every day in the hospital, you can walk past people in the hallway looking around at the signage, obviously lost. When you smile and ask if you can help them find something, their anxiety just evaporates. That's my favourite thing."
"Thank you for the care and support you gave, you were our guardian angel and our Batman."

Brenda Fraser, mother of Erin Grasmeyer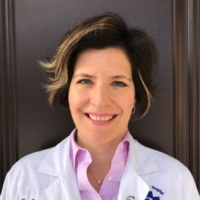 Dr. Elena Peña-Fernandez
Cardiothoracic Radiologist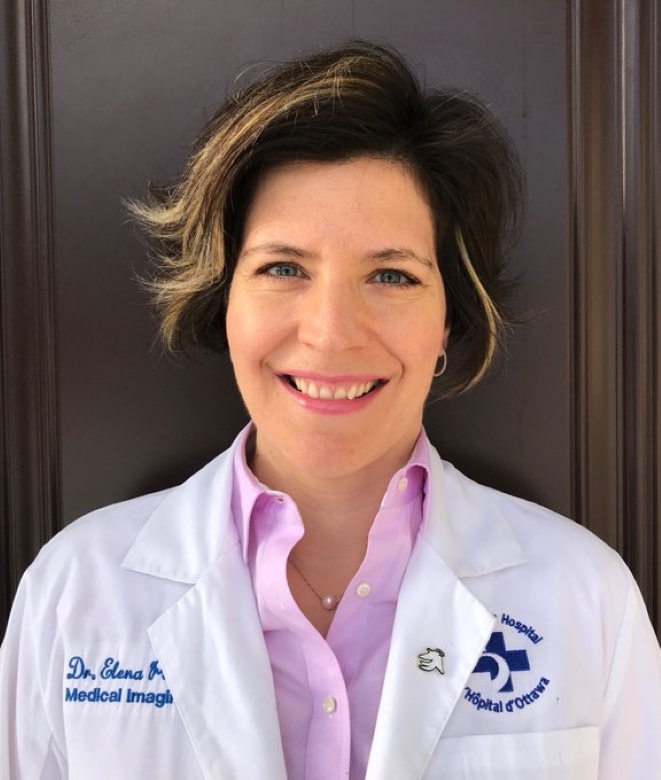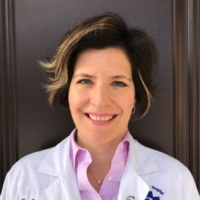 Cardiothoracic Radiologist
Dr. Elena Peña-Fernandez
"Feeling honoured to have received a Gratitude Award from a patient after performing a lung biopsy at The Ottawa Hospital and have made a difference in his journey at the hospital. I'm grateful to be a cardiothoracic radiologist here & to provide care to patients with an awesome team. I feel extremely thankful and privileged to be caring for patients at TOH!"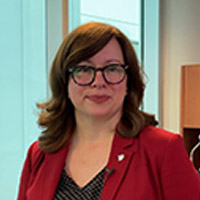 Julie Renaud
Director of Regional Cancer Care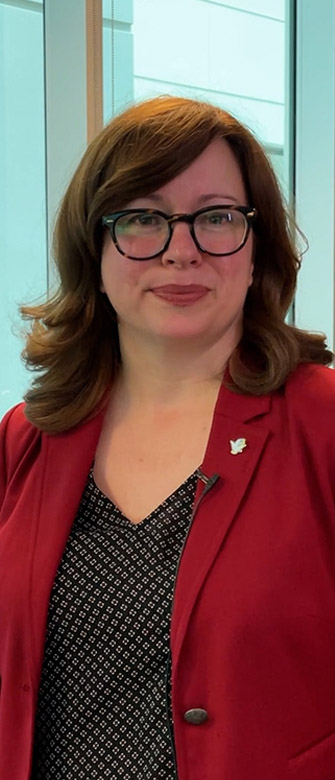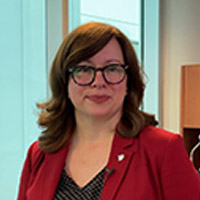 Director of Regional Cancer Care
Julie Renaud
This is Julie Renaud, the Director of Regional Cancer Care; a role she took on during the pandemic. Previously, she'd spent many years as a manager in the Radiation Medicine Program. Being recognized recently for her work was extra special for her and she's proud the share the reason why.
"I am a radiation therapist by trade and in my heart. Receiving a pin by a patient as a healthcare professional is the most special recognition. I've been managing the radiation medicine program for eight years now and giving these pins to my staff and getting a glimpse of the difference they made in their patients' lives has been a privilege.
Earlier in the pandemic, I had a chance to share my Front-line Diary on CTV Morning Live. I wanted to make sure every front-line essential staff I work with felt seen in the story I shared, despite everything they have been through.
Fast forward to today, receiving my very own pin from a retired colleague who saw the story. She told me how proud she was to have been a radiation therapist for her entire career and the difference I made sharing my story. Knowing I've helped shape a culture of collaboration in our program means the world to me. I wear my pin proudly and am grateful for the kind and thoughtful gesture!"
"I watched your Front-line Diary episode. Your communication skills are amazing. I felt so proud to have been a radiation therapist. Thank you, Julie, for representing the department so well!"

— Sharon Seed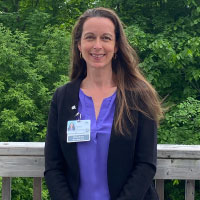 Tammy Troy
Research Safety Team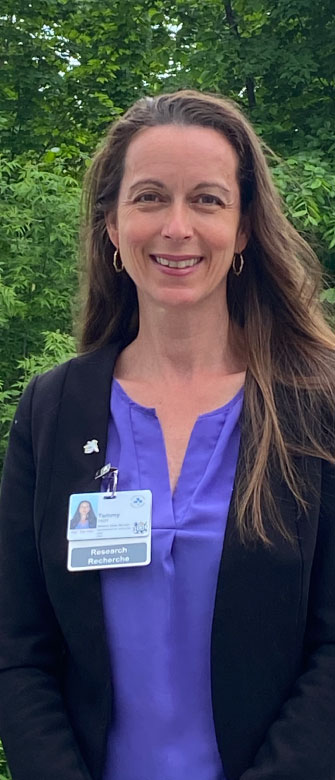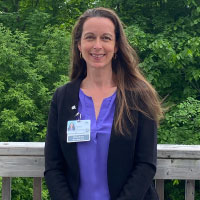 Research Safety Team
Tammy Troy
Tammy Troy is a part of the Research Safety Team at The Ottawa Hospital. She helps develop safety training, procedures, and policies to ensure that research is conducted in a safe manner. She also helps make sure our Research Safety Program is effective at identifying, managing, and controlling workplace hazards so everyone has a safe and healthy work environment. COVID-19 made this work even more crucial.
Tammy says it was a wonderful surprise to be recognized for her efforts during the pandemic.
"I am humbled to receive such a tremendous honour and to be recognized by the leadership team of the Ottawa Hospital Research Institute for my role in supporting life-changing research during the pandemic. I am so proud that the work we have done over the last year has made such a profound impact on research at our hospital.
Looking at my pin, I am filled with pride and inspiration. It really means so much to be recognized with such an incredible honour traditionally reserved for individuals directly involved in patient care. To be included amongst a group of people recognized for providing special care to members our community is amazing!"
Tammy, we are greatly indebted to you for helping life-changing research continue during the pandemic, and for keeping our researchers safe.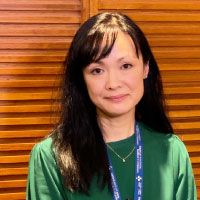 Jennifer Yeung
Manager of clinical nutrition & food services systems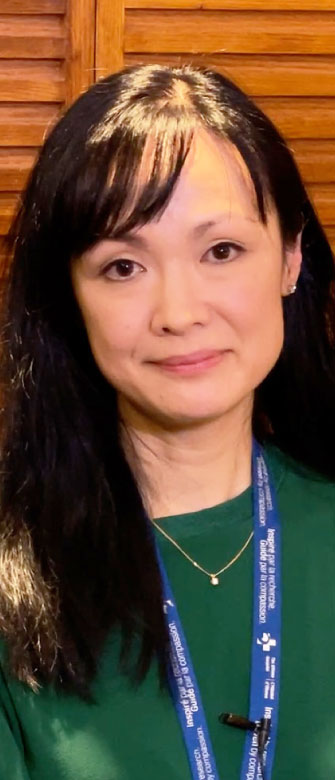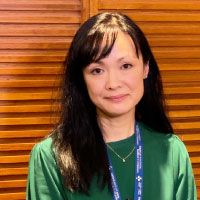 Manager of clinical nutrition & food services systems
Jennifer Yeung
Meet Jennifer Yeung, Manager of Clinical Nutrition & Food Services Systems at the General Campus of our hospital. Her team of more than 130 is responsible for planning, preparing, and delivering meals to patients.
Jennifer loves her job and having the opportunity to work with such a diverse and multi-talented group of people. She's incredibly proud of her team's efforts throughout the pandemic, and that's what she thinks about when she looks down at the pin.
"I was extremely proud when I received our pin especially during this pandemic which has proven to be difficult at times. This team has shown they are just as important as any other health professionals in the healing and recovery process of the patients. They provide nutritious meals and consistently do so with a smile. They have offered their support by checking on their patients every single day. When visitors were not allowed, our staff became their daily visitors. Making patients feel happy, secure, and well cared for is vital for their recovery.
When I look at our pin, it is a representation of the dedication and hard work of every single employee who is a part of this wonderful team! I have been through many changes and challenges with them and there isn't a challenge we cannot overcome together. We are a resilient team and we're always offering support to each other. This pin also reiterates that our staff work in alignment with our hospital vision and core values. We all come together to deliver this common goal for our patients."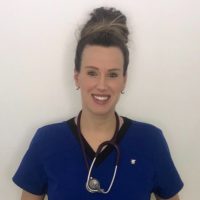 Jenelle Marier
Registered Nurse, Emergency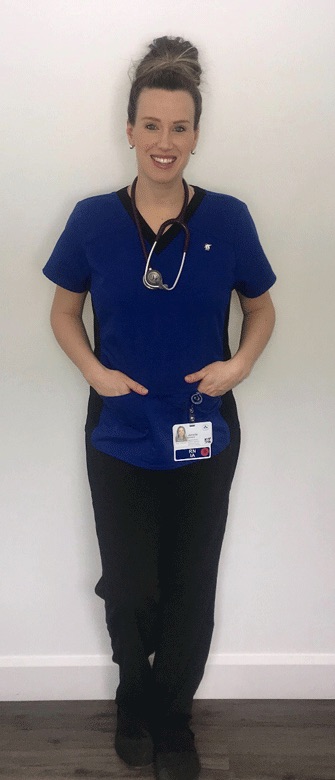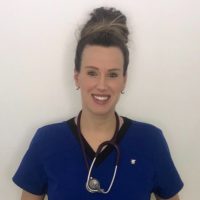 Registered Nurse, Emergency
Jenelle Marier
"There is something very special about caring for our most vulnerable because the good moments spent with this patient population far outweigh the negative moments and I believe that is what truly keeps me going in this line of work. My favorite part about being a nurse is probably the fact that I feel like I'm going to visit my second family each time I enter my unit. Working in partnership with my amazing co-workers is the reason I smile so much at work.
When my floor manager presented me with the Gratitude Award – I was so surprised yet humbled. You can't help but form forever lasting relationships with patients and their family members.
To know that I helped them cope with the passing of their family member couldn't have put my heart more at ease through such a difficult moment for them. I will always remember this beautiful, loving family and they will forever hold a special place in my heart."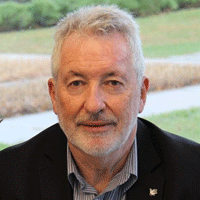 Dr. Eoghan O'Shea
Family Physician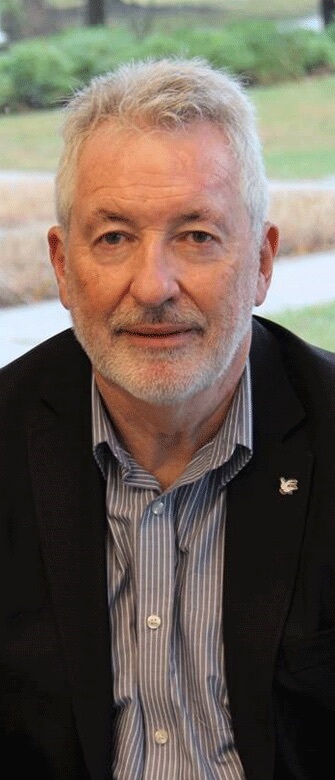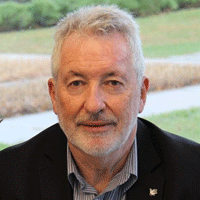 Family Physician
Dr. Eoghan O'Shea
"The Gratitude Award was totally unexpected but very gratifying and humbling to receive, after 36 years of being a physician," says Dr. O'Shea.
He also attributes the honour to the incredible team he works with. "I acknowledge the importance of clinic teamwork and feel that I could not have received this award without the great support of everybody at our Family Health Team including front desk, nursing, allied health and the rest of the supportive engaged team that helps me on a daily basis, stay grounded, work on wellness and avoid burnout. I thanked the patient and his family for their unselfish recognition. As a lifelong learner, working with patients, medical students and residents, I take nothing for granted. Too often, as a society, we miss out on opportunities to celebrate moments of joy. I will never win an Oscar for acting, or a Nobel Prize in any category, but my Guardian Angel Award will be a permanent fixture on my white coat."