The recruitment of a star researcher in regenerative medicine is helping to blaze a trail to effectively halting the degenerative process, to help make injuries heal quicker and more reliably.
"Ottawa is the place to be for stem cell research," said Dr. Daniel Coutu. He should know. He's a bone stem cell expert recruited from Switzerland.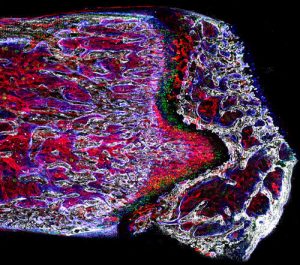 Dr. Coutu is the inaugural holder of the Research Chair in Regenerative  Orthopaedic  Surgery. It wasn't hard to persuade him to accept the position. He was already keenly aware of the internationally recognized stem cell research being done at The Ottawa Hospital.  His recruitment was in conjunction with the Faculty of Medicine, University of Ottawa, where Dr. Coutu will be teaching in the Department of Cellular and Molecular Medicine.
"With the growing number of baby boomers and athletes suffering with aches and pains in their joints, regenerative surgery is the way of the future to offer them a return to normal activity and quality of life to help them stay active," said Dr. Paul E. Beaulé, Head,  Orthopaedic  Surgery at The Ottawa Hospital.
The new orthopaedic research chair will focus on the fundamental biology of bone stem cells. Bone plays a key role in the health of tissues  (such as  muscle, tendons, and cartilage)  that are connected to it. Dr. Coutu will lead research to help understand how bone regenerates, repairs, and heals. He'll also investigate the impact trauma, aging, and chronic degeneration has on bones.
"Bones can regenerate by themselves. If you have a fracture and set it, the bone will heal without a scar," said Dr. Coutu. "But tendons scar and an injury to tendon tissue tends to lose its regenerative property with scarring. I want to see how we can reverse the regeneration properties after injury, so the patient will not scar. I also want to investigate what happens to bone stem cells over time and with age."
He said surgeons can successfully reattach a ligament to the bone. However, the success rate of this decreases with the age of patients and repetitive injury.

Regenerative Orthopaedic Surgery Chair Update 2018
"Because of these techniques, we are just starting to understand the fundamental biology of bone stem cells," he said.
"We are delighted to have Daniel Coutu join our team. His expertise in bone stem cells coupled with his cutting  edge image analysis techniques make him an outstanding fit for our Regenerative Medicine Program,"  said Dr. Michael Rudnicki, Senior Scientist and Director,  Regenerative Medicine Program, The Ottawa Hospital,  Professor, University of Ottawa,  and CEO and Scientific Director, Stem Cell Network.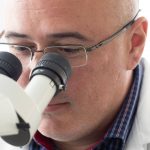 Although Dr. Coutu will primarily be conducting research in the lab, he will be working with clinicians to develop new therapies to treat patients.   To  better understand clinicians'  and patients' needs, he will attend rounds with surgeons in the hospital, as well as attend clinical conferences. He said the visibility conferences provide and the clinical knowledge he'll gain will position The Ottawa Hospital as a leader in regenerative  orthopaedic  surgery.
"Collaboration between basic scientists and clinicians is the best recipe for impactful orthopaedic research. We, in the Division of Orthopaedic Surgery, are extremely excited to support the recruitment of this scientist whose research will lead to discoveries that will translate into effective treatment of orthopaedic-related injuries and trauma," said Dr. Beaulé.
---
The Ottawa Hospital is a leading academic health, research, and learning hospital proudly affiliated with the University of Ottawa.