One morning, in 2016, Natasha Lewis' life took an unimaginable turn.
The mother of three remembers waking up with a strange symptom. "I looked in mirror and noticed my tongue was twisting to the left," recalled Natasha. Her first thought was she was having a stroke, but she was confused by the fact the rest of her body seemed normal.
She went for tests at The Ottawa Hospital and three days later, her life changed.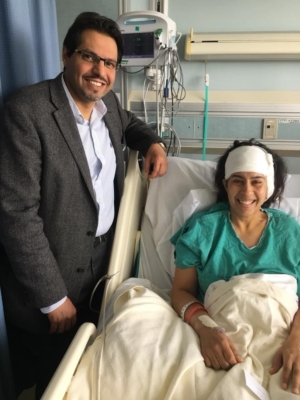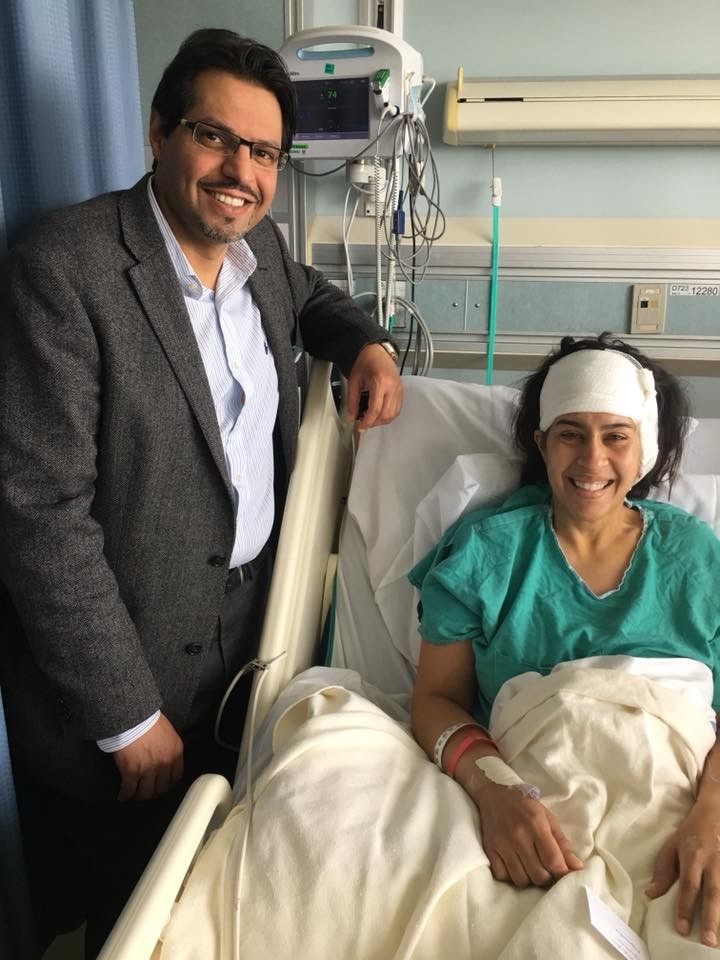 Natasha was driving when she got the call. They had found a tumour in her brain. "I felt so sick when I heard the news that I had to pull over."
She had a schwannoma tumour which is rarely found in the brain. Her mind was racing. "I was only 38 years old, a wife and mother of three young children."
When she got home to St. Isidore, east of Ottawa, she sat with her youngest daughter, as she relayed the information to her husband. Natasha remembers feeling the tears falling down her face. She didn't know what was going to happen. All this time, she thought she was healthy. "I was losing weight, running and training for marathons and triathlons."
Her husband, Marvin, was a pillar of strength. She remembers him saying, "We're in the right place. We're in Canada, we're close to Ottawa, we'll get the best care." She adds, "He has never been so right."
Natasha was cared for at The Ottawa Hospital – the only hospital in the region that could help her because of the complexity of her diagnosis. Dr. Fahad Alkerayf, a world-class skull-based surgeon told her the tumour was benign and he would closely monitor her in the months ahead.
Less than a year later, while the tumour had grown only slightly, her quality of life was deteriorating.
She was scared to see the signs of what was happening with her body. Initially, there was drooling from both sides of her mouth and Natasha started slurring her words. Yes, it was a little embarrassing, but she could handle it. But then swallowing became more difficult and her shoulder felt like it was on fire. Then she lost the ability to move it and couldn't use it to work out. Even worse, she couldn't lift her children.
By May 2018, it was time to operate.
This would be an intricate 10-hour brain surgery. Dr. Alkherayf brought in an ear, nose and throat surgeon, Dr. David Schramm, a colleague at The Ottawa Hospital, to assist because of where the tumor was located. He wanted to have another highly skilled surgeon with him because the tumour was near the ear canal.
They accessed her brain through the base of the skull. Minimally invasive surgery wasn't an option because there were too many nerves to navigate. This was the less risky option. They also knew they likely couldn't remove all of the tumour because of those surrounding nerves. Damaging them meant she might lose her ability to hear and swallow.
While these risks were terrifying, Dr. Alkherayf made her feel confident and gave her hope.
"I remember Dr. Alkherayf said there would be another chapter in my life. I held on to those words." – Natasha Lewis
During surgery, 99% of the tumour was removed. A small sliver was left so they didn't have to cut the nerves.
Today, Natasha has her hearing, it's a little muffled but she's told over time it will return to normal. She's back at work, her speech is getting back to normal, and she can swallow without problem. Natasha continues to be cared for by The Ottawa Hospital.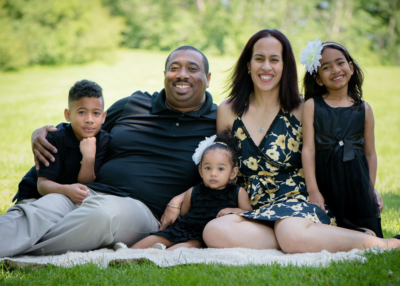 This active mom's recovery has been nothing short of remarkable. Four months post-surgery, Natasha ran the Commander's challenge at the Army Run. She's now training for a marathon and hoping to qualify for the Boston Marathon.
Most importantly, she can run, play, and hug her three children. "I can hear them laugh and tell me they love me. There is no greater feeling in the world," said Natasha.
You could say they're writing their next chapter, and it's because of The Ottawa Hospital.
More Great Stories
Hope despite aggressive skin cancer diagnosis
Diagnosed with a stage 4 melanoma at the age of 62, Dan Collins feared for his life when he learned about the aggressive form of cancer. However, immunotherapy treatment gave him a reason to hold out hope.