Update: It is with heavy hearts that we share that Saila Kipanek passed away on Friday, March 25, 2022 in Iqaluit. Saila had a huge impact on the Indigenous Cancer Program at our hospital and on many of our staff. We are deeply saddened by his loss and offer our condolences to his family.
"Saila was one of my first patients in this role. He taught me so much — how to be a better listener not only of the spoken word but to listen for words that sometimes are too painful to utter. He shared about his youth, his family, and his culture — the joys as well as the sorrows. Our almost weekly telephone chats will be greatly missed. "

Carolyn Roberts, Indigenous Patient Nurse Navigator
Indigenous Cancer Program
The following story was written in late 2019 before Saila passed away.
Inuit carves way to mental well-being after cancer
After his cancer diagnosis, Saila Kipanek, a traditional Inuk carver, couldn't have imagined how important his life's work would be for his recovery.
When Saila was diagnosed with cancer, he knew his best chance for survival was treatment at The Ottawa Hospital. But uprooting his life in Nunavut, to be treated in Ottawa, away from his family, friends, and community would prove to be a challenge. It took a toll on his mental health.
But staff at The Ottawa Hospital would go the extra mile to make him feel at home.
A holistic approach to healing
It was a cold February day, when Saila woke up in a post-op recovery room. He was feeling like a shell of his former self. Having spent months away from his home and his loved ones while undergoing cancer treatment, which included chemotherapy, radiation and surgery, he was suffering from extreme depression.
Not long after Saila's surgery, Carolyn Roberts, a Registered Nurse and First Nations, Inuit, and Metis Nurse Navigator for the Indigenous Cancer Program, took Saila to Gatineau Park. As they sat by the river, Saila shared that his mental health was "in his boots" – but, he knew exactly what he needed to heal. "What I really need is to carve," he explained to Carolyn. "Carving would help me feel like myself."
Treating patients from Nunavut in Ottawa
The Ottawa Hospital Cancer Centre, through an agreement with the Government of Nunavut, is the provider of cancer services to residents of Baffin Islands and eastern Nunavut. For this reason, patients like Saila travel thousands of kilometres to receive the very best treatment and care in Ottawa. However, coming to such a large city away from familiar culture, language, and food can make them feel isolated, and take a toll on their mental health.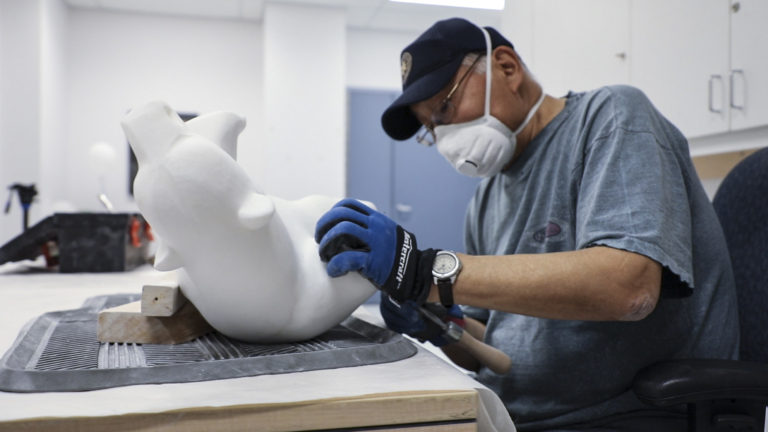 Patient-centred health care
The role of the Nurse Navigator within the Indigenous Cancer Program is diverse and patient-centred. An important part of Carolyn's role is to listen to the needs of each patient and work to the best of her ability to accommodate those needs. "If you just listen," said Carolyn, "patients tell you what they need to heal."
Carolyn did just that. After listening to Saila's struggles, she was determined to help him. It was at that moment that Carolyn took it upon herself to find a space within the hospital for Saila to carve.
She approached Kevin Godsman, then one of the Managers of Facilities, to see if there was a room that Saila could use to carve in. With help from his colleagues, he found a room and fitted it out with furniture, tools and a vacuum.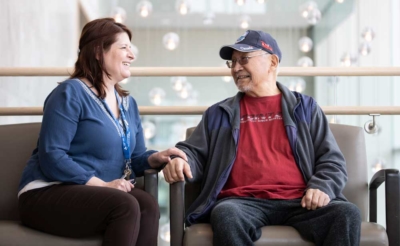 A grand opening
A party was organized for the grand opening of Saila's carving room. It was an emotional moment for him, realizing he would be able to carve again.
For the next six weeks, while he underwent his chemotherapy and radiation treatment, Saila carved.
His depression lifted, and his cancer was halted.
"Glad I got back to carving," said Saila. "Grateful I'm doing it again. It helped in the long run."
When he returned home to Iqaluit, he took his pieces with him and finished them. At a follow up appointment in September 2018, he brought his finished carvings back to show the team what they helped him create.
"They turned out even better than I imagined," said Kevin. "It's nice to know that The Ottawa Hospital has a little part in the making of them too."
Today, Saila is feeling strong and well, and grateful for the compassionate care he received at The Ottawa Hospital.
---
The Ottawa Hospital is a leading academic health, research, and learning hospital proudly affiliated with the University of Ottawa.