When someone suffers a stroke, the results can be devastating, from severe debilitation to death. An intracerebral hemorrhage (ICH) stroke, more commonly known as a bleeding stroke, is the most serious form of this disease. However, after decades with little in the way of treatment advancements, a global research trial being led in Canada by The Ottawa Hospital could mean an effective treatment is finally on the horizon.
The Ottawa Hospital is recognized worldwide for its expertise in neuroscience, and we've made significant strides in addressing today's most pressing challenges in this area of medicine — including our international, groundbreaking work in stroke. In fact, we are leading the way in how stroke care is delivered in Canada.
Dr. Dar Dowlatshahi is a stroke neurologist and senior scientist in the neuroscience program at our hospital. He is leading the Canadian site of the research trial and hopes it will change the way we treat the deadliest and least treatable form of stroke. "The ICH stroke makes up roughly a quarter of strokes. It's more common as people age. In Canada, we have an aging population, so we're seeing more and more cerebral hemorrhage," explains Dr. Dowlatshahi.
All about stroke
Stroke is a disease that occurs within the arteries — also called blood vessels — that are connected to and within the brain. These arteries carry vital nutrients and oxygen to the brain. A stroke occurs when one of these arteries is either blocked by a clot or bursts, preventing the oxygen and nutrients from reaching the brain and causing the artery and brain cells to die.
When a stroke code is called
The first thing to happen when someone experiences a stroke is they lose an ability ─ and it happens fast. This is the case whether it's an ischemic stroke (blood clot) or a bleeding stroke. "For example, they'll suddenly not be able to move an arm or leg, you'll see their face droop, or they'll lose the ability to speak. They may lose vision, or they may also collapse to the floor," explains Dr. Dowlatshahi.
"For any type of stroke, we use the acronym FAST. If you suddenly see a person's face get droopy, that's the F. Ask them to lift their arm, and if they can't, that's the A, if their speech changes, that's the S, and the T in FAST is for time. If you see these symptoms, you need to call 911 immediately."
How can you check if someone is having a stroke?
If you suspect someone is having a stroke, experts recommend using the F.A.S.T. method.
In the Champlain region, which includes Renfrew County, Ottawa, North Lanark, North Grenville, Stormont, Dundas, and Glengarry, as well as Prescott-Russell, the rapid response stroke system is excellent, according to Dr. Dowlatshahi. "When you call 911, they can identify the correct stroke hospital to take the patient to, and they call ahead. In the Champlain region, that hospital would be the Civic Campus of The Ottawa Hospital. Our stroke team knows they're coming, and we're ready to receive the individual."
When it's a stroke where a blood clot has formed in the vessel, there have been significant advancements in care when the patient arrives at the Emergency Department. Those treatments include new clot-busting medications or pulling the clots out with new technology.  
However, when the vessel bursts and bleeds into the brain, it's a more devastating stroke — one that occurs every five minutes in Canada. About 80% of people who have this type of stroke are permanently disabled, while about 40% don't survive past the first month.  
"And nothing's been successful in the past 20 years as far as treatment, except for bringing down the blood pressure a little bit. That helps, but not in a major way," explains Dr. Dowlatshahi. "So, we've been working very hard over the last decade here, and with our international colleagues, to come up with an approach to treat this type of stroke. 
Global intracerebral hemorrhage stroke research trial may lead to better outcomes
Now, a global research trial being led in Canada by our hospital could result in the first drug treatment for ICH stroke patients.  
The trial is called FASTEST, referring to the importance of treating a patient who has a bleeding stroke as fast as possible — in under two hours. "It's a very aggressive, fast trial, and we give the patient a compound that helps stop the bleeding. This compound is called factor VII," says Dr. Dowlatshahi.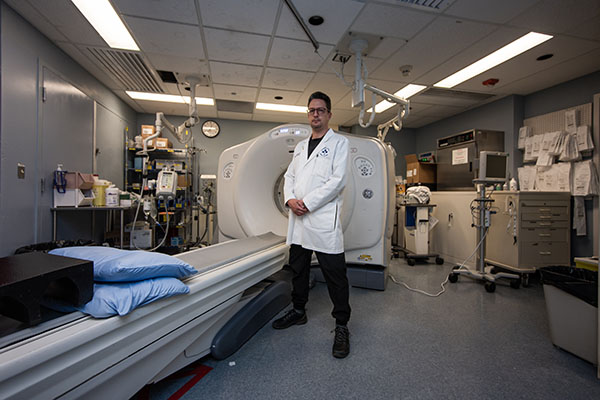 Factor VII is one of many clotting factors naturally produced by our bodies. As Dr. Dowlatshahi explains, the drug in the trial is a synthesized version of factor VII, and time is crucial. "The reason we want to act fast is, if you can imagine you have a pipe that bursts and you're getting water everywhere, what you're trying to do is seal the pipe before all the water comes out and damages everything around it," he says. "That analogy holds all too true for the brain because it's a closed compartment. It's got a skull around it. When a vessel bursts in the brain, it starts squishing that brain and damaging it, and you must get to it as fast as possible to stop the bleeding." 
When a patient with an ICH stroke arrives at The Ottawa Hospital, the trial protocol allows the stroke team to access this new therapy. It's randomized testing, so neither patients nor the care team know whether the actual drug or the placebo was administered.  
In 2021, the trial launched. The Ottawa Hospital was the first centre in Canada and enrolled the first two patients worldwide. "Typically, you would think the U.S. would get the first patient because they're bigger, they have more centres, but it was actually us — it was here in Canada," says Dr. Dowlatshahi. To date, six countries are participating in this trial including Canada, the United States, the United Kingdom, Spain, Germany, and Japan. 
What are the early indicators?
While the testing is randomized, there are early indicators that give reason to be optimistic about what the results of this trial could mean for stroke patients in the future.  
In fact, Dr. Dowlatshahi cites the first patient enrolled was an 80-year-old woman who arrived at the hospital in 2021 suffering from a life-threatening stroke. She was enrolled in the study, and less than a week later, she walked out of the hospital. That's not something this stroke specialist typically witnesses in this type of patient. "She did amazing to the point that she returned completely back to normal," he explains. "We also got the second patient in the world — both did spectacularly. We're now up to six patients in Ottawa." 
Globally, 172 people have been enrolled in the trial with an eventual target of 860. While this is a randomized, blinded trial with final results still to come, Dr. Dowlatshahi believes this treatment could be a game changer for stroke patients after decades of little in the way of options. And for those living in the Ottawa region, they get access to something few Canadians have at this stage. "If you're somewhere where this trial is not available, you would go to the emergency department, get your blood pressure lowered, and receive the best of the standard care available," explains Dr. Dowlatshahi. "However, if you are in Ottawa and suffer this type of stroke, you have a 50% chance of getting something nobody else can get — something that may very well be the future standard of care."
And while the research teams continue to recruit more patients into the trial, not only here at The Ottawa Hospital, but also at all the other sites around the world, there is optimism that this could be the long-awaited breakthrough for patients who suffer from ICH stroke. "This research means a type of stroke that affects one out of four, that is currently the most lethal and the most disabling type of stroke, could become completely treatable."