David and Elizabeth Mann have a unique eye toward spotting something that works.
David's career in telecommunications led the couple to six different countries before coming to Canada almost 30 years ago. Through his work as a business solutions expert, David found ways to fix significant telecommunications network issues and explored new technologies to help countries meet their specific needs. Whether it was travelling to Zambia to diagnose and resolve a total telephone network failure in 1972 or working in Sweden in the late 70s to build, install, and bring to life enhancements to the emerging Swedish mobile network, David and Elizabeth have long been part of seeing what has gone wrong, and finding a way to put it right.
Their problem-solving eye also gives them the ability to recognize success — to see something and know that it is resilient, that it is progressive, and that it is making a meaningful impact.
"In our early visits to The Ottawa Hospital, we quite soon realised that there was a powerful parallel in its mix of healing, research, academic, and clinical activities," says David. "What seemed unique to us was that whilst there is a good set of all these activities, there were also many physicians who were able to embrace a combination of clinical, research, and academic skills."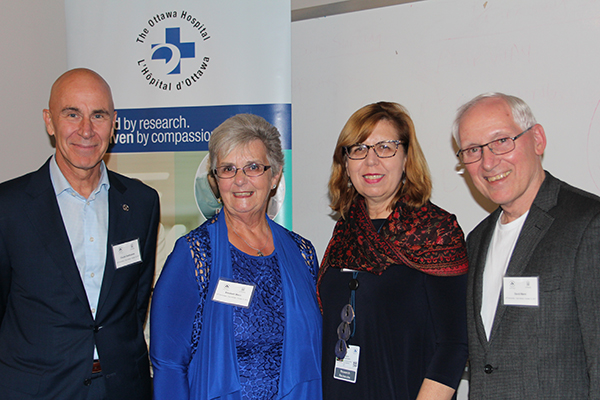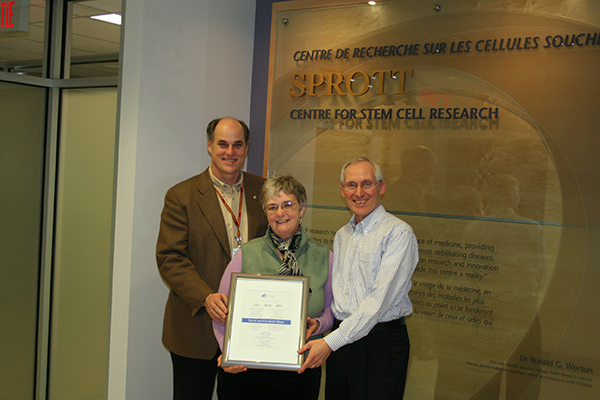 It is this recognition of The Ottawa Hospital's abilities — and their desire to see those abilities reach even further — that have made David and Elizabeth some of our strongest supporters. Their generous support since 1995 includes three endowment funds: the Fibromyalgia-Chronic Fatigue Syndrome Canada Research and Education Legacy Fund, the Fraser Mann Legacy Endowment Fund for Vision Care, and the David and Elizabeth Mann Legacy Endowment Fund for Colorectal Care. On top of that, they have contributed significantly to The University of Ottawa Skills and Simulation Centre located at our Civic Campus and in support of stem cell and gene therapy.
David and Elizabeth are also avid ballroom dancers, and when they are not competing on the dance floor, they dedicate much of their time to advocacy around fibromyalgia and pain management. They bring that same joie de vivre and talent they are widely known for throughout the dance community to their advocacy and their unwavering commitment to improving the well-being of others. They have been invited to speak on multiple occasions about the importance of having a healthy mindset, a positive attitude, and controlling those parts of life that you can control.
With their latest donation, they are hoping to awaken that same mindset — and desire to help the community — to inspire others to give.
And they are also honouring their beautiful daughter, Caroline.
Caroline, an oncologist working in England, passed away in January 2022 at age 51 from cancer. "She is fondly remembered by the many patients she looked after and also by the medical team, nurses, and radiographers in the hospitals that she worked in," says Elizabeth.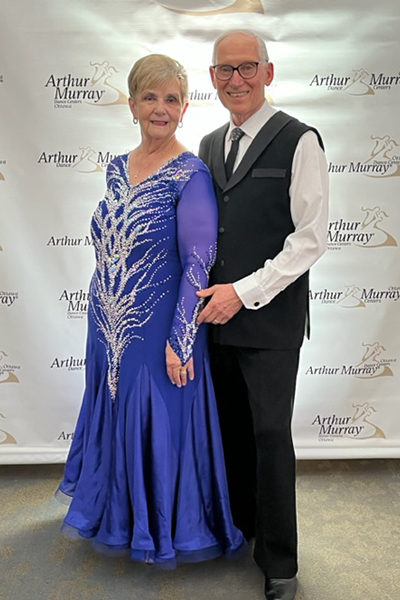 "She would have loved the working environment that is being created here in Ottawa."

— Elizabeth Mann
As an oncologist, Caroline treated patients with lung cancer, urological cancers, and lymphomas, and was leading many areas of clinical modernisation and treatment. "We would like to think that she would have loved the working environment that is being created here in Ottawa, with patient care and accommodation at new levels and the ability to refer locally to researchers and trials that might advance the science she was so very proud of," says Elizabeth.
To commemorate Caroline — and to foster a culture of generosity and community support — David and Elizabeth have announced that from November 1st until December 31st, they will match all donations up to a total of $100,000.
"We sincerely hope that our gift will help to bring the world-class capability of The Ottawa Hospital into our new hospital facility," David tells us. "We hope its impact will not only to give some financial help, but also to encourage others who can, to help in a similar way so their families and their family's families can have their lives enriched through the work done in this star of our community."
"We have a world-class facility here in this city of Ottawa. And it deserves all the support it can get."

— David Mann
Much like a well-practiced ballroom dance, this gift from David and Elizabeth will help lead others with a graceful promenade toward future support for the health and well-being of our community.
"We have a world-class facility here in this city of Ottawa," says David. "And it deserves all the support it can get."