Times of crisis can bring out the best in people, motivating them to step forward and help turn things around for their community. As the COVID-19 crisis hit communities across the country, donors at all levels began to mobilize. The Nanji family decided they needed to act, donating a matching gift of $100,000 in support of the front-line efforts at The Ottawa Hospital to combat COVID-19.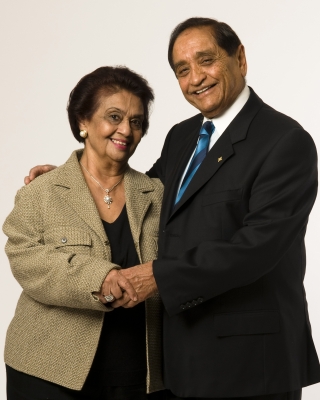 The commitment of healthcare workers is what inspired them to give. "Everyone going to work in a hospital today is somebody's loved one. There has been no other health crisis where we as Canadians have depended so much on the generosity and personal sacrifices of our healthcare workers," says Mr. Nanji.
Their generous matching gift is directed to the COVID-19 Emergency Response Fund and will support The Ottawa Hospital's front-line and research efforts to fight back against the virus. By positioning the gift as a matching opportunity, they hope to inspire others to give whatever amount they can, even though these are challenging times for everyone. "No amount is too small…This crisis is teaching us how to be a community again," says Mr. Nanji.
What's unique about the Nanji family's gift is that these long-time residents of Toronto made the decision early on to extend their impact beyond their immediate community. When they gave to The Ottawa Hospital they also gave to 16 other Canadian hospitals — a display of Canadian unity at its best.
 "As a family that has benefited so much from Canada over our lifetimes it was important to us to step up when Canada needed us," says Mr. Nanji. "We have a history of giving to causes close to us, but COVID-19 affects all Canadians and as such, we wanted to do what we could to help all of Canada. My family and I are so proud to help where we can."
For former hospital President and CEO, Dr. Jack Kitts, this gift is a reminder of the power of collective generosity. "The response from donors to the COVID-19 pandemic was immediate. We've heard from supporters, like the Nanjis, from across the country who want to be part of the solution and rally others to join with them. It's been very inspiring," says Dr. Kitts.
While The Ottawa Hospital is extremely grateful for this gift, the Nanji family expressed equal gratitude in return. "To the healthcare workers, we are indebted to you beyond words," says Mrs. Nanji. "We are aware that you have your families to look after, yet you come and look after us and ours."
To join the Nanji family in supporting The Ottawa Hospital's efforts to combat COVID-19, and to take advantage of this matching opportunity, please consider a donation today.
Double your donation today, up to $250,000, and
support the COVID-19 Emergency Response Fund.