Rare is a word used to describe Bryde Fresque on many levels. He has a zest for life that sets him apart. In fact, his physician Dr. Carolyn Nessim, a surgical oncologist and clinician investigator at The Ottawa Hospital saw this firsthand when Bryde faced a diagnosis that would have him battle for his life, with one rare condition after the other. Ultimately, it would take a skilled team to come up with a diagnosis and treatment for Bryde – a pheochromocytoma – an uncommon tumour that left Bryde's future uncertain.
Bryde's journey to his diagnosis of a rare cancerous tumour began on Boxing Day of 2012. He was travelling home from Napanee when he started to have pain in his left side. He stopped at a pharmacy just outside Ottawa and by the time he got to the counter he was doubled over in pain. The pharmacist told Bryde to get to the closest hospital — a community hospital was not far away.
Not long after arriving in their emergency room, Bryde was sent by ambulance to The Ottawa Hospital where he could receive care that is more specialized. He was in a tremendous amount of pain. Upon arrival, Bryde was suffering from a spontaneous hemorrhagic rupture of the left adrenal gland and he was bleeding significantly. Thankfully, he was in good hands as our interventional radiologists performed an emergency embolization procedure. This is a procedure where a guide wire was placed in a vessel in his leg and that allowed physicians to get all the way to the bleeding vessel by the adrenal gland, at which point they injected a product that plugged the vessel and stopped the bleeding. He was hospitalized for ten days before he was able to go home.
Unusual symptoms continue to develop
Bryde continued to feel off. A young, active man, Bryde recalls unusual symptoms that he couldn't shake. "I remember feeling really sweaty, I couldn't cool down properly. I would stand under the gym's cold water shower for 15 minutes post bike ride and it didn't make a difference," recalls Bryde.
By the summer of 2013, he was going through a battery of tests and questions at our Cancer Centre to try to pinpoint the diagnosis.
"He had such rare conditions – one right after the other."

— Dr. Carolyn Nessim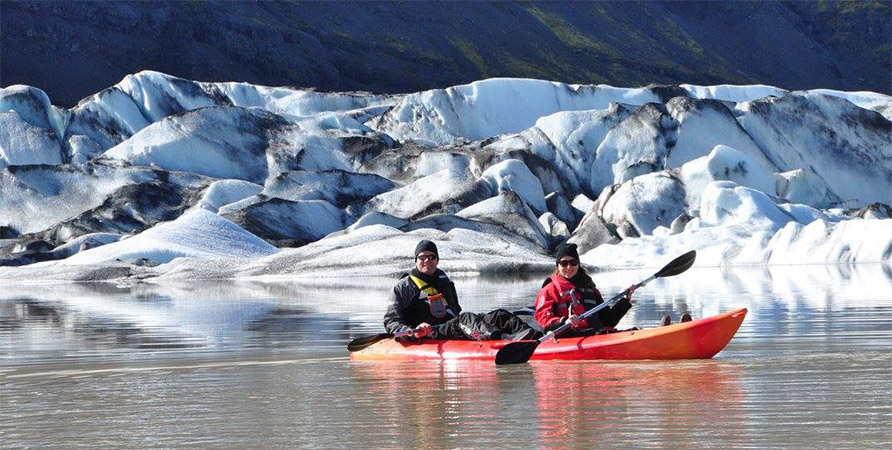 Though, at only 32 years old, cancer was the furthest thing from Bryde's mind. "I was young, healthy, a non-smoker, non-drug user, and active. That active part of my life was actually the only time I initially showed symptoms. That's when I would overheat on even the coolest days and couldn't cool down afterwards."
The spontaneous rupture of Bryde's adrenal gland six months earlier contributed to the challenge of pinpointing a diagnosis. It was believed he suffered from a large hematoma – a large residual clot after the bleed. "He had such rare conditions – one right after the other. A spontaneous rupture of an adrenal gland happens very rarely. I would say the challenge is that because the blood clot is so significant, it hides the underlying tumour and so it's difficult to identify on imaging," says Dr. Nessim.
Pinpointing the cause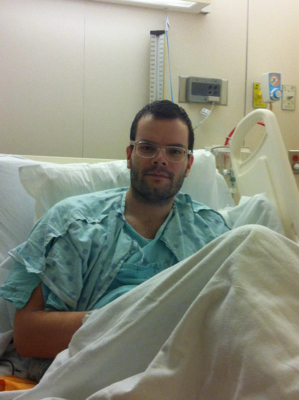 As time progressed, Bryde developed issues breathing, he couldn't bend in certain directions, and then he noticed a distention on his left side. Signs that had been pointing to a hematoma didn't add up because a hematoma should have healed within a few months, according to Dr. Nessim. That's when she started looking at the fact this could be a tumour.
Bryde's case ultimately landed with The Ottawa Hospital Sarcoma Tumour Board. "We meet every Friday to discuss complex cases like Bryde's. Everyone is in the room including medical oncology, radiation oncology, pathology, radiology, and surgery. We take each individual case and we discuss it as a group to determine the best course of action for a patient," explains Dr. Nessim.
This panel of experts decided that surgery was the best course of action to not only diagnose Bryde's condition but to treat him at the same time and remove this tumour that had significantly affected his quality of life. Given the large size of the tumour and the extent of organs it seemed to be invading on imaging, this would be a long and extensive operation with many potential risks and complications that would be best mitigated by a specialized team. The sarcoma team is well equipped and knowledgeable in how to do these complex operations. Our hospital is one of the three Cancer Care Ontario designated Sarcoma Centers in the province. Although Bryde did not have a form of sarcoma, the surgical approach for a pheochromocytoma is the same.
Most unusual pre-op visit
By the fall of 2013, the mass located on Bryde's left side was now the size of a cinder block. Staying true to his rare and unique personality, Bryde, who loves Halloween, showed up for his pre-op appointment on October 31, 2013, wearing his homemade Iron Man costume!
On November 15, a huge team of more than 20 medical professionals assembled in the operating room. As Bryde lay on the operating table awaiting surgery, he recalls Dr. Nessim telling the team about the Halloween pre-op appointment, "Then she looked down at me and said, 'Take a deep breath, Iron Man' as I was intubated."
Bryde had to put his full trust in Dr. Nessim and her team during the complex, 12-hour surgery. The procedure can carry several risks because although Bryde seemed to have a non-functional pheochromocytoma, with the stress of surgery there is always the risk of stimulating the tumour causing it to release adrenaline, which can lead to a serious increase in blood pressure during surgery. Bryde was given some special medications during the operation to help ensure that didn't happen.
"I feel privileged every time I've been able to help a patient."

— Dr. Carolyn Nessim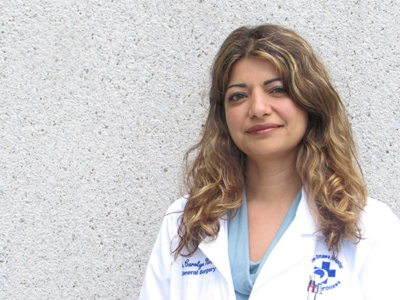 Just prior to going into the operating room for this intricate surgery, Dr. Nessim reviewed the scans one last time and then visualized each step, planning the order they would follow to remove the tumour successfully. The highly skilled group alongside Dr. Nessim included a urologist, a thoracic surgeon, and a Hepato-Biliary and pancreatic surgeon, along with two anesthesiologists. "It was a big case," says Dr. Nessim.
Bryde had his left kidney removed, as well as his left adrenal gland, and a third of his pancreas. They performed a colon, bowel, and diaphragm resection and reconstruction for each, removed his spleen as well as an accessory spleen, which can be found in many patients, 10 lymph nodes, and the hematoma. Thankfully, Dr. Nessim was also able to remove the entire tumour. The surgery was a success.
Finding the answers
Bryde spent a total of 40 days in hospital recovering, and it was during that time that he finally received an explanation for his symptoms. He was diagnosed with pheochromocytoma, which is a rare form of tumour that can be cancerous. They usually form on one of the body's two adrenal glands, which are located above the kidneys, and approximately 10% of pheochromocytomas spread to other parts of the body. Pheochromocytomas can be dangerous because they may produce an excessive amount of the hormone adrenaline, which makes people sick, primarily by increasing their blood pressure. In Bryde's case, what made a diagnosis challenging before surgery was that his pheochromocytoma was considered non-functional, and his urinary tests for adrenaline markers were negative. But it's possible it was releasing low levels of adrenalin all along.
"The Ottawa Hospital is very well positioned in the study and treatment of this rare but dangerous tumour."

— Dr. Neal Rowe
"It potentially explains all his sweating and feeling very flushed and hot as maybe he had a subclinical release of adrenaline," confirms Dr. Nessim. Bryde also learned the tumour was cancerous.
Expertise in pheochromocytomas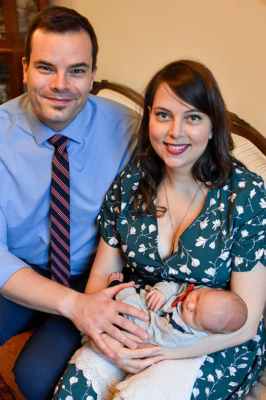 Much of the research, around the globe and here at our hospital, focuses on timely detection and treatment of pheochromocytoma. Dr. Neal Rowe is a clinical urologist at The Ottawa Hospital researching this type of tumour. "There are several known genes that increase the risk of a patient developing a pheochromocytoma. By identifying these genes in people, we can test family members, achieve early detection, and better understand the biology behind why these tumors form." Dr. Rowe says this type of tumour affects between one to two cases per 100,000.
"Thanks to Dr. Nessim and the team at The Ottawa Hospital, I got better – I get to enjoy my life to the fullest. I got to marry the girl of my dreams and I got to become a father."

— Bryde Fresque
"The Ottawa Hospital is very well positioned in the study and treatment of this rare but dangerous tumour. We have a collaborative group of experts in endocrinology and medical genetics in addition to a dedicated team of anesthesiologists and surgeons. With our research and development of various national initiatives, I think we're front and centre," says Dr. Rowe.
Moving forward, upwards, and giving back
Today, Bryde is seven years post surgery, and cancer free, with no signs of recurrence. While his recovery took time, he's back to living his active life and truly grateful for the care he received. In fact, to raise funds and awareness for rare neuro endocrine cancers, Bryde and his wife, Natalie, climbed Mount Kilimanjaro in Tanzania, as well as the highest pass in the world, located in Annapurna range of the Himalayas in Nepal – all while still being considered a cancer patient.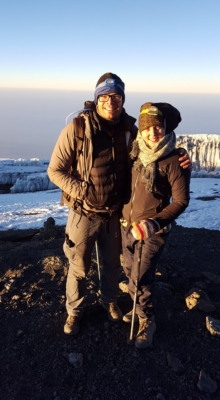 "Being a cancer patient or being sick is a life-changing event. Thanks to Dr. Nessim and the team at The Ottawa Hospital, I got better – I get to enjoy my life to the fullest. I got to marry the girl of my dreams and I got to become a father." He adds, "I honestly think if I had been anywhere else, if I had been under anyone else's care, I probably wouldn't be here today. I really wouldn't."
That's why Bryde also holds an annual Halloween fundraising party, known as Spadinaween, to support our hospital. To date, he's raised over $10,000 and Dr. Nessim even drops by to show her support.
The special bond between this patient and physician continues, as Bryde even enrolled to help Dr. Nessim with a global research project on sarcomas. For Bryde, it's an honour to help other patients. "Me giving back to The Ottawa Hospital has come full circle as I was invited to partake in an international study on sarcomas with Dr. Nessim and other doctors from the UK, Italy, the States, Netherlands, and Australia – to help improve the patient experience. If I can turn a negative into a positive. I'm in!"
Seeing Bryde thrive today is what makes those long, grueling days in the operating room and the constant search for answers worthwhile. "It's why I do my job. It's the biggest joy and most rewarding," says Dr. Nessim. "I feel privileged every time I've been able to help a patient."
---
The Ottawa Hospital is a leading academic health, research, and learning hospital proudly affiliated with the University of Ottawa.