When Ashley Ruelland met her instant
In March 2015, Ashley Ruelland was driving to a bachelorette party in Mont  Tremblant  when another car crossed the centre line and hit her head on. Her road to recovery included nine months  in  the  Intensive Care Unit, trauma unit  and rehab, and continues to this day.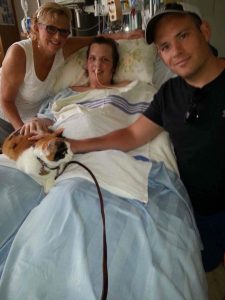 Life can change in an instant. Ashley Ruelland lived to tell the story of her 'instant'.
In early March 2015, then 27-year-old Ashley was living in an apartment with her two cats. She was busy working as a construction manager, part time as an office administrator, and she had started a catering business. She had never really been sick, and had no idea where the Civic Campus of The Ottawa Hospital was located.
That changed on Friday, March 13. Ashley was driving the bride-to-be and another friend to a bachelorette party in Mont Tremblant. It was a clear day and the three were brimming with excitement.
About an hour from their destination, on highway 323, a car crossed over the centre line, head on into their lane. That was Ashley's instant. The noise from the impact was horrific, with the earth-shattering sound of grinding metal and fragmenting glass.
Miraculously, one of the first people on the scene was a resident from The Ottawa Hospital. She quickly assessed how serious Ashley's injuries were. It took first responders over an hour to extricate Ashley from the car. She was rushed to the Hull Hospital, but because of the severity of her injuries, she was transferred to the region's only trauma centre at The Ottawa Hospital Civic Campus.
While her friends had relatively minor injuries, Ashley had a grocery list of broken bones: from her right big toe to her ribs and just about everything in between. Most significant were an open compound femur fracture, an open left elbow fracture, right humerus fracture, crushed and broken left and right foot and ankle fractures, an open book pelvis fracture, and multiple broken lumbar vertebrae.
"This lady's life changed forever that day," said Dr. Guy Hébert, Head of the Department of Emergency Medicine, when he looked at the hundreds of files related to Ashley's surgeries and treatment.
She remained in an induced coma in the intensive care unit for two months. She endured numerous reconstructive surgeries, 100 hours of orthopaedic and internal surgery, and over 100 blood transfusions and infections.
"I was scared to think of the life that was waiting for me outside those hospital walls."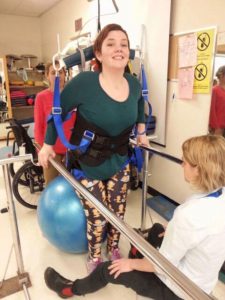 Four months after the crash, Ashley began physiotherapy in her hospital bed and could finally eat solid food.
She had lost all of her hair and had severe nerve damage, chronic illness myopathy and neuropathy.
"I couldn't feed myself, brush my own teeth or move much at all. The first couple of weeks seemed like torture. The nurses would set little goals, like sitting up in my wheelchair for 20 minutes a day. The physiotherapist and occupational therapist didn't know if I'd ever walk again. I was scared to think of the life that was waiting for me outside those hospital walls," said Ashley.
But then her first real sign of recovery came a few weeks later when she was able to feed herself.
In August, Ashley moved to the rehabilitation centre at the General Campus where she began an intensive regime of physical, occupational and psychological therapy programs. Just before Christmas, nine months after the accident, Ashley left the hospital. Although she was in a wheelchair and hadn't made many functional gains, Ashley felt stronger and healthier.
The young woman continued as an outpatient with rehab, and had her last surgery in February 2016, which allowed her to transfer from her bed to chair, independently.
"In May 2016, I stood independently for the first time," she said. "And after many more weeks of painful standing and walking in the hospital's therapy pool, I started to walk with the aid of a harness within the parallel bars. By the end of the summer, I was able to move with a walker."
Over two years later, Ashley is walking again. In fact, not only is she walking but she's travelling, recently returning from Ireland. She's also in school and looking to buy a home.
---
Ashley reflects on her  life-altering 'instant'  and is eternally grateful for the exceptional  care  she received  at The Ottawa Hospital.  "Without it, I wouldn't be here today."