A global shift in cancer treatment
Despite worldwide, ongoing research into these frontline treatments for more than a century, advances have been slow and incremental. But today, researchers and clinicians are exploring ways to make our own immune systems recognize and reject cancer cells with unprecedented results. One of the most promising approaches is called CAR-T therapy (chimeric antigen receptor T-cell) and for some patients it is proving to be a game changer, even eradicating cancers that were previously determined to be untreatable.
"In some patients with certain lymphomas and leukemias, who have not responded to therapy, we've seen a remarkable response. We've seen a 50 to 80 percent response rate in these diseases where patients had very few options," said Dr. Natasha Kekre, associate scientist and hematologist with The Ottawa Hospital (TOH). "That's why we're so interested. We haven't seen anything this promising to battle cancer in decades."
What is CAR-T Therapy?
In a normal immune system, T-cells play a key role in the body's immune response to specific pathogens. In some cancers, like acute lymphoblastic leukemia (ALL), cancerous B cells become invisible to the T-cells that are meant to kill them. In CAR-T therapy the T-cells are collected and reprogrammed in the lab to recognize and attach to a protein found only on the surface of B cells. The reprogrammed T-cells (now CAR-T cells) are put back into the patient where they seek and destroy the cancerous B cells.
Giving Canadians access to leading-edge treatments
CAR-T therapy as a treatment for cancer has been on the horizon for almost a decade. And as extraordinary results came in, dozens of clinical research centres throughout the U.S. and Europe started their own CAR-T research programs, but no research Centre in Canada had taken it on. Until now.
As one of Canada's leading research and treatment centres, our unparalleled suite of technologies coupled with our world-leading expertise means we are uniquely – and ideally – positioned to help bring this innovative research to Canada, and to Canadians.
Our researchers are leading the charge, working with the BC Cancer Agency and other colleagues from across the country, to develop a made-in-Canada CAR-T research program. This program will build Canadian expertise and capacity for innovation in the promising CAR-T field. We expect it will lead to better CAR-T therapies that work for many kinds of cancer, as well as innovative approaches for providing CAR-T therapy within the Canadian health-care system.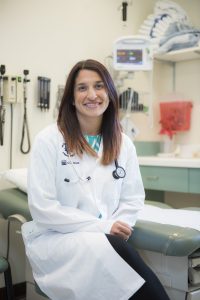 Dr. Natasha Kekre, associate scientist and hematologist at The Ottawa Hospital, is leading the development of Canada's first CAR-T research platform in collaboration with colleagues at TOH and the B.C. Cancer agency.
In her role as a clinician-scientist at The Ottawa Hospital, Dr. Kekre treats lymphoma and leukemia in adults, and works to develop early phase clinical trials and move innovative therapeutic strategies into patients.
Her research team focuses on finding new and innovative ways to treat cancer which includes work on both the CAR-T research platform and oncolytic virus-infected cell vaccine therapy for leukemia.
"This type of immunotherapy research is groundbreaking," said Dr. Kekre, "and I can't wait to see where it will go in the future."
We haven't seen anything this promising to battle cancer in decades."
— Dr. Natasha Kekre, The Ottawa Hospital
Clinical trial set to begin
A major component of this revolutionary Canadian CAR-T research program is a clinical trial led by our team, using an experimental made-in-Canada CAR-T therapy. Expected to launch in 2019, the trial will enroll up to 60 participants with relapsed or refractory ALL or diffuse large B cell lymphoma (DLBCL) at The Ottawa Hospital (TOH) and Vancouver General Hospital.
However, this is just the beginning; the Canadian CAR-T research program is one part of a larger effort at The Ottawa Hospital to develop new therapies and improve health in Ottawa and around the world.
Organizations such as BioCanRx, the Canada Foundation for Innovation, and the Government of Ontario have supported The Ottawa Hospital's CAR-T research and manufacturing facilities, but additional funding is essential to make this program a reality.
Every day people come to The Ottawa Hospital searching for answers; and every day, our research brings hope and innovation to millions of patients and their families. Every life changed, and every life saved through groundbreaking work like this is only made possible through the generous support of people like you.
Be Inspired
First diagnosed at age 13 with acute lymphoblastic leukemia, Stefany Dupont was in remission for more than five years before her cancer relapsed. A bone marrow transplant followed chemotherapy, but it came back again. Her odds of surviving were less than 10 percent when her Ottawa doctors recommended a CAR-T therapy clinical trial in Philadelphia. She received the treatment in 2017. Today, Stefany remains cancer-free.
At only six years old, Emily Whitehead had already endured 16 months of chemotherapy when her cancer returned, and her parents were told there were no conventional treatments left to try. She was the first child to join a CAR-T clinical trial and within three weeks was in complete remission. More than five years later the cancer-fighting T-cells were still in her body and now, more than 7 years later, Emily remains cancer-free.
Bill Ludwig had struggled with acute lymphoblastic leukemia (ALL) for more than a decade when he became the first person to receive CAR-T therapy in Pennsylvania in 2010. Not well enough to undergo a bone marrow transplant, CAR-T immunotherapy was his last, and only, hope. It worked, and Bill remains cancer-free.