Each Fall, The Ottawa Hospital's skilled and compassionate healthcare professionals demonstrate tremendous support for our hospital and our community during the I Give @ TOH employee giving campaign. This year's campaign launches on October 26 – and we want you to be a part of it!
This is your opportunity to invest in our hospital's leading-edge research, equipment and patient care. Your support will help us continue to offer our patients a higher standard of care when they need it most.
With each donation of $25 or more in support of The Ottawa Hospital, you could win box seat tickets to see the Ottawa Senators play next season! You'll enjoy free parking, food, and beverages courtesy of Coughlin and Associates.
Thank you for your support!
It is the continued support from individuals like you that helps make a difference in the lives of thousands of patients each and every day. Together we can build a stronger and healthier community for us all.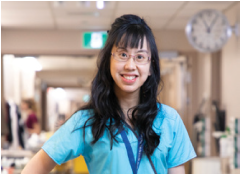 Thirteen years ago, Jeannette Cheng headed out with friends for a white-water rafting adventure, but ended up in a serious car accident. Jeannette, the most critically injured, was airlifted to the Regional Trauma Centre. She had multiple operations to repair broken bones and damaged organs, and spent four months recovering in the hospital and rehabilitation centre. The compassionate care Jeannette received inspired her to become a nurse. Today, she works in the Surgery Division at The Ottawa Hospital.

This is why she has chosen to support the I Give @ TOH Campaign.