Imagine not being able to control a trembling in your hands and limbs, the inability to speak loudly, losing your sense of smell, dealing with unexplained pains. Unfortunately, these are just a few of the symptoms affecting Parkinson's disease patients every day.
More than 100,000 Canadians live with Parkinson's, including 8,000 here in Ottawa. Parkinson's is a progressive neurodegenerative disease that primarily affects voluntary, controlled movement. The exact cause of the disease is unknown. Discovered almost 200 years ago, there is still no cure or proven treatment available to slow its relentless progression. People can develop Parkinson's disease at any time in their life.
"Our society will be faced with many more patients with Parkinson's over the decades to come. In many ways Parkinson's is complicated and also complex. I strongly believe that although it's complex and complicated, we can solve that riddle. We have the expertise in Canada to make a major contribution to a cure for this disease."

– Dr. Michael Schlossmacher, Senior Scientist, The Ottawa Hospital Canada Research Chair in Parkinson Disease and Translational Neuroscience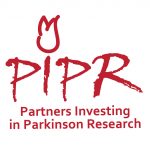 Partners Investing in Parkinson Research (PIPR)
In 2009, a group of investment advisors from the Ottawa financial community formed Partners Investing in Parkinson Research (PIPR). The group set an original goal of raising $500,000 in support of research to better understand and diagnose Parkinson's. Since then, PIPR has expanded to include many individuals and families affected by Parkinson's who are committed to supporting research, and has raised over $1.4 million.
Co-chaired by Andrew Frank of RBC Dominion Securities and Kim Teron of Teron Inc., PIPR members reach out to the community at large to raise vital funds to support leading edge Parkinson Research at The Ottawa Hospital.
PIPR has provided important base funding to the scientists, allowing them to leverage further grants. The advancements have been impressive. PIPR has not only helped to fund research for the treatment and cure of Parkinson's disease, it has galvanized the community to support the cause that previously received little attention. Above all, the PIPR team has given hope to those who live with this unremitting disease.
"Parkinson's Disease had already been part of our lives for over 20 years, so how could we not get involved? Raising funds for research was the obvious action, but fundraising at first seemed daunting. We soon learned that our family, friends, neighbours, and colleagues all wanted to help – they just needed to be asked. But our group has become more than fundraising – we have become an extended family, supporting each other as we faced many of the same challenges dealing with this disease as well as sharing all of the same fears and hopes."

– Bobbie Driscoll, PIPR co-founder
PIPR is always open to new members and encourages anyone interested to join!
Learn more about PIPR and hear about some of the exciting research advancements on Episode 34 of Pulse, featuring Dr. Julianna Tomlinson and Kim Teron.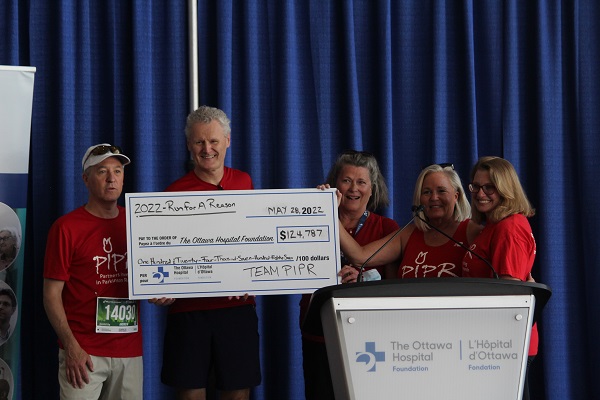 Parkinson Research at The Ottawa Hospital
Researchers at The Ottawa Hospital and the University of Ottawa came together in 2004 to form the Parkinson Research Consortium under the leadership of Dr. David Grimes and Dr. Michael Schlossmacher. The consortium brings together clinicians and scientists from various disciplines to improve our understanding of Parkinson's disease, conduct novel and innovative research, and develop new treatment options, with the ultimate goal of developing a cure.
April 2022 Parkinson Research Update – Read more (PDF)
Recent Milestones
Developments in understanding how genes contribute to onset and progression of the disease.
Development of innovative therapeutic strategies including targeted gene therapy.
Development of an experimental spinal fluid test to improved diagnosis.
Discovery of a new genetic mutation that makes some people more susceptible to this disease.
Development of a new mouse model that mimics a familial form of early on-set Parkinson's disease.
Publication of Canada's first Parkinson's care guidelines.
Support Parkinson Research
Support ongoing research efforts by making a donation, or by calling 613-761-4295. For more information about the research or how to join the team, contact Graham Thompson, Manager, Philanthropy, at 613-798-5555, ext. 19818, or grthompson@toh.ca.