A childhood revelation and rethinking what you know about bones
Meet orthopaedic surgeon Dr. Geoffrey Wilkin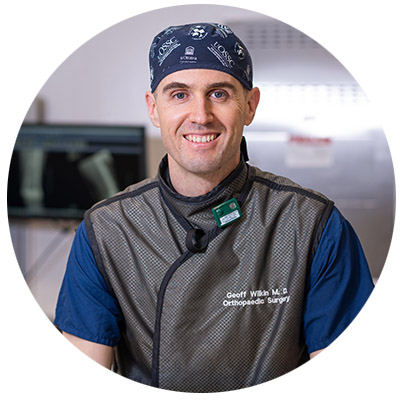 When you break a bone, there's a small window of opportunity to set it up to heal properly. No one knows this better than Dr. Geoffrey Wilkin, an Orthopaedic Trauma surgeon at The Ottawa Hospital. If a patient comes in with a traumatic injury, Dr. Wilkin knows he needs to come up with a plan, and fast. A properly aligned and healed bone can mean a world of difference for a patient's recovery and restoring function in the affected area.
After an early interest in exercise science and an undergraduate degree in kinesiology, Dr. Wilkin became fascinated by the mechanism that allows bones to heal. Read on to learn more about these mechanisms and hear about his first encounter with orthopaedics at just 12 years old.
Q: Were you always drawn to medicine, and specifically orthopaedics?
A: As I've reflected on my career arc, there is one thing that might have had a bigger impact than I initially thought. When I was about 12, my younger sister was hit by a car and broke her leg.
She had surgery, so she had a big cast and pins sticking out of her leg. They had home care nurses coming in that changed her dressings. I remember thinking it was fascinating.
It's funny, I have a distinct memory of one of her first follow up visits. We were looking at the X-ray and saw there was new bone forming; the bone had already started healing. It was my first introduction to this fascinating ability of our skeleton to heal itself.
There was nobody in my family who was medical, but towards the end of high school, I had it in my head that I wanted to be a doctor. I don't remember if there was an exact moment, but I took a course on how our bodies work and function, and it spurred me to my undergrad degree in kinesiology, the science of human movement, at McMaster University. Then, I went straight into med school at Queen's University.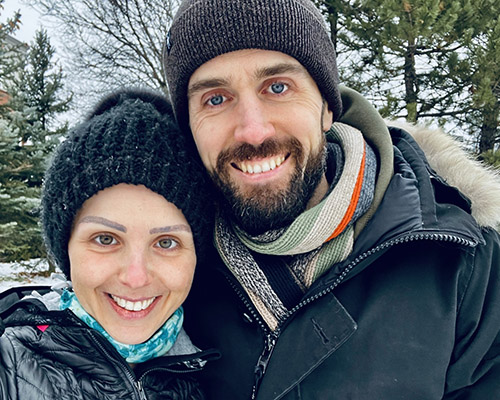 Q: As an orthopaedic surgeon why did you choose to work at The Ottawa Hospital?
A: My connection to Ottawa started early and sort of by chance. It was the summer after my second year of medical school, and my girlfriend at the time, who is now my spouse, was in law school at the University of Ottawa. We had been commuting back and forth through all those years, and I wanted to spend the summer in Ottawa to have more time with her.
I knew I wanted to get into orthopaedics at this point, so I went to the uOttawa faculty list and saw someone whose primary area of interest was orthopaedic trauma and upper extremity surgery. I thought, "That sounds kind of interesting. I'm just going to email them and see if they've got any research I can do as a med student."
That someone was Dr. Steve Papp, here at The Ottawa Hospital, and he said they could find a project for me. I came up and started working with him and Dr. Allan Liew, who's also in trauma, and we really hit it off. I just found it fascinating and learned a ton working with them. They became great mentors and certainly supported me getting into orthopaedics.
It was apparent to me at the time that the orthopaedic program here had a lot of strengths. Ottawa is big enough that we see a huge range of pathology — traumatic injuries, joint reconstruction, oncology, spinal issues, pediatric cases. For someone looking to have a well-rounded residency training, Ottawa covers all those bases. I'm grateful to now be able to contribute to the residency program that trained me.
After my fellowship training in New York City, I had the opportunity to stay and work there but chose to come back to Ottawa, because I thought it would be a great fit for my career and my family. As the only trauma centre serving the National Capital region, eastern Ontario, and Nunavut, I knew there would be no shortage of challenging injuries I could help treat, and this would translate into a rewarding and fulfilling clinical practice. Also, our division had recently established a research chair in regenerative orthopaedic surgery, which I knew would provide great collaborative research opportunities to improve our treatment of challenging fracture-related issues.
But the decision to come back on staff was ultimately about the people I would get to work with. I knew we had a great group of orthopaedic surgeons I would be joining. Trauma care is really a team sport, and a well-functioning team is critical. We have a particularly strong group of trauma specialists at the Civic Campus. My early mentors are now my partners, and we always support each other. We also have excellent nursing staff, physiotherapists, imaging technologists, and other allied health professions, who are all working towards a common goal. This makes for a great work environment, and I know this translates into world-class fracture care.
Q: What is the most interesting thing you've learned as an orthopaedic surgeon?
A: The most interesting thing I've learned, and I think this speaks to a perception a lot of people have, is that bones are not an inert part of your skeleton. We have this perception that bone is this hard substance that just sits there and holds our body up, but it's really a living, dynamic tissue. It has amazing reparative potential, and it's one of the only tissues in the body that heals without a scar.
As trauma surgeons, we have to harness that potential, that living aspect of the bone, and respect it. Orthopaedics gets a bad rap as being just carpentry — and there is a lot of that — but it's also gardening. You have to nurture this living tissue and try to find the right mix of getting the mechanical properties of the bone to work together with its biologic properties.
My role as a surgeon is to guide the bone to do what it knows how to do.
Q: You worked on Travis Vaughan's case. What made it so unique?
A: Travis had a very severe injury to his femur due to his snowmobiling accident. In addition to a bad fracture, he also had bone loss, which poses a particularly unique surgical problem.
When Travis was referred to me, we initially thought the task was simply rebuilding the bone loss, but we also realized it wasn't as well aligned as it could be, and we needed to address that to make sure his range of motion was maintained. He thought he was going in for a 90-minute procedure, and I had to break the news that this was probably going to be more of a five-to-six-hour procedure.
Early after people's injuries is the best time to get it perfect. The window of opportunity to get it right is small. Anything that comes after is more difficult to deal with.
The other challenge in cases like Travis's is that we can do this big surgery, but we don't know whether we've won for months. At each follow-up visit, we're seeing how he's doing, we're watching X-rays for signs of bone healing, but often on an injury like his, it's a year or more to know if we're in the clear.
Fortunately, he did well, and we were able to eventually declare victory on his injury.
Q: The Ottawa Hospital is currently working towards the creation of a new, state-of-the-art health and research centre to replace the aging Civic Campus. What will this new hospital mean for your patients?
A: I'm certainly excited for the New Campus Development. I've been involved in some of the planning for the orthopaedic clinics, where we will have new clinic space with lots of rooms to deal with the increased patient population. The demand for orthopaedic care grows every year, and we need to ensure we have the capacity to meet people's needs.
The new campus will be a state-of-the-art trauma centre. There will be an integration of trauma services, including a roof-top helipad with an elevator that goes right to the trauma bays, the emergency department, and the operating rooms. That integration is going to be critical for patients with the most severe injuries; it saves precious minutes.
Orthopaedics is just one piece of the puzzle; multiple services need to be integrated, and the better we can put them together in one spot, the better care we can provide for patients.
Q: What would we find you doing when you aren't at the hospital?
A: I love spending time with my family. My two young kids bring a lot of joy to my life. I've also really taken to mountain biking. I get out in the summer whenever I can and do fat biking in the winter, which is way more fun than I expected it to be. I also enjoy snowboarding and skiing. If I had more time, I really do like cooking, but sometimes it's hard to find the time.
Dr. Wilkin with his children.
Dr. Wilkin mountain biking.