Getting ahead of rehab with prehab
Meet Emily Hladkowicz, research associate in perioperative frailty at The Ottawa Hospital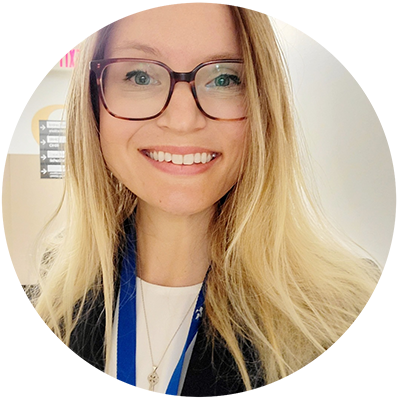 You've heard of rehab, but have you heard of prehab? While rehab typically follows surgery or other healthcare procedures, prehab involves getting patients as healthy and strong as possible before a procedure to improve their recovery after surgery.
Harnessing her degrees in psychology and passion for supporting older adults, Emily Hladkowicz is studying the power of prehab as part of her work as a research associate in the Aging Innovation in Perioperative Medicine and Surgery (AIMS) Research Program at The Ottawa Hospital.
Read on to learn about the exciting trial Emily is working on and what motivates her and her team.
Q: What were your early years like?
A: Ottawa is home for me, my parents actually met at the Civic Hospital. My dad was an anesthesiologist, and my mom was a nurse. I was very sports- and family-oriented growing up, I have a twin brother and an older brother, and my grandparents were very involved in my life.
Q: How did you decide to pursue psychology?
A: My favourite subjects were always the sciences, and after high school, I went to the University of Guelph because I wanted to be a vet. But in my first year, I took a psychology elective, and it was a no-brainer for me to major in it. Learning about human connection, mental health, how we think and feel and exist in the world and with each other — I hadn't had that level of exposure to it before, and I felt an innate drive to pursue it.
But I still really enjoyed the science piece, so I minored in biology. I kind of got the best of both worlds; I just needed to flip them.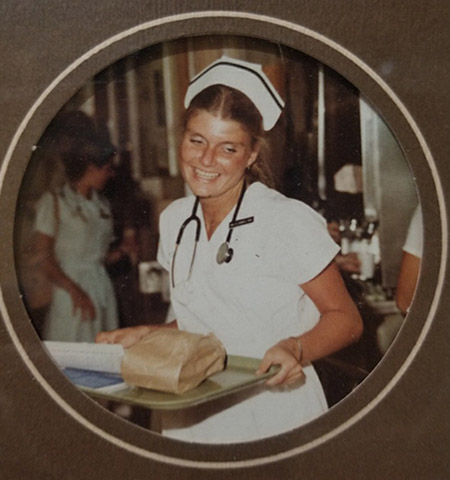 Q: How did you wind up working as research associate for the AIMS Research Group at The Ottawa Hospital?
A: My first summer home from university, I got a job as a research assistant in medical education at the University of Ottawa. After that, I was hired by the Department of Anesthesiology and Pain Medicine as a research assistant. That was around September 2011. I was mostly doing medical education research, so simulation and all that cool stuff.
I was there for a couple years, then applied a posting from Dr. Dan McIsaac, who studies perioperative care as an anesthesiologist, and the rest is history. Before my dad retired a few years ago, I would get to see him at work and talk to him about research, which was very special.
Q: What exactly do you work on through the AIMS Research Group?
A: Our overarching goal is to improve care and outcomes for older adults with frailty who are having surgery. In my day-to-day, I'm supporting and overseeing the research program with Dr. McIsaac.
I used to have more contact with the patients themselves, but now I'm managing a team and several research projects, so it's my amazing colleagues who work more closely with the patients in our studies. But whenever there's time if I'm at the Civic or General campuses, and one of our participants is in hospital, I'll pop up to the ward. I still love to do that.
Q: One of the trials you're working on is the PREPARE Trial. What exactly does it involve?
A: Our PREPARE Trial is a home-based, telephone-supported study of 750 older surgical patients with frailty across Canada. It involves exercises that address strength, cardio, and stretching. Participants receive supports like instructional booklets, DVDs, resistance bands, pedometers etc. But it's not just exercise, it's a whole program to get them strong and safe before surgery. We have trained team members who might address malnutrition or increasing protein.
The prehab coaches also call weekly to see how participants are doing, talk them through challenges. It has a huge psychosocial piece.
Q: What is the PREPARE Trial showing so far?
A: We're about 75% of the way through the trial, and early data are showing encouraging evidence that participants are adhering to their prescribed programming. Anecdotally, we know that adults 60 and over living with frailty enjoy this intervention. It's feasible and there's a self-perceived benefit.
Our participants have this drive, and they just need an opportunity to foster it. We often hear people say, "after surgery, I want to be able to play with my grandchildren, I want to be able to do the day-to-day things that matter to me." And recently, we had one patient say, "I feel stronger, and I'm more at ease with the surgery."
Q: What is the most exciting thing happening in your field currently?
A: Patient engagement in research. Our team genuinely cares about older adults, and being able to do patient-oriented research is so exciting and meaningful and valuable. Dr. McIsaac always has new and important research ideas, and then to hear from a patient's perspective, it's so collaborative and exciting. It helps us make sure what we're researching is ultimately going to matter to our patients.
We couldn't do this research without people who are willing to consent to a trial in such a hard time in their lives. The participants in our research studies inspire us to continue our work and develop our research. Despite the pandemic and delays, we have been on target or exceeded recruitment rates. It's a testament to the participants; they want to do this.
Q: Why did you choose to come back to Ottawa and stay at The Ottawa Hospital?
A: The culture of the research team here is so supportive and collaborative. We all have the same goal: to improve the lives of older adults with frailty having surgery. Dr. McIsaac is so encouraging to make sure everyone is working together and individually to be where we each want to be.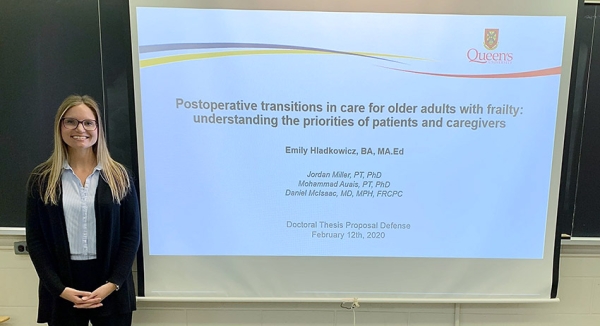 For me, this means I was able to do my Masters, and now I'm finishing my PhD in Aging and Health at Queen's, while still working as part of the research team. I'm currently studying the postoperative phase, to help older adults and their caregivers transition home after surgery. In terms of future professional steps, I'm excited to bring these skills and everything I learn back and help develop innovative projects with the team.
The Ottawa Hospital feels like home to me.
Q: What would we find you up to when you're not at work?
A: It's been very busy lately, between work and school. I also had the privilege of being a support person to my grandfather in long term care. I've always had an affinity for working with older adults, and so being a caregiver to my Poppa during the pandemic is something I'll never forget. The love I felt for him over those years and seeing the resilience and wisdom in him and the other older adults in care motivates my work now. But I do enjoy getting outside – snowshoeing and cross-country skiing in the winter, golfing and cottaging in the summer!