Twenty-five years ago, Jackie Holzman registered for the inaugural Run for a Reason. It was the first year for The Ottawa Hospital Foundation's fundraising partnership with Ottawa Race Weekend.
The former mayor of Ottawa was diagnosed with breast cancer, and she decided to turn that into an opportunity to encourage people to get a mammogram — but she didn't stop there. "I also used my breast cancer diagnosis as a vehicle to generate donations for the Breast Health Centre. My daughter Ellyn ran the 10k and together with family and friends, and promoted by the Ottawa Citizen, we raised around $25,000," remembers Jackie.
As a member of the Ottawa Hospital Research Institute for several years, including serving as the chair, Jackie understood the need to support research to develop the most advanced treatment options for cancer. By 2014, she was recognized with the Spirit of the Run award for her longstanding dedication to the cause. Over the years, Jackie and her family have helped raise over $350,000 through the Ottawa Race Weekend and other initiatives.
Turning to the Rose Ages Breast Health Centre
Back during that first fundraising run, Jackie had a dedicated team supporting her efforts. One of those people by her side was her 12-year-old granddaughter Rebecca Holzman (now Leikin). Little did they know at the time, almost a quarter century later, that little girl would face her own breast cancer diagnosis. "One of my first conversations after my biopsy was with Bubbi. She said there's nothing like the care here," remembers Rebecca. "We're so fortunate to have the Breast Health Centre. And I saw it right from the start."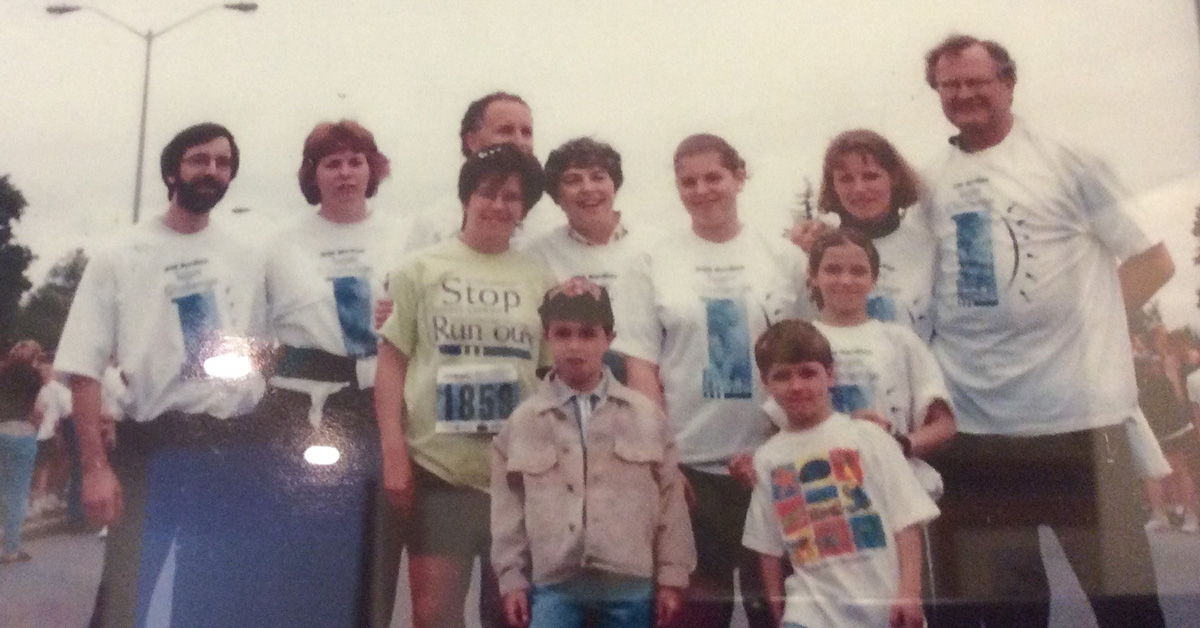 It was early 2022 when the mother of two young boys received her diagnosis. Rebecca underwent 22 chemotherapy treatments, eight targeted infusions, and a double mastectomy. "Ten years ago, my diagnosis would have had a terrible outcome, but with advancements in research, I was, and will continue to be, on medications and therapies that have saved my life. Some of these medications weren't invented 10 years ago or even two years ago," explains Rebecca. 
Following the philanthropic footsteps of her grandmother
For Jackie to see her granddaughter face a more aggressive form of cancer was difficult, but she had also seen the advancements in care since her diagnosis years before.
"You know, in my case, my sister had also faced a breast cancer diagnosis and our mother had died from it. As the mayor, I was there to open the Breast Health Centre at the Civic Campus, and then I was at the opening of the Rose Ages Breast Health Centre of the General Campus in 2018," remembers Jackie. "I know the kind of research we were doing, the people that we're bringing in, so I knew the care had moved so far along, as had science itself."
While Rebecca's care journey will continue, she's ready to give back. She's taken the fundraising baton from her grandmother and she's bringing the Holzman's together once again, along with the Leikin's — they will Run for a Reason as a family. It will be a way to say thank you for having access to the specialized medical care at The Ottawa Hospital when she needed it. "I am grateful for my care and grateful for every single nurse, doctor and everyone involved that helped me along the way. I'm still here, so let's give back, and let's raise awareness about it."
And so, that little girl from 25 years ago — now grown up with her own breast cancer story — will co-captain Team Holzman, with her grandmother by her side. It's her way to thank those, like her Bubbi, who fundraised in the past to further advance the science, so today she can be a mom to her two young boys. She's taken the baton and is determined to give hope to the patients of tomorrow.
Former Ottawa Mayor Jackie Holzman and her granddaughter Rebecca Leikin are co-captains of Team Holzman.