30 years after treatment, leukemia survivor forever grateful
The importance of cancer research is not lost on Robert Noseworthy. He's reminded of it every time he looks in the mirror.
Robert is a cancer survivor and not a day goes by that he doesn't appreciate each moment he's had to share with his two children, who are now adults.
On October 21, 1988, Robert was diagnosed with acute lymphoblastic leukemia—a childhood leukemia. He was living in Montreal at the time with his young family, including Julianne who was 18 months old and his infant son, David.
A grim prognosis
"I was given a 13% chance of survival with 6 months to live. My doctor said it was very unusual for a 30-year-old to have a childhood leukemia," says Robert.
And so, the cancer journey began for this father of two. It would include numerous rounds of chemotherapy and radiation treatments, which put him into remission, but the journey didn't end there. "In March 1989, I received a bone marrow transplant from my sister, who was a six-on-six match."
Thanks to that match, Robert beat the odds. He gives full credit to cancer research as the reason he is alive today. It's what has driven Robert and his family to become dedicated supporters of cancer research at The Ottawa Hospital. "That is my why. I do my small part and to raise funds for cancer research," he says.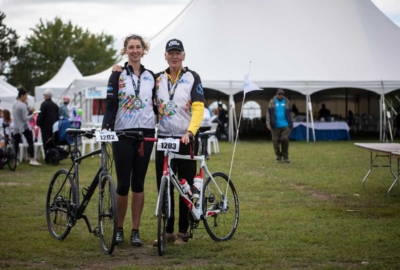 Time to give back
Giving back has been important to Robert. Each year, his family comes together to cycle and raise funds through THE RIDE, a cycling fundraiser. It's also been important to him to instill that in his children as they grew up. "I received all this help but now it's time to give back."
For Julianne, giving back as a family to The Ottawa Hospital and advancing research has become just as important to her.
"If it wasn't for cancer research and everything my dad had been through, we wouldn't be the family that we are today," says Julianne.
Glancing over at her father, with a smile, Julianne says, "My why is you."
The way Robert sees it; he is alive because of the investment of others who came before him and he wants to be that hope for someone else battle cancer. "60 years ago someone invested in cancer research. 30 later, I was the beneficiary of that generosity and that's why I'm here today."
Your support will provide crucial funding to improve the care of patients in the future, just like Robert.