Originally published: May, 2021
Early in the fall of 2020, Michele Juma noticed the vision in her left eye was becoming cloudy. The Sault Ste. Marie resident initially turned to her family doctor for answers. She learned she had a meningioma tumour — and time was not on her side to save her vision. Fearing she would face blindness, Michele, a mom of four, eventually travelled to The Ottawa Hospital where she could receive specialized care — care she could not receive close to home.
It was early November when MRI results revealed the mass at the base of her frontal lobe. "By this time, I lost my ability to see colour in my left eye — my vision was deteriorating. It was like looking through a frosted window," remembers Michele. While her right eye would start compensating to get her through her day-to-day, Michele was finding the routine of caring for her teenage boys and working a challenge and knew she needed to see a specialist. Soon, she and her husband were making plans for the eight-hour drive to Ottawa to meet with Dr. Danah Albreiki at the University of Ottawa Eye Institute located at The Ottawa Hospital.
Seeking answers at the University of Ottawa Eye Institute
The University of Ottawa Eye Institute was founded in 1992 as the home of The Ottawa Hospital's Department of Ophthalmology. It is a major clinical, teaching, and research centre in Canada specializing in diseases and conditions that affect the eyes. Dr. Albreiki's expertise focuses on neuro-ophthalmology and adult strabismus surgery, which focuses on straightening misaligned eyes.
Born and raised in Saudi Arabia, Dr. Albreiki says our Eye Institute plays an international role in sharing our expertise with patients and ophthalmologists in more than 86 countries around the world. As one example, she explains, the Ottawa Eye Institute has an affiliation with India Srikiran Institute of Ophthalmology in Kakinada, Andhra Pradesh. Affiliations like these provide an opportunity for the ophthalmology residents to travel and explore ophthalmology in a very different setting.
Having done her ophthalmology residency in Ottawa, Dr. Albreiki reflects on the importance of teaching. "I think the Eye Institute is honestly an amazing academic place where staff are dedicated first and foremost to their patients, but have a heavy focus for teaching the ophthalmology residents. This ripple effect extends beyond Ottawa and will travel wherever the residents end up working as they share their knowledge and expertise with their communities. As a matter of fact, Michele was seen first by our neuro-ophthalmology fellow Dr. Noran Badeeb who came all the way from Saudi Arabia to train with us."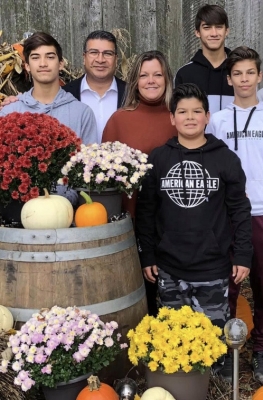 "The danger is it's very close to the optic nerve, and Michele is a good example of how people can quickly deteriorate with these tumours, and they are at high risk of losing their vision."

— Dr. Fahad Alkherayf
By early December, Michele met Dr. Albreiki's team and she learned what was happening with the tumour. "If we leave tumours that are compressing on the optic nerve for too long, there is a high chance that it will damage the optic nerve which subsequently leads to permanent vision loss," explains Dr. Albreiki. She adds, "Despite the severe vision loss that had happened, we were able to determine, by way of ophthalmic diagnostic testing, that Michele's optic nerve appeared more suffocated than actually dead. By removing the suffocation, we would allow the optic nerve to breathe again and there would be a good chance she would regain part, if not all, of her vision."
For that to happen, they would need to act fast.
Understanding meningioma tumours
Knowing Michele had travelled from Sault Ste. Marie for her initial meeting at the Eye Institute, Dr. Albreiki arranged for her to meet later that day with world-class, skull base surgeon Dr. Fahad Alkherayf who set in motion a plan to remove the mass.
He explained to Michele that she had a skull base meningioma. The tumour was about three centimetres by three centimetres — about the size of a golf ball. The biggest challenge with removing these types of tumours is often their location. "How you can reach it without damaging the brain around it and the things attached to it is key. If you're not careful, and you end up injuring any of these structures, unfortunately, the outcome is devastating," explains Dr. Alkherayf.
"The Ottawa Hospital is one of the main leading centres in minimally invasive skull base surgery, and I think that speaks to the expertise we have in our centre."

— Dr. Fahad Alkherayf
Minimally invasive surgery offers new treatment options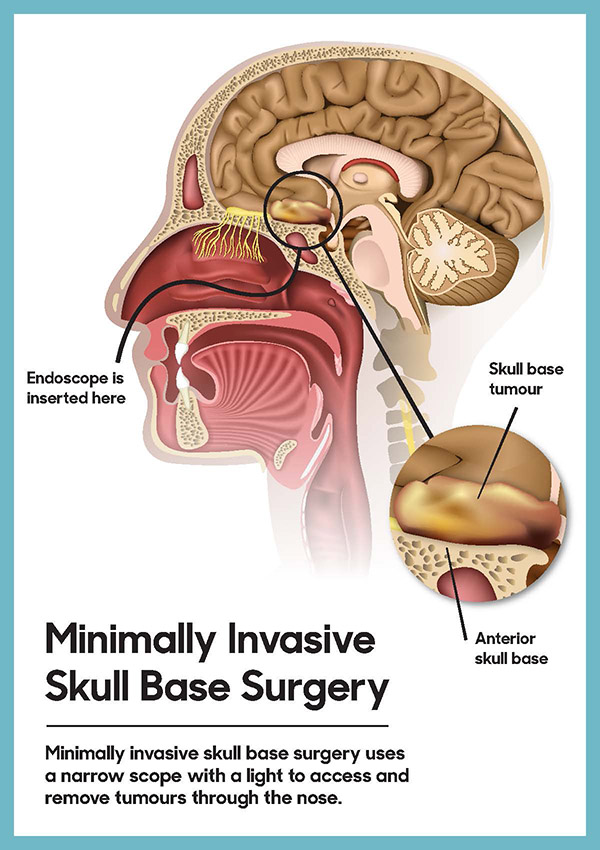 The treatment used today for a meningioma tumour is relatively new. In the past, it was a much more invasive procedure known as a craniotomy, which results in a large incision with a higher risk of injuring the optic nerve. However, today minimally invasive surgery allows much more effective and safer care for our patients. "Instead of the old, traditional way of going through the skull, and lifting the brain — today, we go through the nose," explains Dr. Alkherayf. This means no incision, faster recovery time, reduced pain, a higher accuracy rate compared to traditional open surgery, and a shorter hospital stay.
The Ottawa Hospital has established itself as a leader in Canada when it comes to this type of minimally invasive surgery. Dr. Alkherayf says we're one of the largest centres in Canada doing it. "If we look across the country, The Ottawa Hospital is one of the main leading centres in minimally invasive skull base surgery, and I think that speaks to the expertise we have in our centre. It's not just surgeons but it takes a good anesthesia, nursing, and neurophysiology team, so the surgeon can function well. I think what's unique about our hospital is we have this full package providing care to our patients."
Having access to this expertise is a significant advantage for patients like Michele, who required urgent surgery due to the rapid growth of the tumour and the risk of it causing blindness not only in her left eye but in her other eye as well. After meeting with Dr. Alkherayf as well as Dr. Shaun Kilty, an ear, nose, and throat (ENT) specialist, her surgery was scheduled for December 17, 2020.
Michele remembers feeling anxious and nervous. "It was all really overwhelming — and surreal. When I think that I'd been walking around with this tumour probably for years…it was kind of unbelievable to me to think of the whole gravity of the situation." However, Michele says she knew she was in good hands. "I do have to say that when I met with Drs. Albreiki, Alkherayf, and Kilty, they were very reassuring and answered all our questions, significantly reducing my anxiety."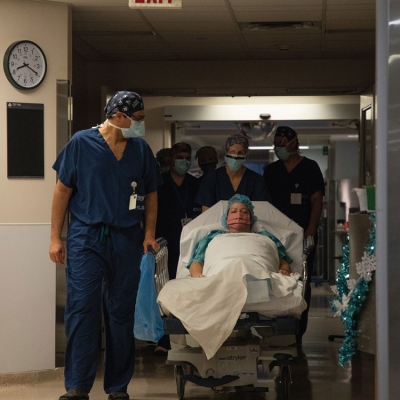 Specialized technique used only at The Ottawa Hospital
Leaving their four sons at home, Michele and her husband arrived back in Ottawa just over a week before Christmas. The minimally invasive surgery would last eight hours with Drs. Alkherayf and Kilty working alongside one another to remove the tumour piece by piece — through Michele's nose.
"The monitoring helped ensure we didn't pull too hard on her optic nerve. If it wasn't for this specialized technique, I don't think we would have achieved the same results."


— Dr. Fahad Alkherayf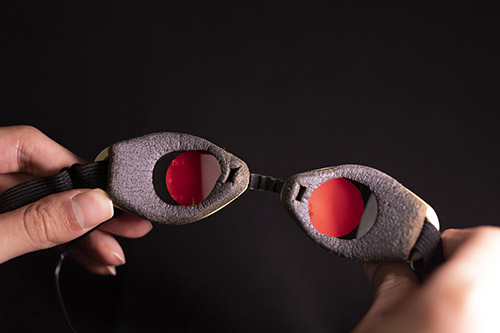 During the procedure, Dr. Alkherayf was able to monitor Michele's vision. In fact, our hospital is the only centre in Canada using this specialized technique. "We have established a method where we can receive a signal from the eye, as well as from the optic nerve and the brain, about what's happening to the vision while the patient is asleep." Goggles — which resemble swimming goggles — are placed on the patient while they're under anesthetic. The goggles send a flashing light, which sends a signal into their retina, and then it travels down their optic nerve, crosses the chiasma (the back of the optic nerves where they meet), and then travels to the vision centre of the brain. The signals will change if the surgeon's pushing or pulling the optic nerves and potentially damaging them.
According to Dr. Alkherayf, this technique was critical during Michele's surgery. "Her tumour was basically glued to her optic nerve, which explains why she was having this significant vision problem. The monitoring helped ensure we didn't pull on her optic nerve. If it wasn't for this specialized technique, I don't think we might have achieved the same results."
The future is looking clear
For the first five days after surgery, Michele says there was a lot of sleeping, but she remembers the moment when she woke up for the first time and she opened her eyes. "My husband was there, and I was able to see — it was right away that I could see again!" Even better news, before Michele was released from the hospital on Christmas Eve, Dr. Alkherayf shared the news she had been hoping for – the tumour was benign, and he was able to completely remove it.
"I'm grateful to be able to watch my sons continue to grow and, of course, to have the chance to be part of the activities they love most, like swimming and hockey."

— Michele Juma
With this life-changing news in hand, Michele and her husband began their long drive back home to Sault Ste. Marie arriving home at 11:30 p.m. on December 24, just in time to be with their children for Christmas. "It was like a Hallmark movie," laughs Michele.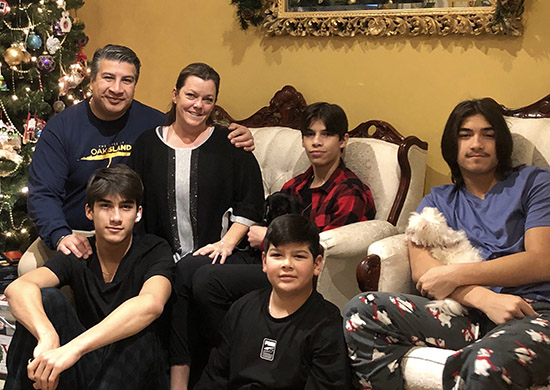 Today, her vision is fully restored. She's back at work and keeping up with the busy life that comes with raising four teenage boys. "I consider myself to be so incredibly fortunate to have had Drs. Alkherayf and Kilty conduct this surgery. When I think about the complexity of what they did, I never cease to be amazed, and I feel truly blessed."
While she and her family truly appreciate the exceptional skill of both physicians, Michele adds they were kind, compassionate, and empathic throughout her journey. "As scary as all this was, I can honestly say that I always felt confident that I was in very good hands." She adds, "I'm grateful to be able to watch my sons continue to grow and, of course, to have the chance to be part of the activities they love most, like swimming and hockey."
---
The Ottawa Hospital is a leading academic health, research, and learning hospital proudly affiliated with the University of Ottawa.