Fran Cosper's fingers wrap around the coffee mug. This simple task was impossible two years ago when he couldn't even lift a finger―or move any part of his body.  
On Valentine's Day 2017, Fran arrived at the emergency department of The Ottawa Hospital. He was diagnosed with Guillain-Barré syndrome, a rare autoimmune disorder that attacked his nervous system, destroying the protective sheath around his nerves and paralyzing him. At one point, Fran couldn't even close his eyes and the nurse had to tape his eyelids shut. Fran was moved to The Ottawa Hospital's Rehabilitation Centre while his nerves regenerated. He arrived on a gurney, and after several weeks, learned to get around in an electric wheelchair controlled by moving his head. He spent seven months in the rehab centre recovering, and is now continuing his recovery journey at home, with regular visits back to the centre for check ups.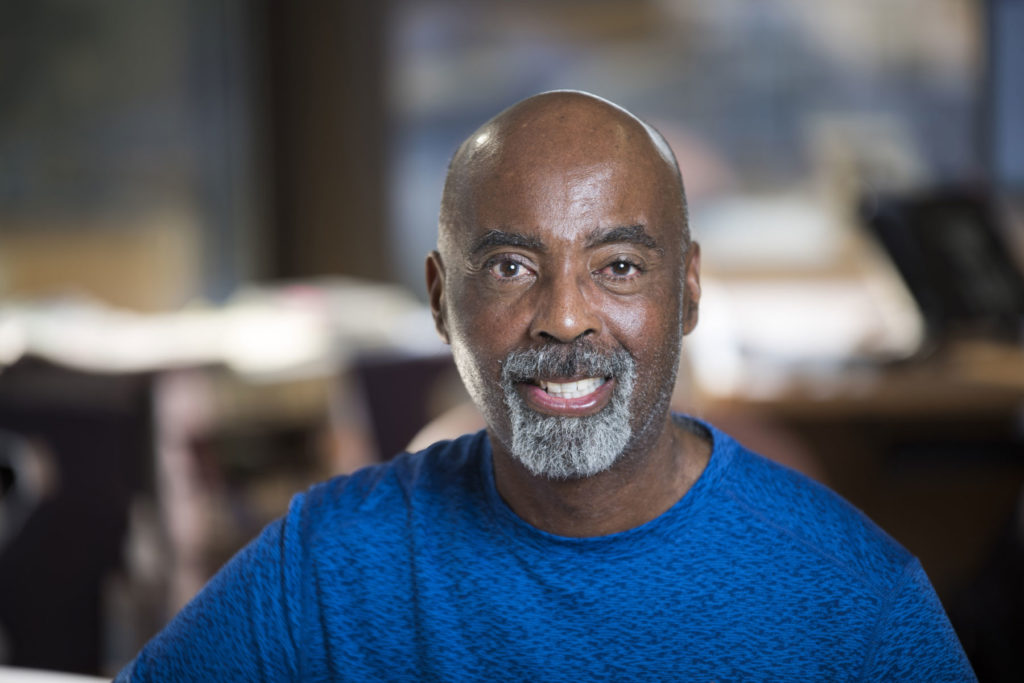 Being outgoing, Fran enjoyed chatting with people at the Rehab Centre and easily made friends with staff and other patients. One day, two hospital volunteers, Claude and Chris, showed up at his bedside and asked if they could take him for coffee.  
"I thought, 'Okay, cool, a couple of guys want to take me for coffee.' I gleaned they were volunteers because of their blue vests. So, we went to the coffee shop and started to talk," Fran said.  
Chris told Fran that he had an aggressive brain tumour. He had been in the hospital for surgery and treatment, but it was now inoperable. Nonetheless, he felt his hospital care had been so amazing, he decided to come back and volunteer. 
"I thought, 'This guy has a brain tumour, and he's going to die…and he's taking me to coffee!' That just blew my mind," said Fran. "That was when I decided when I get well enough, I'm going to volunteer." 
Fran left the Rehab Centre with the help of a walker on October 6, 2017.   
"I think volunteering is a very tangible, and meaningful way to give back." 
A year and a half later, and not yet able to return to his regular work, Fran is getting ready to return as a volunteer.  His friend Claude put him in touch with volunteer services, which organizes the 1,200 volunteers who work in every part of the hospital, from waiting areas to the emergency department. Fran has to shadow Claude a number of times while visiting patients in the rehab centre, before he can be on the schedule. He has been fitted for a volunteer's blue vest and signed up for a two-hour volunteer course with the hospital.  
"I think volunteering is a very tangible, and meaningful way to give back," said Fran. "You don't know how you might affect someone. People have their struggles, and a little conversation, a little 'you're important,' a little 'you're okay'―could make a difference in their life." 
Fran knows firsthand how volunteering does make a difference. He sees no better reason to take someone for a coffee. 
---
Volunteering is one of the most impactful ways to give back. Give your time and see first-hand the impact you're having.
More Inspiring Stories
Hope despite aggressive skin cancer diagnosis
Diagnosed with a stage 4 melanoma at the age of 62, Dan Collins feared for his life when he learned about the aggressive form of cancer. However, immunotherapy treatment gave him a reason to hold out hope.