It was a routine patrol in Kandahar that altered the course of Bushra Saeed-Khan's life forever. In one brief instant, the detonation of an improvised explosive device (IED) changed everything. She went from a Federal employee on an assignment in Afghanistan, to an amputee trauma survivor grappling with Post-Traumatic Stress Disorder (PTSD). The complexity of Bushra's traumatic injuries brought her to The Ottawa Hospital where a dedicated team of experts were ready to help her get back home.
Facing a war zone
Bushra was just eight weeks into a year-long tour in Afghanistan when she received permission to accompany troops "outside of the wire" – beyond the protection and confines of a military base. When their mission was complete, they headed back. It was then the light armoured vehicle (LAV) Bushra was travelling in ran over an IED buried underground.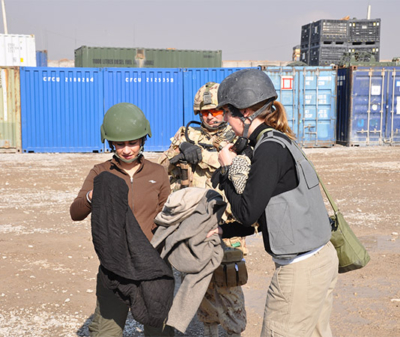 She recalls hearing a loud bang, one unlike anything she's ever heard, before being momentarily knocked out. When she came to, there was silence. Confusion and shock paralyzed her entire body. But it didn't matter; she was pinned down inside the vehicle, unable to move. Fear filled her every thought. Was she the only survivor? Could the vehicle go up in flames while she was stuck inside it? Was there anyone around to save her? Each racing thought was as anxiety-inducing as the other, while in a war-torn country, miles away from base, from safety, her family, and her home.
Four soldiers and one civilian, who had become Bushra's friend, died that day, on December 30, 2009. Bushra, one of just five survivors, is lucky to be alive. But she didn't walk away unscathed. To this day, she continues to feel the ripple effects of the incident more than a decade later.
Seeking medical attention
After witnessing the explosion, troops in the second LAV acted quickly, requesting back up to assist the survivors. As they came to Bushra's aid, it was clear her injuries were severe. Her entire body was affected by the blast. The force of the explosion was so fierce it left Bushra's abdomen exposed, and her legs critically wounded – a portion of one completely gone.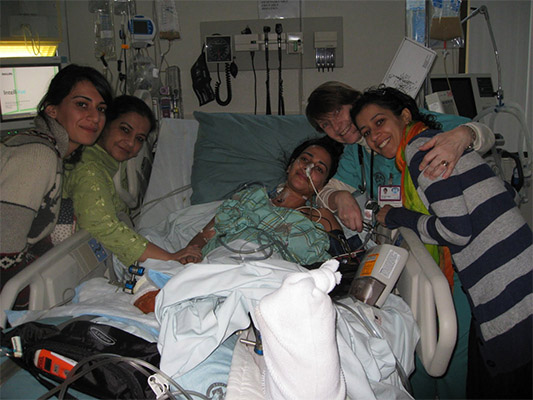 Bushra was airlifted by helicopter to a military base for emergency medical care before she was transported to a hospital in Landstuhl, Germany, where she was placed in a medically induced coma. As doctors worked to stabilize her for the long flight to the Trauma Centre at The Ottawa Hospital's Civic Campus, Bushra was introduced to the name Dr. Nancy Dudek, Medical Director of the Amputee Program. Bushra needed to start to think about recovery and Dr. Dudek would soon become Bushra's primary caregiver for over a decade. "I didn't realize at the time just how much of an impact Dr. Dudek would have on my life."
Road to healing and recovery
Once Bushra was in our care, experts began working around the clock to repair the extensive damage that had been done by the IED. "I remember the first time I met Bushra," says Dr. Dudek. "She had just arrived at the hospital and had a lot of injuries. The most critical question I had for her at that time was regarding her leg." Bushra's leg was severely damaged, and it was clear they would have to amputate it. Since her femur bone was also fractured, they needed to decide if her orthopedic surgeon would perform a full amputation of the leg or fix her femur and save as much of her leg as possible. "It's really important, when possible, to include the person who will be receiving the amputation in that decision," says Dr. Dudek. "We want our patients to have a say in what's going to happen to their body." In the end, as a team, they decided to fix Bushra's fractured femur and perform a through-knee amputation.
This was the first of several surgeries Bushra underwent at our hospital. "Within the first week of being in the trauma unit I had what felt like over 20 surgeries," says Bushra. "That's when I stopped trying to keep track."
The women of the Rehab Centre
Once Bushra was medically well enough to leave the trauma unit, she was moved to the Rehabilitation Centre. This is where she would remain for over a year as an inpatient, followed by six months as an outpatient. Under the care of some of the best physiotherapists and prosthetists in the field, Bushra had to relearn how to perform the most basic tasks, such as lifting her arms, moving her head and sitting upright in bed, before eventually learning how to walk with a prosthetic leg. "I call them 'the women of the Rehab Centre,'" says Bushra. "They're just so brilliant in their respective fields, but also so kind and caring. It was really nice to see."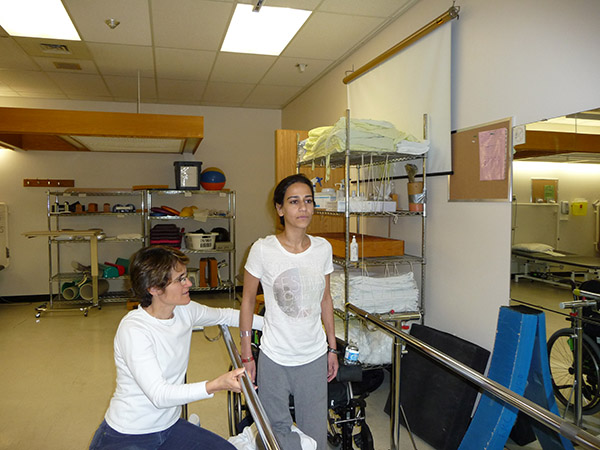 At the time, Bushra was still in great discomfort, not just from her surgeries but from flashbacks of the incident, her survivor's guilt, and the thought of living the rest of her life with a disability. Working through those emotions felt like mountains she had to climb and conquer, and some days they were too much to bear. "At one point, I even contemplated suicide. Some days I couldn't even get out of bed. Not just because of the physical reasons, but mentally I couldn't deal with everything I had to fight through that day," says Bushra. It wasn't long before she was introduced to Dr. Josie Marino, a now-retired psychologist at our hospital. Dr. Marino was instrumental in Bushra's care, helping her overcome those mental obstacles. "PTSD never really goes away, it comes back when times get rough, but Josie gave me the tools that I needed to cope," Bushra explains.
"I like giving patients the confidence that they can do more than they think,"
– Marie Andrée.
On those more difficult days, Bushra's physiotherapist, Marie Andrée Paquin, would adapt and cater the exercises to the pain she was experiencing. If Bushra didn't feel well enough to leave her room, Marie Andrée would have her perform exercises in bed. On the days she was feeling stronger, she would push her a little bit further. "I like giving patients the confidence that they can do more than they think," says Marie Andrée.
She even went as far as having Bushra perform exercises that mimicked dance moves so that she could dance at her sister's wedding. "It was really nice that they were so flexible in my care, tailoring it to exactly what I needed," says Bushra.
Discovering hope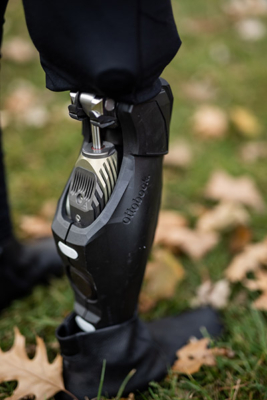 After Bushra's amputation, she couldn't help but worry about the future. After all, she had never met someone with a prosthetic leg. "My family and I were very worried about what type of life I would have," says Bushra. Realizing this, Dr. Dudek asked a former patient of hers to visit with Bushra. "I remember so clearly, this woman walking into my trauma unit room. It was shocking for me to see her walking around and playing with her kids," says Bushra. "I am thankful that Dr. Dudek introduced me to this woman. That was a pivotal moment for me." After that meeting, Bushra no longer worried. Rather, she was filled with hope.
This gave Bushra the confidence she needed to try a prosthetic leg. She met with Laura Scholtes, a prosthetist at our hospital, who fitted her with a new artificial limb. It wasn't long before she got the hang of it and once she did, she was introduced to the Computer-Assisted Rehabilitation Environment (CAREN) System.
The CAREN System
Bushra hasn't been the only patient who has experienced injury in Afghanistan. In realizing the need, the Canadian Armed Forces and our community raised funds to bring this virtual reality system to Ottawa — one of only two cities in Canada who have it. The CAREN System has been instrumental for patients in the Rehab Centre.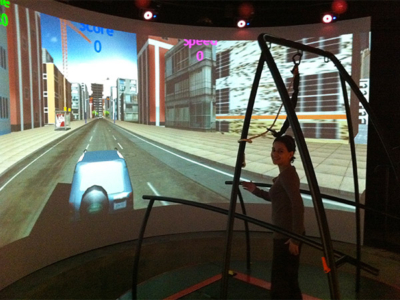 "The CAREN System was amazing," says Bushra, when asked about her experience with this unique virtual reality rehabilitation equipment. It combines incredibly large 3D graphics and a platform that moves with the person as they explore a virtual 3D world on a remote-controlled treadmill. "It's very safe and a great way to challenge a patient's balance," explains Marie Andrée.
"The CAREN System was really a catalyst in my recovery as I was able to learn how to walk with a prosthesis and push myself in an environment that I knew was safe," says Bushra. "And it trains you to walk on all kinds of surfaces. There was even a setting for paddle boarding. It was really a lot of fun." Training in the CAREN System boosted her confidence. Today she's riding her bicycle, and excelling in her career as a diplomat, something she didn't expect she would be able to do.
New life after trauma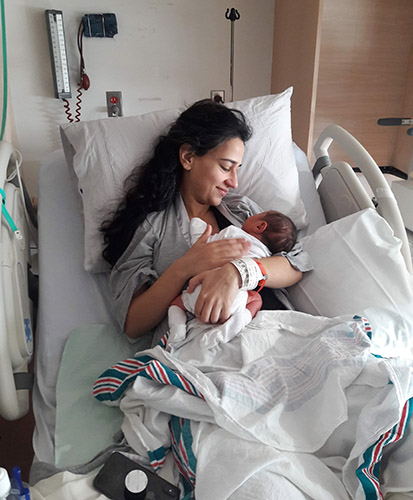 One of the very first questions on Bushra's mind after her surgery to reconstruct her abdomen was whether or not she would be able to have a baby. The injuries were so extensive that surgeons had to insert a mesh lining to help rebuild the abdominal wall. At the time, her physicians were unsure if her body would be able to adapt to carry a child to full term. Eight years later, Bushra announced she was pregnant, and much like she adapted to a new normal with a disability, her body was able to adapt to a growing baby.
"They are my guardian angels. My heroes. They saved my life." – Bushra Saeed-Khan
As Bushra's belly grew, so did her challenges with her prosthesis. Laura was able to monitor Bushra throughout the duration of her pregnancy to ensure that her prosthesis fit her limb comfortably. But in the last two months of her pregnancy, Bushra was no longer able to walk with ease and temporarily switched to a wheelchair. As she was prepped to undergo a c-section, Dr. Dudek worked alongside Bushra's obstetrician, Dr. Laura M. Gaudet, to ensure that Bushra had the most accessible birthing room possible, one with a doorframe wide enough to fit her wheelchair, and a bed that could be lowered so that she could more easily get in and out.
The day after Bushra gave birth to a beautiful baby girl, Dr. Dudek was there to meet her. "After my initial surgery, my doctors weren't sure if I would be able to have children. And then eight years later there was Dr. Dudek holding my baby," says Bushra. "So, it was a special moment. It really felt like everything was coming full circle."
Today, Bushra is able to play with her two-year-old daughter, just like the patient she met in hospital with the prosthetic leg early on in her recovery. Those feelings of hope have become reality.
More than a decade later
More than a decade after the incident, it would be easy to look at Bushra and be impressed by how far she's come. But she accepts each compliment about her recovery with humility, because she knows she didn't do it alone – she was backed by some of the best healthcare workers in the country. "I'm a product of my circumstances and I was fortunate to have the support structure offered by the Rehab Centre at The Ottawa Hospital," says Bushra. "It felt like a team effort and it's thanks to my caregivers that I was able to gain independence. They are my guardian angels. My heroes. They saved my life."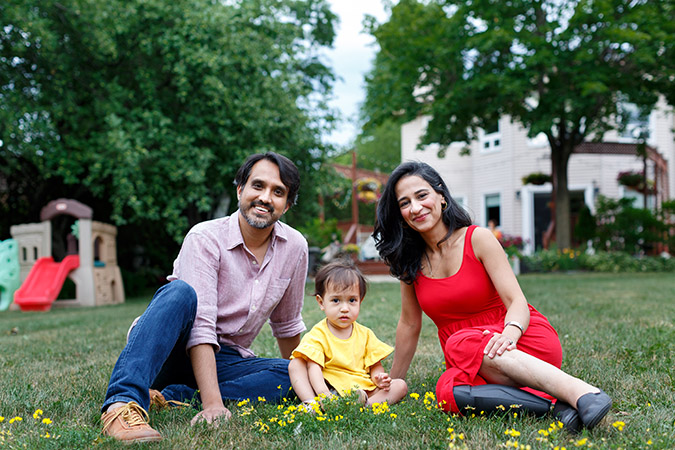 Download Pulse Podcast today and listen to Bushra's story.
---
The Ottawa Hospital is a leading academic health, research, and learning hospital proudly affiliated with the University of Ottawa.