Exceptional care makes young mother want to give back
When Gina Mertikas-Lavictoire received the good news that she had gone from breast cancer patient to cancer survivor, she knew she wasn't done with The Ottawa Hospital.
Eternally grateful for the care she received, Gina knew she wanted to give back — she felt that she needed to.
"After my treatment was done, I asked my oncologist, Dr. Mark Clemons — who's one of the best doctors in the world — 'how can I give back?' I need to do something to give back." – Gina Mertikas-Lavictoire
Gina was 34 years old with three young children at home, the youngest just 12 months old, when she felt something was wrong — there was an unusual firmness in one of her breasts. A breast cancer diagnosis followed and rocked her family's world. She immediately went into survival mode. "The first thing I asked my doctor was when can I have a mastectomy and when can I start my treatment. I never looked back," Gina says.
Despite the alarming health news, she faced the disease with sheer determination. "I received excellent care at The Breast Health Centre at The Ottawa Hospital. I went through chemotherapy and radiation. I've had four surgeries including a hysterectomy and a double mastectomy."
An unimaginable experience for a young mother, but the gratitude Gina has for The Ottawa Hospital is undeniable in her desire to give back.
Paying it forward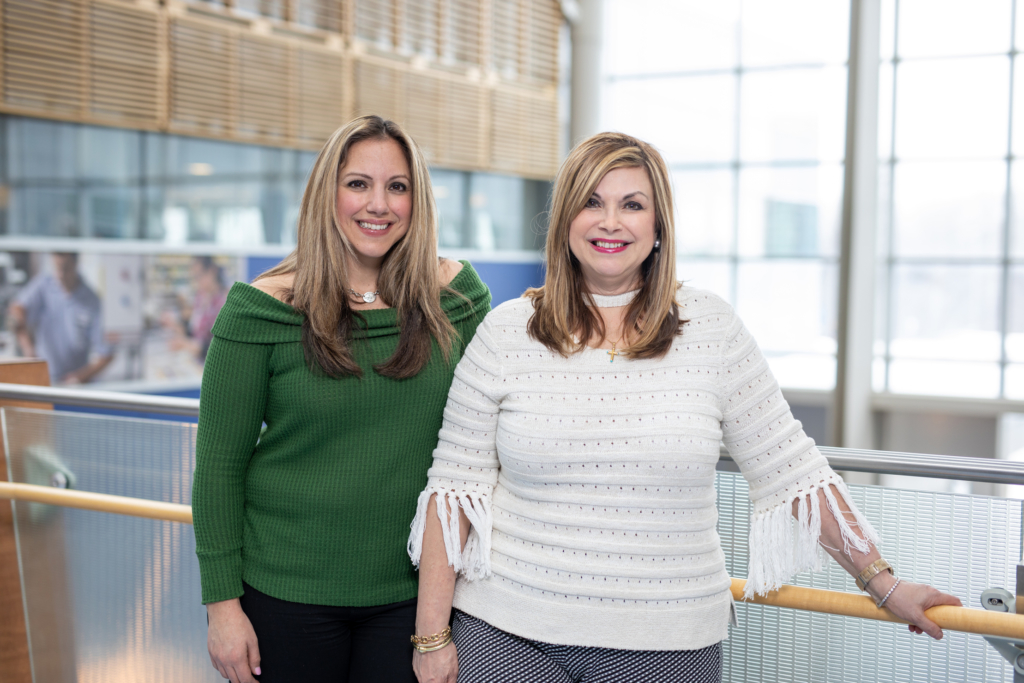 "When I received the news that I would be able to watch my children grow up, that's when I put the wheels in motion to help others," recalls Gina. She came up with the idea of selling a calendar to support cancer research at The Ottawa Hospital.
Today, she's feeling great and is solely focused on her fundraising efforts, which have exceeded her wildest expectations.
"From the get go, the calendars kept selling out. They were just flying off the shelves. What I'm surprised by is the amount of support that I had, not only friends and family but from all of Ottawa and across the country. People are supportive. We've even shipped calendars into the United States," says Gina.
Gina hasn't done any of this alone. Right alongside her during her diagnosis, treatment, and now the furious fundraising efforts is her family, including her mother Katerina Mertikas. Katerina is a local artist, who is renowned across the country for her beautiful paintings. It's Katerina's art, which is featured each month in the calendar.
Research is transforming care
For Katerina, it was extraordinarily difficult to watch her daughter go through the treatment and surgeries. "There are no words," says Katerina.
However, the mother of two knows cancer research played a role in helping her youngest daughter recover. "My own daughter has benefitted from research through the treatment she received, which was Herceptin — a chemotherapy drug. It was originally used in a clinical trial before becoming a standard of care for patients," acknowledges Katerina. It's for that reason this mother-daughter duo is working together to help others facing the disease.
With calendars from 2019 and 2020 under her belt, and $25,000 raised for cancer research, Gina wants to see this continue for years to come with the help of her own children. Her eldest daughter, Katerina, has been introduced to philanthropy and what it means to give back. For Gina, she'd love to one day hand off the calendar project to the next generation. "I'm hoping someday my kids will take over this calendar and it will continue on," says the proud mother.
Excellence in care
For this family, there is undeniable gratitude toward the care team at The Ottawa Hospital, which helped Gina when her life depended on it. The impact has been profound on the family and for Katerina, especially from one doctor in particular — Dr. Mark Clemons, medical oncologist and associate scientist at The Ottawa Hospital Cancer Centre.
Dr. Clemons first joined The Ottawa Hospital in 2009 and has made a remarkable name for himself since, both among patients and colleagues alike. At the time, he was unsatisfied with the way breast cancer was being monitored and treated in Canada, so this quickly became his primary area of specialty for clinical trials.
In fact, in 2014, along with Dr. Dean Fergusson, Director of the Clinical Epidemiology Program, Dr. Clemons developed the Rethinking Clinical Trials or REaCT program as a way to make the process of enrolling in clinical trials easier and more efficient for cancer patients. As of June 2020, this groundbreaking program had enrolled over 2,600 patients, making it the largest pragmatic cancer trials program in Canada. In recognition of their success, the REaCT team recently earned a 2020 Research Excellence Team Award from The Ottawa Hospital. Dr. Clemons was also the recipient of the Chrétien Researcher of the Year Award in 2013.
For Gina, she is grateful to have been cared for by such an accomplished researcher who also happens to be a compassionate physician. Dr. Clemons offered guidance, encouragement and hope when she needed it most, and this inspired her to give back.
"Dr. Mark Clemons is a very special doctor," says Katerina. "He made us feel so comfortable. He helped a lot with his attitude. He gave it his all — so how could we not give back? I wish we could give more." – Gina Mertikas-Lavictoire
Listen to Pulse Podcast, and hear Gina's story, including a special guest appearance by Dr. Mark Clemons.
---
The Ottawa Hospital is a leading academic health, research, and learning hospital proudly affiliated with the University of Ottawa.