Healthcare trailblazer to breast cancer survivor
When you look at the inspiring life of Hélène Létourneau-Donnelly, there is a common theme that has been weaved throughout. She has consistently worked hard in one capacity or another to help others. You could say it's in her DNA.
For Hélène, this compassion came from her family roots. "I came from parents who were role models, inspired to help others to have a better quality of life—it didn't matter what the person did, and it didn't matter the circumstance."
A career in caring for others
That's exactly the path she carved out in both her professional and personal life. Hélène was drawn to a career in healthcare and quickly began to leave her mark–right here at what is now The Ottawa Hospital. Her nursing career began at the then Ottawa General Hospital in 1959, where one week after graduating as an RN, she assumed the position of Assistant Director of Nursing. Only a few years later, her talents were recognized from across town and she became a director in nursing at the then Civic Hospital. She was a young woman, who chose to follow her career aspirations of caring for others, at a time when other women her age were getting married and having children. Hélène would be instrumental in leading that position for the next 27 years.
This strong, independent woman would go on to blaze a trail for healthcare. She's recognized for developing and establishing, with the support of her committed staff, a list of major hospital programs. They include the Comprehensive Surgical Day Care, which was a first in Canada, Ottawa's first Triage Nurse Program in the Emergency Department, the Cerebral Vascular Service and Poison Information Centre, also a first in Ottawa, and the city's first Operating Room Technical Course. She is respected for completing a PhD (Education), without thesis, on a part-time basis during this hectic time.
Whether it was advancing care for patients or her life-long commitment to the education and wellness needs of women, Hélène has routinely been a voice and passionate advocate for others.
Giving back
Anytime she has seen a need, Hélène has acted. That included during her own personal health journey when diagnosed with breast cancer in 2007 at the age of 70. She was cared for at The Ottawa Hospital and while the treatment was excellent, Hélène saw an opportunity to improve the process for patients by consolidating care. "I'm pleased we have realized the vision of cancer leaders at The Ottawa Hospital with the opening the new Rose Ages Breast Health Centre. It will make a rough journey smoother for patients, families and caregivers," says Hélène.
That dedication and commitment to giving back doesn't go unnoticed. Dr. Jean Seely, head of Breast Imaging in the department of Medical Imaging at The Ottawa Hospital, says Hélène is a very generous donor and understands the need. "Hélène has donated effectively to sustain the goals of promoting clinical education and delivering high quality and patient-centred care at The Ottawa Hospital—the same approach she used during her successful career." Dr. Seely adds, "She embodies The Ottawa Hospital mission to provide each patient with the world-class care, exceptional service and compassion we would want for our loved ones." Dr. Seely feels fortunate to have collaborated with Hélène to help make this centre a reality.
Hélène's actions and commitment to care at The Ottawa Hospital have long since continued into retirement as a volunteer and as a donor—she continues to find ways to give back. Hélène has been particularly interested in supporting women's health through the Shirley E. Greenberg Women's Health Centre and the Rose Ages Breast Health Centre, which has a room named after her.
A new journey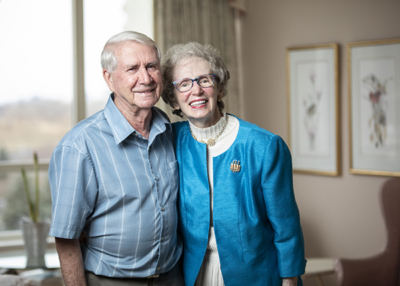 Her retirement years have also presented her with new opportunities. In fact, it wasn't until she was 68 that she fell in love with and married Philip Donnelly and became a wife for the first time. "He is a man who is the epitome of kindness and compassion," smiles Hélène. With their marriage, Hélène welcomed two new important roles in life as a stepmother and step-grandmother. This new family immediately made her think more about the future and the legacy she wanted to leave for the next generation. It is of the utmost importance to Hélène that her stepchildren, step-grandchildren and the children of her friends have access to the world-class healthcare in Ottawa. "I would encourage people to think about the legacy they want to leave and how they can support future generations by leaving a gift in their will to support The Ottawa Hospital."
With that, Hélène will continue to blaze a trail for future generations and inspire others to give back, just as she has.
"I would encourage people to think about their legacy and how they can support future generations by leaving a gift in their will to support The Ottawa Hospital."
– Hélène Létourneau-Donnelly
---
The Ottawa Hospital is a leading academic health, research, and learning hospital proudly affiliated with the University of Ottawa.