Because of you
Thousands of patients in Ottawa, and beyond, are receiving the latest treatment options. Powered by state-of-the-art technology and backed up by the very best medical expertise, your generous support allowed us to build three impressive new health centres at The Ottawa Hospital. Your generosity has improved care and changed patients' lives.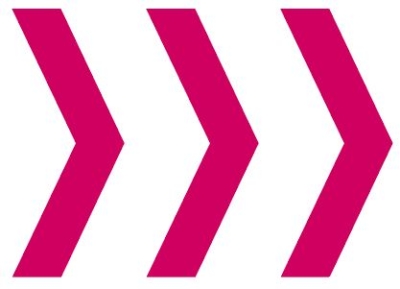 Rose Ages Breast Health Centre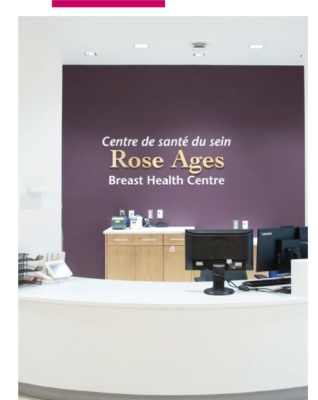 When the doors opened at the Rose Ages Breast Health Centre in September, it marked the wonderful close of an ambitious $14 million fundraising campaign. Thanks to our community's outstanding generosity, the new centre houses an impressive suite of advanced technology, enabling less invasive and more accurate diagnoses and treatments.
The new centre's inviting space will enhance wellness and connection to family and friends with open, naturally lit areas and private, gowned waiting rooms. This new, larger centre at the General Campus is now ready to provide the best treatment and care to the thousands of patients in our region who need it most—thanks to you.
Charlie and Claudette Logue Dermatology Centre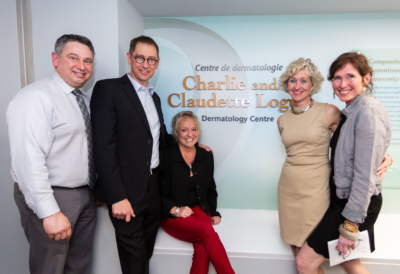 There is no example more concrete about how community support can advance health care than the building of the Charlie and Claudette Logue Dermatology Centre. Local businessman Charlie Logue saw the need for a dermatology centre that would provide faster assessments, shorter wait times, and increased access to dermatology services. After he passed away in August 2013, Charlie's friends and colleagues in the Ottawa business community, along with his own children, fundraised $3.7 million for a new dermatology centre. This bright, new, state-of-the-art centre opened in April to provide the latest dermatology treatments now and for future generations.
Neuromuscular Centre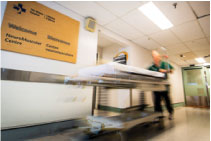 In 2016, Dr. Jodi Warman Chardon and senior scientist Dr. Robin Parks dreamt of building a centre where neuromuscular experts—clinicians and basic scientists—could collaborate to develop treatments for neuromuscular diseases. More than 10,000 people in eastern Ontario are affected by neuromuscular diseases, which weaken the muscles. These patients had no options to participate in clinical trials in Ottawa, so Drs. Warman Chardon and Parks decided to change that. Thanks to generous donor support, their dream became reality when The Ottawa Hospital NeuroMuscular Centre—the largest in Canada—opened its doors to patients in May.
No Donation too small, no fundraiser too young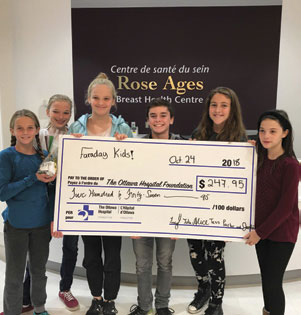 "I know it's a hospital, but this is beautiful!" said 11-year-old Parker when the elevator doors opened into the Rose Ages Breast Health Centre.
Parker and five friends arrived on October 24 with a plastic sandwich bag containing their donation of $247.95 in coins for breast cancer research. They worked hard to raise the money: raking leaves, cutting grass, selling lemonade, and shoveling snow.
The generosity of these six children is a shining example that no donation is too small and no fundraiser too young.