DISCOVERING TODAY. CREATING TOMORROW.
We believe cancer can be beaten.
Our cancer and research centres have been ranked among the best in the world and we're seeing breakthroughs that a decade ago were deemed impossible to achieve. Our world-leading research draws experts from around the world to work in our facilities, to help us revolutionize every aspect of cancer care.
Over the next 15 years, Canadians will see a 40 percent increase in cancer diagnoses with almost one in two developing cancer in their lifetime. Our ability to translate research into patient therapies coupled with one of the best-equipped cancer centres in the country means we are well-positioned to face this challenge head-on. We are challenging cancer. And winning.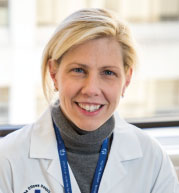 "Donor support continues to allow our cancer experts to save more lives while we work to discover and test better ways to eradicate cancer. I believe cancer will be cured and I'm excited by the research happening right here at our hospital." — Dr. Rebecca Auer, Director of Cancer Research
Donate today to support the cutting-edge research that is revolutionizing cancer care at The Ottawa Hospital and around the world.
Innovations thanks to donor support
Margaret's Gift
Ovarian cancer claimed Margaret Craig's life. Now her generous gift is opening new doors to preventing the disease.