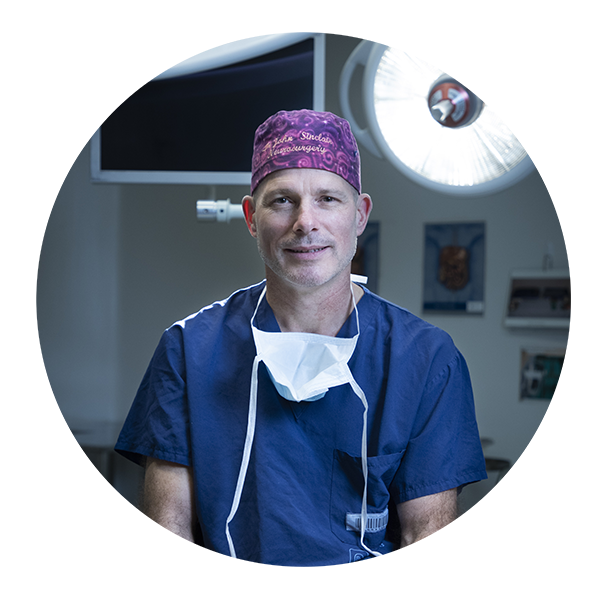 The Ottawa Hospital was fortunate to welcome renowned neurosurgeon Dr. John Sinclair back to Ottawa 2005, following two fellowships at Stanford University in California. As the Director of Neurosurgical Oncology and the Director of Cerebrovascular Surgery, he is an expert resource for our patients facing brain tumours, including glioblastoma multifome.
Dr. Sinclair is an innovator and always on the lookout for the latest treatment options for our patients. It was this drive that helped bring the CyberKnife, Advanced Awake Craniotomy techniques and most recently Fluorescence-Guided Surgery to our hospital. With tools like these at their disposal, Dr. Sinclair and his colleagues have increased survival rates for our brain tumour patients. The Ottawa Hospital now has higher survival rates for brain cancer patients than anywhere else in Canada.
Q: Why did you choose to work at The Ottawa Hospital?
A: I grew up in Ottawa. The sense of community here is strong. I wanted to be a part of that community. I felt that I could make a difference by helping to develop outstanding care for our patients in the community and beyond. I have treated a number of patients who I have known from my years growing up in Ottawa. There is a bond that builds trust and hope in patients when you have a common connection. Ottawa is that connection for me.
Q: As the Director of Neurosurgical Oncology what, in your opinion, sets The Ottawa Hospital apart from other hospitals?
A: The thing that sets us apart is the incorporation of awake surgery and advanced mapping for the resection of most brain tumours and more recently Fluorescence Guided Surgery. These innovations place us alongside our Ottawa Hospital colleagues in cancer treatment and research within the complementary specialties of neuro-oncology, neuroradiology, neuropathology, neurophysiology and neurological oncology. These two advances in particular have allowed a wider scope of a patient centered focus as we collaborate closely through all aspects of care and treatment.
Q: You were instrumental in bringing the community-supported fluorescence-guided microscope to our hospital. This microscope illuminates malignant brain tumours during surgery allowing you to successfully remove more of the tumour. How has this microscope impacted our patients with brain cancer?
A: Without this microscope, we would not be able to do Fluorescence Guided Surgery (FSG). FSG allows for maximal safe resection of malignant tumours which in research has proven to increase length of time to recurrence and overall survival rates. Without a doubt, this offers our patients a better chance to fight against brain cancer.
Q: Another piece of equipment made possible thanks to donor support is the CyberKnife. How has the CyberKnife technology helped patients of The Ottawa Hospital over the past decade?
A: Over the past decade, we have been able to treat thousands of patients using CyberKnife. It allows for a targeted approach to radiation treatment resulting in decreased side effects and decreased risk to the patients. This precision treatment also typically allows for shorter treatment time resulting in viewer visits to the hospital.
Q: You removed Stefanie Scrivens' grade 2 oligodendroglioma brain tumour through a successful awake surgery, and she didn't need chemo or radiation. What made this incredible outcome possible?
A: Using advanced subcortical mapping during Stefanie's surgery allowed us to provide maximal resection of the tumour, taking a rim of "normal" tissue where the tumour had been. This was done in hopes of removing any microscopic tumour cells that extended beyond the tumour. By doing so we were able to indefinitely postpone radiation and chemotherapy.
Q: The Ottawa Hospital has incorporated Canada's advanced brain mapping techniques to help during awake brain surgery. How does this mapping system help brain surgeons?
A: Traditional approaches to awake craniotomy deal with basic brain function; speech and movement. In many cases this is sufficient. Advanced cortical and subcortical mapping allows testing of advanced brain function that can impact higher brain function, such as cognition, personality and visual perception. The ability to map these functions allows us to safely preserve brain function; improving outcomes and the quality of life for patients. With basic mapping it is often necessary to leave a portion of tumour behind rather than continuing surgery in these eloquent areas.
Q: The Ottawa Hospital is currently working towards the creation of a new, state-of-the-art health and research centre to replace the aging Civic Campus. What will this new hospital campus, which will be the most technologically advanced facility in Canada, mean for your patients?
A: The new hospital campus will allow us to build from our strong foundation, a centre that will provide our patients with multidisciplinary care that will bring together all facets of healthcare. A centre like this will attract world-class physicians and care teams. It will help to advance treatment and research within our community. In doing so we will be able to provide a centre of excellence. This is a perfect opportunity to really bring patient care to the highest level.
Q: What message do you want to convey to your patients with brain tumours?
A: Quoted statistics often reflect dated technology and treatment protocols and new advances in treatment are always occurring and evolving. Our patients need to keep that hope and our community must foster that through continued support of The Ottawa Hospital in order for this to become a reality in the years to come.