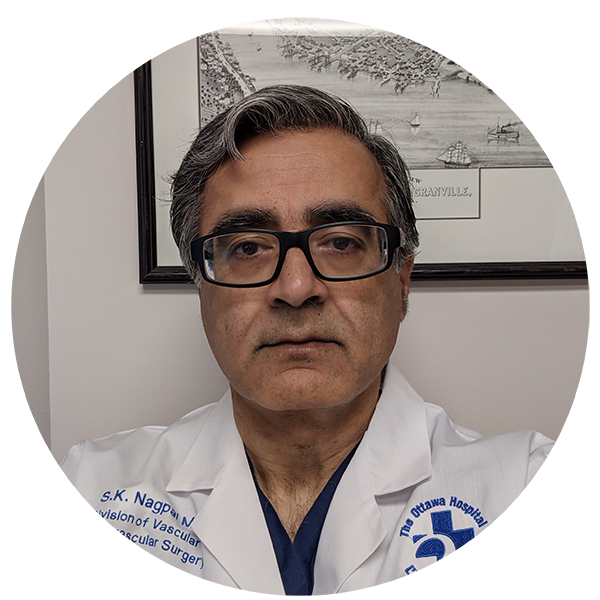 As the Chief of Vascular and Endovascular Surgery at The Ottawa Hospital since 2012, Dr. Nagpal is leading what is now considered a renowned vascular surgical team that is on the cutting edge of new surgical techniques.
Dr. Nagpal is also a Clinical Investigator at the Ottawa Hospital Research Institute, and both his commitment to research and excellence in care are changing the outcomes for patients at our hospital.
Q: When did you realize you wanted to become a doctor, or, how did you end up as a vascular surgeon?
A: I have always been interested in the sciences, starting back in middle and high school, and consistently received encouragement from teachers to pursue higher education. Growing up in a small town in Nova Scotia, I interacted with my family doctor and remember being quite impressed with his calm demeanour and temperament. He was a person that one would clearly want to emulate.
Going on to Dalhousie University and having discussions with students at the medical school, I knew this profession would be challenging and fulfilling. After finishing Dalhousie Medical School, I worked as an emergency doctor for approximately four years before returning for general surgery training. During the general surgery residency program, my favourite rotations were in vascular surgery. Performing operations on blood vessels can be quite technically challenging but ultimately quite satisfying as the results are often immediate. Also, vascular patients tend to be elderly, and this patient population tells the most extraordinary personal stories during clinic visits!
Q: What is something unusual or surprising about the field of vascular surgery?
A: The field of vascular surgery has undergone nothing short of a revolution in the past 10 or 15 years. Vascular procedures that were done with major operations requiring large incisions and significant duration of stay in the hospital can now be done by minimally invasive procedures, called endovascular therapy. These patients often are home within a day or two. Though less physically intrusive, a minimally invasive surgery may not compare favourably to a more complex open procedure.
This conundrum, which procedure is best for a particular patient on a long-term basis, has been a major challenge for vascular specialists. We were fortunate at The Ottawa Hospital to acquire one of the first advanced hybrid operating rooms which allows us to do both minimally invasive and open procedures on the same patient at the same time. This has allowed us to become a national leader in these innovative procedures.
Q: You worked on Mina Jean King's case. What made her case challenging or unique?
A: Mina's particular situation showed significant blockages in both legs. We were able to improve the circulation on her right leg with endovascular therapy, but on her left leg, where she had developed limb threatening ulcers (open non-healing areas on skin), endovascular therapy had not worked. She had a significant risk of losing her left leg to an amputation, which would have immensely affected her quality of life.
Performing complex bypass procedures in this age group requires a team approach with the assistance of skilled anesthetists, nurses, surgical teams, and postop care. Fortunately, at The Ottawa Hospital, we have these skilled people in abundance. In particular, this bypass required us to sew blood vessels two millimetres in diameter in the lower part of her leg. This procedure took approximately four and a half hours, and she pulled through with flying colours thanks to the whole team.
Q: The bypass surgery you had to do on one of Mina Jean King's legs was incredibly complex. Why do you think The Ottawa Hospital has had remarkable success in these complex bypass surgeries?
A: The Ottawa Hospital performs more complex bypass procedures than any other hospital in Ontario. The Division of Vascular Surgery at our hospital is committed to limb preservation as a major focus. We have created a Limb Preservation Clinic, which is being used as a model for care throughout Ontario and Canada. Again, this requires a significant team approach that includes experts in wound care, infectious disease specialists, plastic surgeons, and orthopedic surgeons. This collaborative approach has allowed patients to receive expert medical care by multiple specialists on one visit. Ottawa has one of the lowest amputation rates following bypass surgery in Ontario. The coordinated care and follow-up is done through the Limb Preservation Clinic is a major reason. The division is initiating a limb preservation clinical fellowship to teach young vascular surgeons complex operative and endovascular techniques, optimizing wound care and risk factor management. Hopefully, the excellent results seen at our hospital can be taught and spread throughout Ontario and Canada.
Q: What is The Ottawa Hospital doing in vascular research that is exciting or groundbreaking?
A: Vascular research is also a significant focus for the Division of Vascular Surgery and undoubtedly has improved patient care. Multiple impactful research endeavours have allowed the division to become a national leader for vascular research and innovation and some recent research projects have received national awards and international recognition.
New exciting projects underway which have received significant grant funding include: a research program in peripheral vascular disease, quality control for access to vascular risk factor management, artificial intelligence in the vascular operating room, and assessing mindfulness to improve mental health in surgical residents. This is a glimpse of the multiple projects that are ongoing in the division.
Q: How important is community support/donation for pushing research forward?
A: Funding for ongoing innovative research is a persistent concern for any academic division. This is especially true for a busy surgical division devoted to patient care. Community support allows us to leverage research support for innovative ideas originating from surgeons and residents. This research support is invaluable from the onset of the research idea to the completion of written manuscripts. We are thankful to the donors who have allowed us to maintain and improve our research focus over the years. The costs of research continue to rise, and the need for new resources and support also remain.
Q: The Ottawa Hospital is currently working towards the creation of a new, state-of-the-art health and research centre to replace the aging Civic Campus. What will this new hospital mean for your patients?
A: We have reviewed the plans for the New Campus Development and research centre — it is exciting to be involved in the planning of this new modern health facility. Vascular patients will be well-served in this new facility through integrated outpatient care, including our limb preservation clinic, collaborating specialties, and our vascular diagnostic centre. They will receive their vascular tests and clinic appointment in the same location, allowing prompt diagnosis and therapeutic decisions. The new operating rooms will have advanced hybrid endovascular and operative infrastructure allowing us to maintain and continue to lead with innovative procedures advancing patient care.
Q: What keeps you motivated during stressful times as a vascular surgeon at The Ottawa Hospital?
A: On a professional level, vascular surgery can certainly prove taxing at times. A complex lifesaving operation lasting four to five hours can proceed successfully only to have the patient suffer complications due to the magnitude of stress to the body. This can certainly take a professional, and personal, toll as many of our patients have pre-existing conditions.
Vascular surgery is also a tremendously satisfying specialty, knowing you had a part to play in saving many lives and limbs, indeed this is the primary motivating factor for the long hours and stressful times.