Read about our projects
Using lab-grown human tissues to identify possible treatments
Stopping COVID-19 with behavioral science and artificial intelligence
Understanding the challenge of COVID-19 for Ottawa's most vulnerable people
Mobile reporting of adverse events from a pandemic COVID-19 vaccine
Testing plasma from recovered COVID-19 patients as a possible treatment
Predicting COVID-19 in populations
Repurposing existing drugs and finding new ones
Solutions to some of our greatest healthcare challenges in the midst of the ever-changing COVID-19 pandemic, won't come from one idea or one person. Innovation will come from a community of researchers, and academics, and also from front-line healthcare workers, support staff, volunteers and patients. To capture ideas for COVID-19 research and patient care innovations, The Ottawa Hospital responded quickly after the pandemic hit and launched the Ideas Hub, and it's open to anyone at the hospital who has an idea to contribute— big or small. It is in large part thanks to donor support that we can accelerate the implementation of some of these creative ideas across our hospital.
Once ideas are submitted, within days they are triaged to expert teams assigned to evaluate the feasibility and potential impact of each. Coupled with the overwhelming support of our community, many will receive funding, and in turn, spark innovation at our hospital to help keep staff and patients safe as we continue to navigate the COVID-19 pandemic.
We are thrilled to announce that many of the ideas submitted are already underway at our hospital. Below are just a few of the exciting initiatives right here in Ottawa that will be receiving funding thanks to donor support of the COVID-19 Emergency Response Fund.
---
Using lab-grown human tissues to identify possible treatments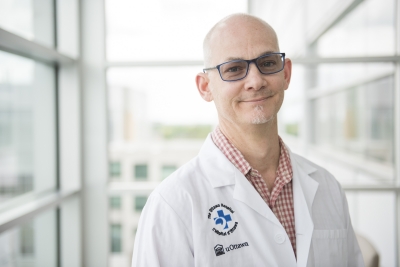 Dr. William Stanford and his colleagues are using human tissue models to understand why COVID-19 makes some patients severely ill. They also hope to identify and test new drugs that can reduce the severe lung damage that typically kills people with COVID-19. They will rapidly test two cellular pathways involved in causing this lung damage. They will then rapidly screen for drugs that have already been approved by Health Canada and the FDA that are able to block these pathways, and potentially reduce disease severity and death. Their research may also reveal biomarkers that can identify which patients with COVID-19 are most likely to require intensive care.
UPDATE:
Funding provided by the COVID-19 Emergency Response Fund was used to put another technician on this project. The research team is looking at acute kidney injury and renal failure in COVID-19 patients. It is highly debated among nephrologists whether the renal involvement is due to primary or secondary effects. Researchers on this project used stem cells to grow kidney-like tissues called organoids in the lab. Using this model, they found that certain parts of the kidney are readily infected by a hybrid virus that mimics COVID-19. These data suggest that the kidney disease experienced by COVID-19 patients is likely due to infection of the kidneys. The team is working with collaborators in Toronto to infect these human kidney organoids with live virus and analyze the impact of the infection.
---
Stopping COVID-19 with behavioral science and artificial intelligence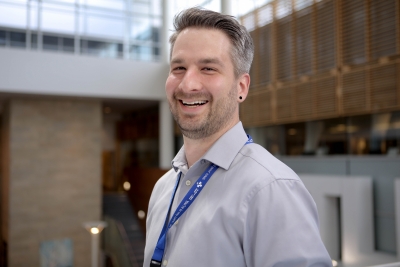 Dr. Justin Presseau and colleagues plan to use state-of-the-art behavioural science and artificial intelligence to develop an app that can help people reduce how much they touch their eyes, nose and mouth. This T-shaped area of the face known as the T-zone is the main way that the COVID-19 virus gets into the body. Reducing T-zone touching could reduce the transmission of COVID-19, as well as transmission of other infections that pass through the nose and mouth. Most people touch their T-zone 15-20 times per hour, often without realizing it.
The app would help people become aware of this behavior and walk them through possible techniques and training to reduce T-zone touching. This project will involve international experts in machine learning and computer vision, health psychology and behaviour change, and human-centred design and infection control.
UPDATE:
The research team led by The Ottawa Hospital and consisting of international experts in health psychology and implementation science are working on ways to support Canadians to reduce facial T-zone touching. They have identified several considerations that might influence this critical behaviour and the spread of disease. To coincide with flu season, they will be launching a national survey and conducting interviews with Canadians from coast to coast to improve their understanding of T-zone touching to inform the development of an additional protective strategy alongside physical distancing, handwashing, and wearing masks.
---
Understanding the challenge of COVID-19 for Ottawa's most vulnerable people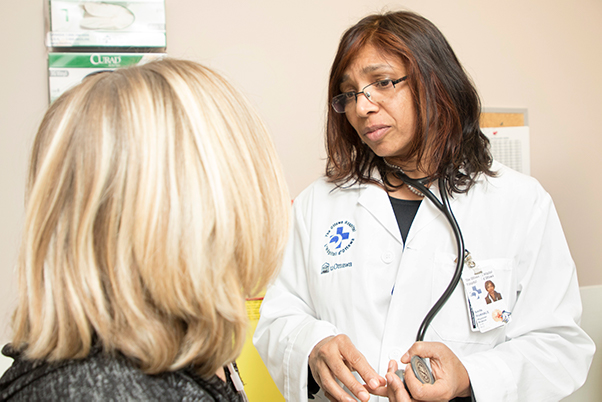 Dr. Smita Pakhale and her colleagues will harness the trust and engagement they have built with Ottawa's most marginalized communities over the last 10 years through community-based participatory action research to examine how COVID-19 has impacted these individuals. Marginalized people who are low-income, homeless, and at-risk of homelessness face numerous social and health inequities that are exacerbated by crises like the COVID-19 pandemic. These individuals face unique barriers when accessing health services and may be last in line for support. Data co-collected and co-analyzed with people of lived experience could lead to the development of better policies and programs to help vulnerable populations during COVID-19 and future crises.
UPDATE:
Since the funding announcement, researchers have completed the ethics approval process, and are now implementing the project at the Bridge Engagement Center (the Bridge), located in Vanier, Ottawa. The team is using a community-based participatory action research approach and have completed selection and training of community peer researchers with lived experience. These peer researchers have helped co-design surveys and interview guides. They are now actively recruiting project participants and collecting data at the Bridge via telephone, ensuring their safety. Preliminary findings are noteworthy, demonstrating more challenges faced by these most-marginalized communities as compared to pre-COVID-19. Researchers aim to complete the recruitment and data collection over the next few months which will also include semi-structured interviews about in-depth experiences during COVID-19, as well as a card-sorting exercise focused on COVID-19 media messaging. This approach ensures that those with limited literacy are still able to share their thoughts and experiences with the COVID-19 pandemic.
---
Mobile reporting of adverse events from a pandemic COVID-19 vaccine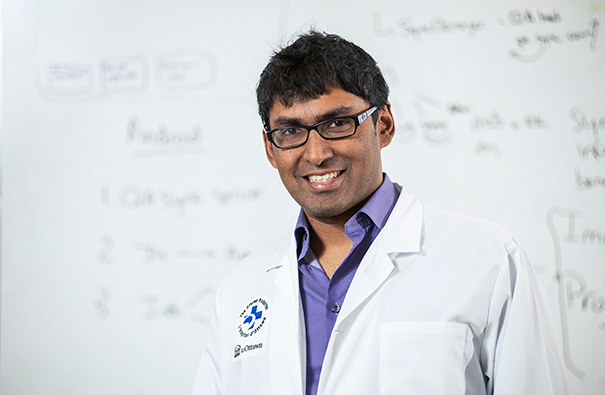 Dr. Kumanan Wilson and his colleagues will harness their electronic vaccine-tracking platform CANImmunize to let Canadians report potential adverse events from a COVID-19 vaccine through their mobile device. This will be crucial in ensuring both the safety of a COVID-19 vaccine and enhancing public trust in the vaccine.
The team has already built and tested a proof-of-concept pilot app in partnership with the Canadian Vaccine Safety Network for monitoring adverse events from the seasonal influenza vaccine. This reporting function will be activated for testing during the fall flu season for use by participating employees at The Ottawa Hospital, in preparation for a probable COVID-19 vaccine in 2021.
UPDATE:
The app has been developed and the trial is underway. This project was featured on CTV National News in November.
---
Testing plasma from recovered COVID-19 patients as a possible treatment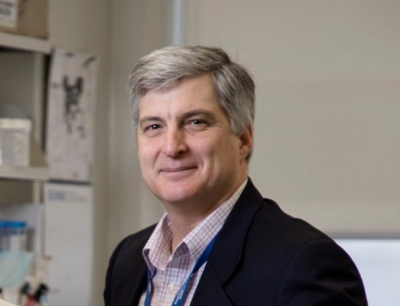 Drs. Alan Tinmouth and Dean Fergusson are contributing to the global effort to determine if plasma from people who have recovered from COVID-19 (called convalescent plasma) could be an effective treatment for actively infected patients. When someone becomes infected with COVID-19, their immune system develops antibodies against the virus. After they have recovered, these antibodies remain present in their plasma to shield them from possible future infection.
In theory, these antibodies could be transfused into people with an active COVID-19 infection, to help them fight off the virus. The trial will be conducted by the Canadian Transfusion Research Network in collaboration with Canadian Blood Services and Hema-Québec who will collect and test convalescent plasma in adults (CONCOR-1 study) and children (CONCOR-Kids study).
UPDATE:
Proposed treatment: COVID-19 convalescent plasma (CCP) is the plasma collected from individuals who have previously contracted SARS-CoV-2 virus and COVID-19 disease and have developed neutralizing antibodies. The research team has partnered with Canadian Blood Services and Hema Quebec to solicit, collect, prepare and distribute CCP. This is a randomized clinical trial with 59 sites in Canada, three in New York City, one in Israel, and three in Brazil. The first patient was enrolled in May and there are now 425 patients enrolled with over 30 at our hospital. There have been no serious adverse events related to CCP reported to date and 2400 units have been collected and distributed across Canada. The trial will end in June 2021 and dissemination of results will happen in July 2021.
---
Predicting COVID-19 in populations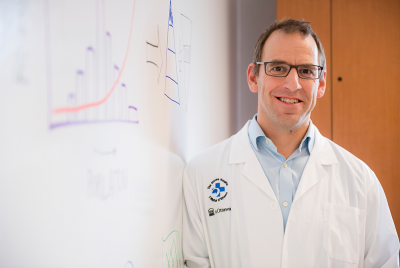 Dr. Doug Manuel and his colleagues in partnership with Ottawa Public Health have created an interactive website (613covid.ca) that predicts various scenarios around the number of hospitalizations and deaths in Ottawa due to COVID-19. The methods they are developing will help advance COVID-19 projections worldwide in addition to helping with local planning. They plan to refine their methods and develop better approaches to predict the effects of different levels of physical distancing. These projections will be invaluable in discussions around easing physical distancing restrictions.
UPDATE:
Funds for this project were used to run the 613covid.ca website. This research team is unique in Canada — and one of the few worldwide — to provide daily, automatically generated covid-19 projections. There have been over 100K views of the projections since it launched in the spring. The program has expanded to include:
long-term and short-term projections for cases and hospitalizations.
first-in-Canada wastewater surveillance and modelling.
SCRiPS – an online calculator that public health experts can use to help develop COVID-19 screening and testing protocols.
---
Repurposing existing drugs and finding new ones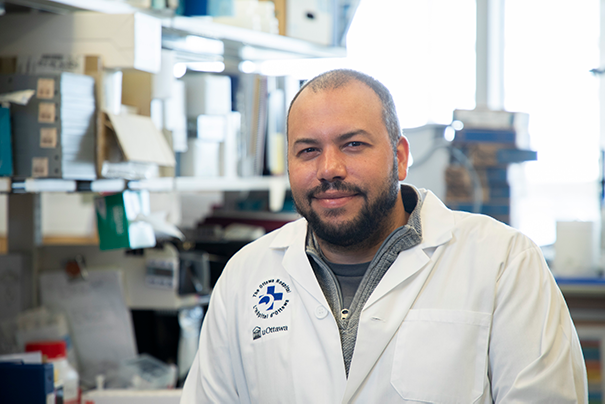 Dr. Jean-Simon Diallo and his colleagues have developed a novel "bio-sensor" that can identify drugs that block the COVID-19 virus from attaching to cells, thereby preventing infection. First, they plan to test this novel approach on a library of more than 1,000 small molecules that have been approved to treat other diseases. Then they will attempt to identify novel antivirals drugs from a library of more than 200,000 small molecules.
UPDATE:
This project aims to identify antiviral drugs that can help in the fight against coronavirus. The research team has developed a novel biosensor allowing them to test the effects of hundreds of thousands of drugs in this capacity. The first step aimed to identify potential antivirals from a collection of over 1000 currently approved drugs that may be repurposed as antivirals. They have identified one leading candidate drug from this collection which is a common antifungal and that appears to block the interaction between SARS-CoV-2 and the protein to which it normally binds to enter and infect cells. The next steps are to directly test this drug on coronavirus through collaboration with other researchers in Canada and expand testing to a much larger collection of new potential drugs.
---
Read more about COVID-19 research projects that were fast tracked thanks to donor support
More inspiring projects
The projects currently underway are just the beginning. In the coming weeks, additional COVID-19 Emergency Response Fund grants will be awarded for research, as well as for the development of innovative treatments and creative new ways to combat the virus. But our work is not yet complete. We need donor support to ensure the COVID-19 Emergency Response Fund can continue to support front-line medical teams, provide essential equipment, and contribute to the care and comfort of patients.
To find out more about our research and the many collaborators working to make these projects happen, please visit The Ottawa Hospital's Research Institute.
Keep checking back for more updates on how donations are being put to work right away and are making a difference in The Ottawa Hospital's fight against COVID-19. To get regular updates sent directly to your inbox, sign up for our newsletter, Vital Links.
---
The Ottawa Hospital is a leading academic health, research, and learning hospital proudly affiliated with the University of Ottawa.