As the COVID-19 pandemic continues to evolve, experts at The Ottawa Hospital and healthcare partners throughout the region have geared up to stop the spread of this infectious disease. From our crisis preparedness plan, to COVID-19 research already underway, we have the knowledge and experience to tackle this pandemic head-on. Our researchers are harnessing their unique expertise and exploring more than 50 COVID-19 research projects to help in the global fight against this virus.
All of the COVID-19 simulation exercises and research projects being explored at The Ottawa Hospital will make use of shared research equipment, resources, and facilities that have been developed over many years, thanks to generous support from our community.
"Thanks to generous support from the community over the years, we've been able to develop unique research facilities and technologies that we are now rapidly applying to the fight against COVID-19," said Dr. Duncan Stewart, Executive VP Research, The Ottawa Hospital. "Similarly, today's community support for research means we will be ready for tomorrow's health challenges, whatever they may be."
Calming the immune system in critically ill patients
Dr. Stewart is leading a team of researchers working to launch a clinical trial of mesenchymal stromal cells (MSC) therapy for COVID-19 patients with Acute Respiratory Distress Syndrome (ARDS).
The immune system plays a crucial role in defending the body against COVID-19, but sometimes it can become overactivated, resulting in severe damage to the lungs, called ARDS. In COVID-19 patients, ARDS is the major cause of severe illness and death.
Studies have shown that mesenchymal stromal cells (MSCs) can dampen an overactive immune response and help patients with ARDS related to other kinds of infections. Our researchers will build on their extensive experience in manufacturing MSCs and leading the world's first clinical trial of MSCs for septic shock. This project will likely involve partners in Ontario and Europe, working in a concerted effort to find novel therapies to improve outcomes in COVID-19 patients.
Repurposing existing drugs and finding new ones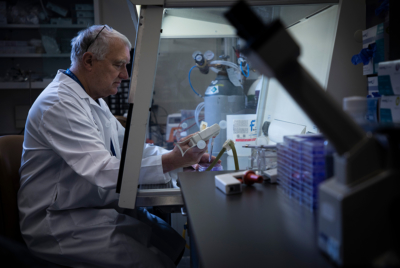 Other researchers of The Ottawa Hospital and the University of Ottawa are looking to identify already-existing drugs and their potential effectiveness in treating patients with COVID-19. Drs. Taha Azad, Ragunath Singaravelu, Jean-Simon Diallo and John Bell have developed a novel system known as a bio-sensor that can identify small molecule drugs that block the COVID-19 virus from attaching to cells, thereby preventing infection. First, they plan to test this approach on a library of more than 1,000 small molecules that have been approved to treat other diseases. They will then attempt to identify antiviral drugs that could be effective in treating this virus.
Learning from our COVID-19 patients and testing therapies
Researchers from around the world are sharing their experiences and findings and are working together to determine the best approach to treating patients with COVID-19.
To help with this global effort, infectious disease researchers at The Ottawa Hospital and the University of Ottawa are working locally to create a registry of COVID-19 patients in our community. Under the leadership of Dr. Michaeline McGuinty and Dr. William Cameron, the researchers plan to look for patterns among cases and determine how well treatments are working. They will also use blood samples to study the virus and the body's response to each treatment.
"Thanks to generous support from the community over the years, we've been able to develop unique research facilities and technologies that we are now rapidly applying to the fight against COVID-19." – Dr. Duncan Stewart, Executive VP Research, The Ottawa Hospital
Working towards a vaccine
While some researchers work to find better treatment options for COVID-19, Dr. Carolina Ilkow, Dr. John Bell and their team of experts in making cancer-fighting viruses at The Ottawa Hospital are working hard to develop a possible vaccine, in partnership with scientists and clinicians in Canada and around the world. The vaccine would contain small parts of genetic material from the COVID-19 virus, embedded into a different virus that does not cause human disease. This replicating viral vaccine would also produce its own adjuvant – a substance that stimulates a stronger immune response, resulting in a more effective vaccine. Once a promising vaccine is created, the team will be able to make large quantities in The Ottawa Hospital's Biotherapeutics Manufacturing Centre. This facility is the only hospital-based lab in Canada capable of producing virus-based vaccines and therapies for clinical trials.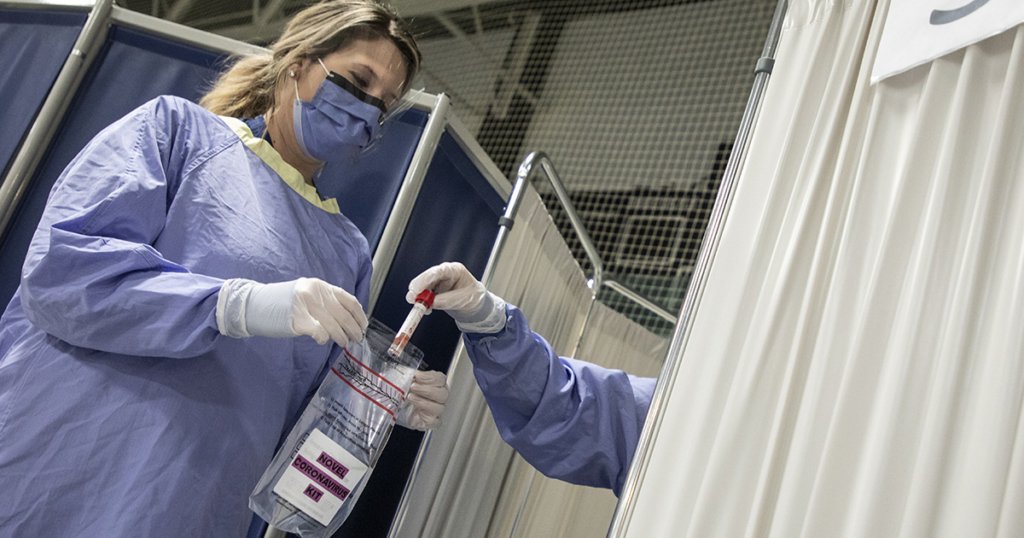 Putting preparedness to the test
While our researchers have been nimble in responding to COVID-19 The Ottawa Hospital was already planning for the possibility of a future pandemic long before this virus appeared. When it comes to preparing for the worst, we are leading the way in developing strategies to effectively manage a crisis.
The intensive care units (ICU) at both the General and Civic campuses, where the most acutely ill COVID-19 patients will be treated, will triple their current size should we need the room. If these become over capacitated, the hospital would make use of other existing hospital facilities to increase its ability to care for severely ill patients.
Eastern Ontario hospitals are also working together to create a regional patient flow strategy to care for patients. Hospitals will transfer COVID-19 positive patients who need acute or critical care to select hospitals for treatment. Patients who do not require this level of care will be transferred out of acute or critical care hospitals to the most appropriate hospital setting. This will ensure that our healthcare system does not become overwhelmed by the COVID-19 outbreak.
Simulation exercises save lives
Transferring patients from the Emergency Department to the ICU is no easy feat in a 100-year-old hospital. It's for this reason, the University of Ottawa Skills and Simulation Centre have readied staff by running simulation drills and tests.
The drills, which made use of a high-tech mannequin capable of sneezing, are designed to refine the safe treatment and transport of a severely-ill patient experiencing respiratory failure.
Simulations are vital as they allow staff to practice their skills in a real-time environment make adjustments if necessary, and ultimately provide better care to patients. Similar to the Code Orange simulations, which took place two months before the Westboro bus crash on January 11, 2019, this type of hands-on training further prepares staff on the frontlines.
On November 16, 2018, The Ottawa Hospital underwent a Code Orange emergency response exercise as part of ongoing preparedness to respond effectively to a disaster in the community. Participating in such a training exercise meant staff would be even more prepared should a real Code Orange be called.
Just two months later, a double-decker bus crashed into the Westboro bus station. Thirteen severely-injured patients were subsequently transported to the Emergency Department. The simulation exercise helped to ensure that The Ottawa Hospital staff were even more prepared to save their lives.
Community support essential
A strong hospital requires the support of its community and that couldn't be more true than during these unprecedented times. You can support world-class care and ground-breaking research that is saving lives every day.
---
The Ottawa Hospital is a leading academic health, research, and learning hospital proudly affiliated with the University of Ottawa.