Inside the trauma team and emergency department's response
Injuries and mass casualty incidents can strike at random. But while the timing and location of most incidents are unpredictable, The Ottawa Hospital's response is not—the hospital is ready to provide the very best care to you and your loved ones should you one day find yourself as one of our trauma patients.
The hospital's Emergency Department and Trauma Services involve a multidisciplinary team that work together to provide comprehensive, quality care to injured patients and their families. This team Includes trauma surgeons, anesthetists, physicians, registered nurses, respiratory therapists, social workers, physiotherapists, dieticians, speech-language pathologists, and occupational therapists. Each intricately working together to help our patients reach their full potential recovery after injury.
As the Regional Trauma Centre for eastern Ontario, the only Level 1 trauma centre for adults in the region, The Ottawa Hospital plays an essential role in the development, evaluation, education, and ongoing quality improvement of adult trauma care.
"Our Code Orange plan means that, no matter what time of day a disaster happens, we're always prepared to respond." – Dr. Andrew Willmore, Medical Director, Emergency Management, The Ottawa Hospital.
Code Orange
Over the past few years, in collaboration with departments from across the hospital, the Emergency Management team, under the leadership of Joanne Read, Vice-President of Planning and Support Services, has revamped the Code Orange plan and has run regular training exercises to test it. "Our goal is to ensure that we can provide the highest level of care for our patients and community during a disaster," said Read. "We want to live up to our vision of providing each patient with the care we would want for our own loved ones."
A Code Orange could be called at the hospital in response to a wide variety of incidents in the community such as a disaster, an active shooter, or a transportation crash like 2019's Westboro bus station crash.
Putting preparedness to the test
On a snowy November morning, the Civic Campus Emergency Department (ED) underwent an emergency response exercise. Those participating in the test were provided with a scenario: A shooting at a conference centre had left dozens injured and paramedics were en route with patients.
Within minutes, the hospital declared a Code Orange, signaling that it was responding to a mass casualty event. Staff leapt into action, as if a real Code Orange had been called, to prepare for patients and find the resources they would need over the coming hours.
While the bulk of the Code Orange exercise was centred on the resuscitation bay, important work happened elsewhere. A team triaged patients near the ED waiting room. Behind the scenes, command posts in the ED and the Operating Rooms (OR) directed resources to where they were needed and used the hospital's real-time occupancy numbers to walk through how they would free up much-needed OR space and inpatient beds in a real scenario.
The Code Orange that morning was just an exercise – one of the largest the hospital has ever done as part of an intentional focus on continued education and training. This type of hands-on education is vital as it allows staff to expand their skills, make adjustments, and ultimately provide better care to patients. In this particular scenario, it meant staff would be even more prepared for the next time a real Code Orange is called. "Our Code Orange plan means that, no matter what time of day a disaster happens, we're always prepared to respond," said Dr. Willmore, Medical Director, Emergency Management, The Ottawa Hospital.
Westboro bus crash
Only a few months following the training exercise a bus crashed into the Westboro bus station.
Late in the afternoon of Friday, Jan. 11, 2019, staff at the Civic Campus ED started hearing word of a serious collision at nearby Westboro bus station. The hospital declared a Code Orange. This time, it wasn't a test. Response teams from all over the hospital began converging on the ED within minutes. Disaster equipment carts were quickly deployed. Pharmacy and transfusion medicine staff took their posts. Eight trauma bays, equipped with a full trauma team, were formulated. Hospital staff were ready when the first trauma patients arrived.
Going through a Code Orange exercise prior to the Westboro bus station crash ensured that our staff were well prepared to manage a disaster of this magnitude. It's for this reason that tests, exercises and mock events have become a routine procedure.
Military level preparedness
Trauma surgeon Dr. Jacinthe Lampron was one of the many staff members that took her post on that fateful day – Jan. 11, 2019.
As a reservist with the Canadian Armed Forces, who before working at The Ottawa Hospital, served in Kandahar's military hospital as a trauma surgeon, Dr. Lampron is prepared to face any challenge head on.
She credits her experience in Kandahar's military hospital for equipping her to manage the strenuous circumstances in the trauma unit. "Throughout my tours in Afghanistan working with the military, a mass casualty occurred on an almost weekly basis," explained Dr. Lampron.
Techniques learned on the battlefield are often brought back and integrated into the care patients receive every day. And Dr. Lampron did just that when The Ottawa Hospital called a Code Orange on that cold January day. From her ability to organize eight trauma bays, to managing the treatment of each trauma patient that arrived in the two-hours following the bus crash, Dr. Lampron and the team were ready with military precision.
Lasting Impact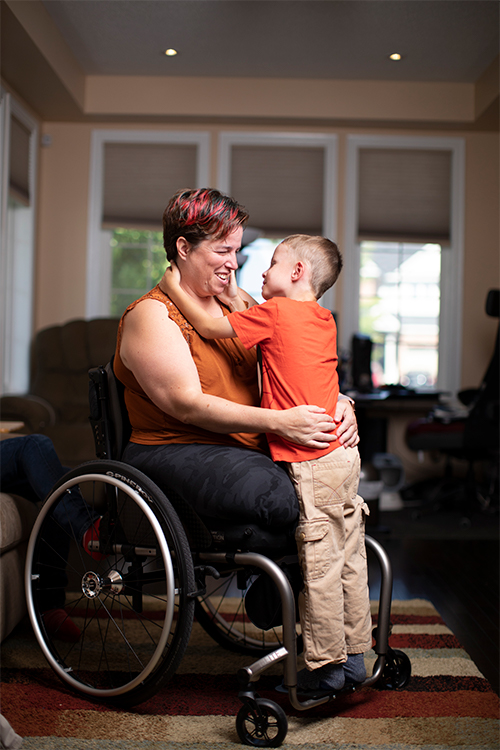 The effects of mass trauma events, such as the crash at Westboro bus station, have a significant impact on not only the patients and their families, but the trauma unit, the ED and the hospital as a whole.
An event of such magnitude touches many lives. For our patients, their arrival in the ED that afternoon was just the beginning of their road to recovery. Severely injured patients, like Marcie Stevens who lost both legs in the crash, underwent multiple surgeries in the weeks following the incident, followed by lengthy rehabilitation. Their emotional healing lasting much longer.
Hundreds of staff continue to be affected, as we take our vision to treat all our patients like loved ones seriously and develop a strong connection with each of them during their hours of need.
"The lasting effect of this event on our hospital, the staff and each patient was significant," said Dr. Lampron.
---
One-year Anniversary
One year later, there is much to remember. Members of our community continue to persevere and heal.
"No matter how much you train for these events, it's never the same as the real thing and there are always lessons to be learned," explained Dr. Lampron. "We've never been more prepared then we are today to provide exceptional care to our patients."
---
The Ottawa Hospital is a leading academic health, research, and learning hospital proudly affiliated with the University of Ottawa.