In late 2019, an ovarian cancer study that took place at The Ottawa Hospital made headlines across Canada. It suggests that metformin, a medication commonly used to treat Type 2 diabetes, may hold promise for helping prevent ovarian cancer. This study was possible in part thanks to a retired Ottawa educator, Margaret Craig, who believed that research could beat the disease that would eventually take her life.
Margaret, who went by Peg to her family, was diagnosed with ovarian cancer in Tucson, Arizona, just a few days before Christmas 2013.
She hadn't been feeling well for a couple of months, but couldn't quite pinpoint what was wrong, other than a failure to lose the couple of pounds she had gained, despite trying, and a slight swelling and firmness in her abdomen.
She decided to visit a walk-in-clinic after she had difficulty breathing. The clinic sent Margaret to an emergency department, where she was diagnosed with ovarian cancer.
The news left her reeling.
"Part of that was because I had to get back to Ottawa and it was Christmas," she said in an interview in 2015. "But I got here. I caught a flight in a snowstorm on the busiest travel day of the year, December 22."
Margaret immediately went to The Ottawa Hospital, where doctors confirmed the diagnosis. She began treatment in January.
"Peg would have been so happy with this result. It's exactly the kind of cutting-edge research into ovarian cancer she would have wanted. It also gives me a sense of closure regarding Peg's death." — Holly Craig, Margaret's sister
Ovarian cancer hides in plain sight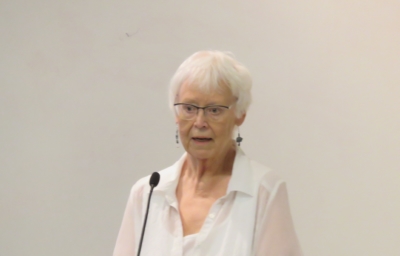 "I have been told over and over again by the professionals that it is rare to detect ovarian cancer early," said Margaret. "Mine was caught early enough that they could surgically remove everything that was over a centimeter."
Margaret learned that there are often no obvious symptoms until the disease is advanced, and no reliable screening test to catch it early.
Ovarian cancer is the fifth most common cancer in women, and among the deadliest, with a five-year survival rate of 45 percent. But researchers at The Ottawa Hospital, backed by the generosity of people like Margaret, are committed to changing these statistics for good.
Grateful for compassionate care
Margaret was so grateful for the compassionate treatment she received at The Ottawa Hospital that she was inspired to give back by investing in cancer research that could help people like her in the future.
She enlisted the help of her sister Holly Craig, a retired university professor and researcher living in Arizona. They spoke at length about Margaret's desire to support innovative research in her will. Margaret asked Holly to find her a Canadian researcher who was doing groundbreaking work in ovarian cancer.
Holly identified Dr. Barbara Vanderhyden, a senior scientist at The Ottawa Hospital and the Corinne Boyer Chair in Ovarian Cancer Research at the University of Ottawa.
"It was clear that Dr. Vanderhyden was doing innovative research," said Holly. "I liked her, and I liked her questions."
Innovative research inspires gift in will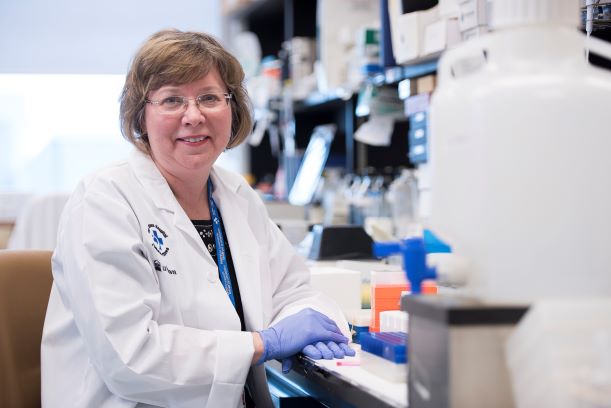 Holly flew to Ottawa to tour Dr. Vanderhyden's lab with Margaret and learn more about her research. Margaret was particularly interested in Dr. Vanderhyden's innovative and bold ideas. The visit convinced Margaret to make a gift in her will.
Dr. Vanderhyden sat with Margaret during her last chemotherapy treatment at The Ottawa Hospital, and was there when she rang the bell to mark the end of her treatment.
On June 2016, Dr. Vanderhyden invited Margaret to speak at an educational symposium called Teas, Talks and Tours she had organized for ovarian cancer patients and their families and friends.
"She was a private person, but she was willing to speak at Dr. Vanderhyden's event," said Holly. "That was a big step for her."
At the symposium Margaret met Dr. Curtis McCloskey, a talented, capable young researcher on Dr. Vanderhyden's research team who showed deep appreciation for her gift to research.
When Margaret reached her last few days, each day Dr. Vanderhyden would have one person on her team write a short story about the impact of Margaret's donation on their work. Then Dr. Vanderhyden would send these daily stories to Margaret, so that she might be comforted by the legacy that she was leaving behind.
Margaret died from ovarian cancer in September of 2016, and Dr. Vanderhyden was asked to give the eulogy at her funeral.
Gift to cancer research bears fruit
Margaret's generous gift has been put to good use. In 2019, Dr. McCloskey and Dr. Vanderhyden published a study that offers a new hypothesis about how ovarian cancer forms and suggests how it might be prevented.
The study is the first to show that the natural stiffening of the ovaries called fibrosis occurs with age. It also suggests that the diabetes drug metformin may be able to halt this process.
"We hope that someday metformin may prove to be an effective preventative treatment for younger women who are at high risk of ovarian cancer, but who can't have their ovaries removed because they still want to have children," said Dr. Vanderhyden. "We are so grateful to donors like Margaret who believe that research is the way forward."
Holly and the rest of Margaret's family are thrilled with the impact of Margaret's gift.
"Peg would have been so happy with this result. It's exactly the kind of cutting-edge research into ovarian cancer she would have wanted," said Holly. "It also gives me a sense of closure regarding Peg's death."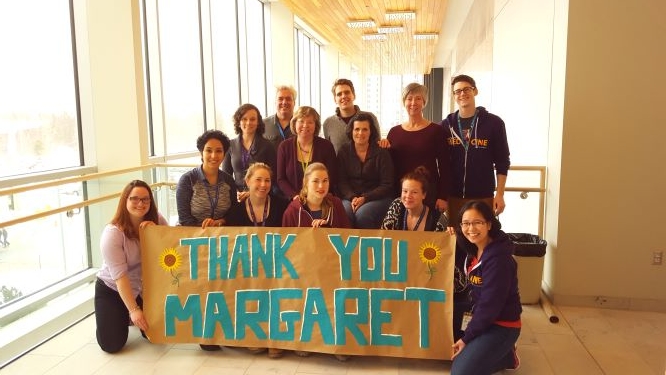 "The Ottawa Hospital is a leading academic health, research and learning hospital proudly affiliated with the University of Ottawa."