November 15, 2023, OTTAWA, ON – RBC unveiled a $2.25-million donation to The Ottawa Hospital Foundation today — its largest ever donation in the Ottawa region — to support education and skills development for healthcare professionals. The donation marks the largest gift by a financial institution to The Ottawa Hospital.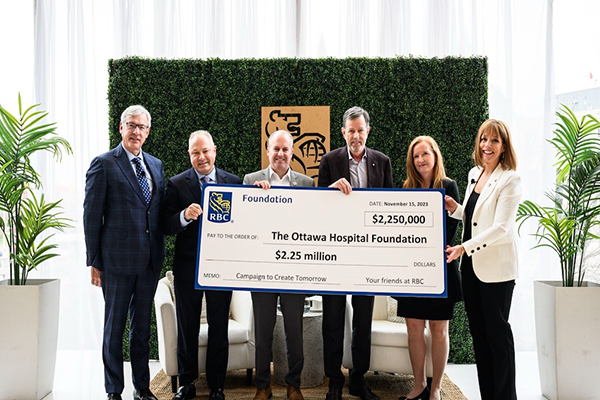 "Giving back to community is part of our DNA," said Marjolaine Hudon RBC Regional President for Ontario North and East. "This investment builds on RBC's national focus on upskilling and supporting the wellness of health care professionals – especially those early in their careers. This will ultimately improve patient care for all of us and for our loved ones."
Corporate support like that of RBC has helped The Ottawa Hospital become one of Canada's largest teaching and research healthcare institutions. "We're truly grateful for RBC's generosity and leadership. This gift will help guarantee that Ottawa becomes a global centre of excellence for all specialty care. This funding will help train and educate the next generation of healthcare leaders," said Tim Kluke, President and CEO of The Ottawa Hospital Foundation.
The $2.25 million will support the RBC Simulation Training and Resource Supports (STARS) program for young healthcare professionals. The program has two main purposes:
Expansion of The Ottawa Hospital's world leading simulation-based education.
Improving career fulfillment through wellness to provide staff with easy access to a collection of important but often hard-to-secure resources, including health practitioners. This will also include innovative Wellness Centres at different campuses, to help foster fulfillment, general wellness, and a successful work-life balance.
Inspired by the historic Campaign to Create Tomorrow in support of the new hospital development on Carling Avenue and leading-edge research, funding through the RBC STARS program will help bridge the gap for The Ottawa Hospital's young healthcare professionals. Together, this will help build the future of healthcare — solidifying the hospital's reputation as a world-leading training hub, that will attract the best and brightest minds in the world.
About The Ottawa Hospital:
The Ottawa Hospital is one of Canada's top learning and research hospitals where we are guided by our vision to provide the world-class and compassionate care, we would all want for our loved ones. Our multi-campus hospital, affiliated with the University of Ottawa, is home to the Regional Trauma Centre and Cancer Centre, and to discoveries that are adopted globally.
Backed by generous support from the community, we are focused on reshaping the future of healthcare to improve the health of our diverse population of patients from eastern Ontario, western Quebec, and Nunavut.
For more information about The Ottawa Hospital, visit OHFoundation.ca.
-30-
Media contacts:
Shelley McLean, The Ottawa Hospital Foundation; shmclean@toh.ca; 613-324-4466
Lucie Caron, RBC; lucie.caron@rbc.com; 613-291-3520