Life's Greatest Challenge Yet
Sindy Hooper has always been healthy. She eats well and lives an active lifestyle. In fact, she's been an athlete her entire life. With no family history of cancer, she and her husband were shocked at the results from an emergency ultrasound at The Ottawa Hospital. Her sudden tiredness, stomach issues, and itchy skin were because Sindy had pancreatic cancer.
Pancreatic cancer is one of the deadliest forms of cancer there is, with three-quarters of people dying within a year of first showing symptoms and just 8% of patients with this type of cancer living beyond the five-year mark.
Eye on the Prize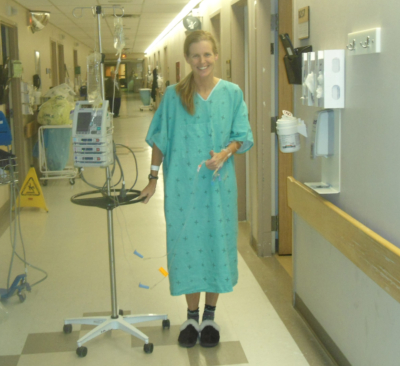 "When I was diagnosed with cancer, the odds were stacked against me. But I learned that I was a candidate for a very complex surgery called The Whipple Procedure," says Sindy. The procedure would include removing half of Sindy's pancreas, part of her stomach, her gallbladder, bile duct, and duodenum. This would be her best chance for survival. After surgery, Sindy would undergo radiation and chemotherapy to eliminate more cancer cells.
"So I began training for Ironman Canada while in treatment. I viewed the Ironman races and cancer the same way. I had to take it all one step at a time. Otherwise, it was just so terrifying and overwhelming. I learned to block out the big picture and focus on little pieces of it," she says.
Forever a Champion
Just seven months after surgery and while still doing chemotherapy, Sindy began Ironman Canada; a 4 km swim, 180 km bike ride, and a 42.2 km run. Her initial goal was simply to complete the first portion – the swim. Surprisingly, 16 hours later, she crossed the finish line after completing the entire race. Sindy ended up raising $48,000 for pancreatic cancer research with that race. Since then, her running group has raised more than $160,000 for cancer immunotherapy research at The Ottawa Hospital.
That was seven years ago. Incredibly, Sindy is defying the odds.
Every six months Sindy has a CT scan to make sure the cancer stays away. She then gets to plan another six months of travel, training, and life.
"It's what makes me happy," she says. "The longer I live, the more my life is a miracle."