For many employees, walking through the doors of The Ottawa Hospital is about more than simply going to work — it's a calling. Each day, they meet patients, many of whom may be experiencing a difficult time in their life. It is our nurses, physicians, volunteers, and more, who offer kindness and compassionate care to help them along the way. Whether it's through an appointment, recovery from surgery, directions through the hospital, or a friendly conversation as a distraction – the caring attentiveness can go a long way for a patient or family member visiting our hospital.
For Laura Douglas, Isabelle Sarazin, and Nataleigh Oliveira, their compassionate care was rewarded when a donation was made through a special recognition program honouring our hospital heroes.
A moment to remember
Laura Douglas is a registered nurse and vividly remembers when a patient recognized her for her dedication.
"I received my Gratitude Award Pin on a chaotic Monday in the Emergency Department, and I remember smiling the entire day." – Laura Douglas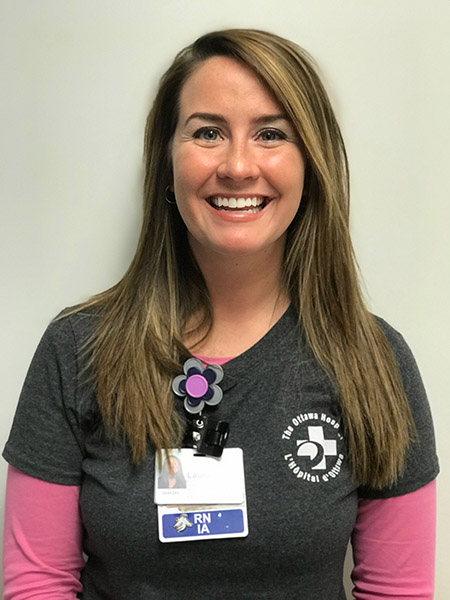 The hectic pace of the Emergency Department can make it an intimidating place to work, however, for Laura, it's where she wants to be. "I love my job, and it's truly the patients and families that make the many challenging days in my career all worth it. I'm honoured to know I was able to make a small difference."
When those patients or family members look back on the care and interactions they had with care team members like Laura, many want to say "thank you." A meaningful way to do that is by honouring their hospital hero through the Gratitude Award Program.
First-time recipient
Each hospital hero is recognized with a Gratitude Award Pin, which they wear with pride. It's a special moment when the pin is presented, especially when someone is recognized for the first time, like Isabelle Sarazin.
Isabelle is an EEG technician at The Ottawa Hospital. She cares for patients in the ICU, Emergency Department, in recovery, as well as those in isolation for COVID-19. Her colleagues recently recognized Isabelle when she received her first Gratitude Award Pin.
"We are a very small team and I want to dedicate this Gratitude Award Pin to my fellow technologists, who all deserve it as much as I do." – Isabelle Sarazin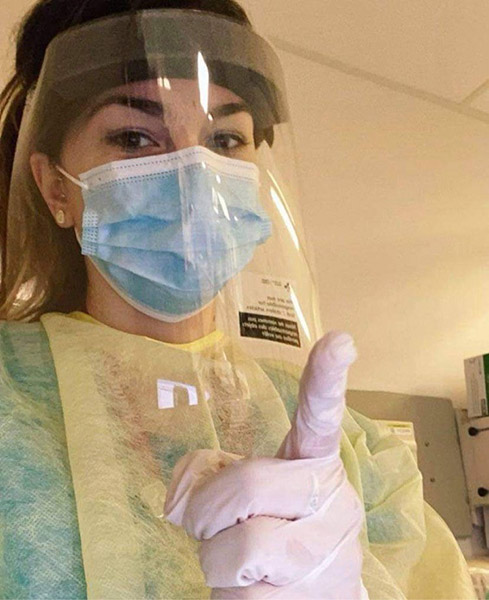 "Receiving my pin was amazing. I feel recognized since many people do not know what EEG tests are," says Isabelle.
As a part of her job, Isabelle performs hours of brainwave recordings at a patient's bedside. It's a position which touches many different areas of the hospital and it includes regular interactions with patients. "We are a very small team and I want to dedicate this Gratitude Award Pin to my fellow technologists, who all deserve it as much as I do."
A moment to remember
As a registered nurse in the Birthing Unit, Nataleigh Oliveira is right alongside mothers and their newborns during a special time. Her role is multi-faceted and sometimes complex.
"I love how I can help my patients in many different ways. Sometimes they need a friend or a coach; someone to validate their feelings and fears, and to guide them through the unknown into the next stage of their lives," says Nataleigh.
"It is an endlessly rewarding role and the astonishment I feel from witnessing the miracle of a new life never, ever fades." – Nataleigh Oliveira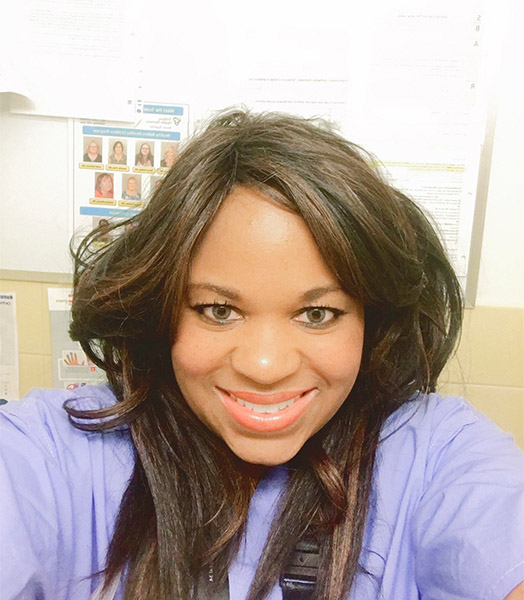 It's this dedication, in a role that is unpredictable and challenging, that families are extremely grateful for. And it's a job that Nataleigh embraces even when her back aches after a 12-hour shift. "I am making coffee for the partner, who has been up for 24 hours and tucking them in with a pillow and blankets for a rest. I rejoice with parents who, after a long battle of infertility, have a healthy baby, and I weep with them when I help deliver their stillborn child; each of whom I carry in my heart and will never forget."
Nataleigh is incredibly touched to be recognized as a hospital hero and to receive a Gratitude Award Pin, knowing that someone acknowledged all the love she puts into her work as a nurse. "It is an endlessly rewarding role and the astonishment I feel from witnessing the miracle of a new life never, ever fades."