Update: It is with sadness we share that Michael Baine passed away on February 24, 2023. Mike was an inspiration and a wonderful advocate and volunteer for The Ottawa Hospital. Our deepest condolences to his family and friends.
Published: April 2019
Michael Baine was on vacation in Florida when the governor general's office called to tell him he was receiving a Sovereign's Medal for Volunteers.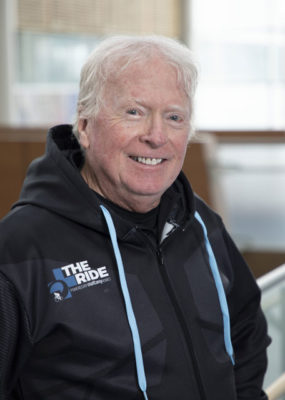 "I was blown away," said Mike, a dedicated volunteer with The Ottawa Hospital Foundation since 2004. "It's never something you think about when you are volunteering. For me, I love the work. I love the cause. It was win-win all the time for me."
The medal, formerly known as the Caring Canadian Award, recognizes and pays tribute to dedicated people, like Mike, who've made a significant contribution to the community as a volunteer.
Mike knows many family and friends who have been patients at The Ottawa Hospital, and saw firsthand the great treatment and care they received. In 2004, he heard about the President's Breakfast fundraising event, and thought it was a "brilliant" way to inform people about outstanding patient care and research at The Ottawa Hospital. Mike offered to host a table and invited nine people to join him.
He and his guests were wowed at the hour-long breakfast, hearing patients talk about how their lives―changed by an accident or illness―were saved by The Ottawa Hospital. They also heard from hospital President and CEO (at the time), Dr. Jack Kitts, who spoke about his health-care vision. These extraordinary stories of healing inspired them to make a donation to the hospital.
"I don't travel in wealthy circles, but I know people who are committed to people," said Mike who started teaching with the Ottawa Catholic School Board in 1972 and retired in 2007 as Superintendent of Special Education and Student Services. "My colleagues and friends have all chosen a people profession. They like helping people, so I approached them."
Mike was so impressed by the incredible testimonials, and got such a great vibe from being there, that every year since he has been a table captain, inviting nine friends to also be inspired. Over the last 14 years, more than 100 people have been Mike's guests at the President's Breakfast.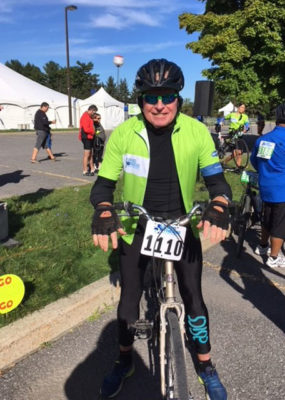 "Some of my guests have become table captains themselves. But really, a lot of them are great ambassadors now for The Ottawa Hospital because of the amazing experience that one hour provides," he said.
Then in 2009, when the Foundation set up a focus group to explore the idea of doing a cycling fundraiser for cancer research, they asked Mike to take part. The group gave the event an enthusiastic thumbs-up. And in 2010, Mike raised money for cancer research, and on September 11, four days before hosting a table at the President's Breakfast, he got on his bike to pedal the first Ride the Rideau (now known as THE RIDE). He enjoyed the event so much, he signed up the following year and has participated in every ride event since. In September 2018, Mike had a bigger reason to ride after a close friend passed away from cancer. He raised a personal best of $5,000 for The Ottawa Hospital.
"I've met so many wonderful people while volunteering. People you get to know because you're at the same events together," said Mike. "And you meet the same people on the RIDE or at the finish lines. It becomes part of your life―that kind of philanthropy."
Mike has also volunteered with CHEO, Children's Aid Society of Ottawa, and the Youth Services Bureau. Making a difference in the lives of children is another cause close to his heart.
Mike was presented with the Sovereign's Medal for Volunteers at a ceremony on April 9, 2019. Congratulations are in order to the other Foundation volunteers who also received this award for their exceptional commitment and tremendous support for The Ottawa Hospital: Gail and Philip Downey, Dr. Lothar Huebsch, and Sheryl McDiarmid.
---
The Ottawa Hospital is a leading academic health, research, and learning hospital proudly affiliated with the University of Ottawa.