An unwavering drive to help others leads to generous donation
Longtime nephrologist Dr. Shiv Jindal and wife Sarita donate $1 million to the Campaign to Create Tomorrow .
Dr. Shiv Jindal and his wife, Sarita, share a philosophical outlook when it comes to their philanthropy: If there's something good and important happening for the benefit of the community, why not be part of it?
This straightforward perspective inspired them to support the creation of the New Campus Development on Carling Avenue through our historic Campaign to Create Tomorrow. With this project, they saw an opportunity to help their community while offering a sentimental nod to the hospital campus where Dr. Jindal spent an impressive 45-year career as a nephrologist after moving to Canada in 1967.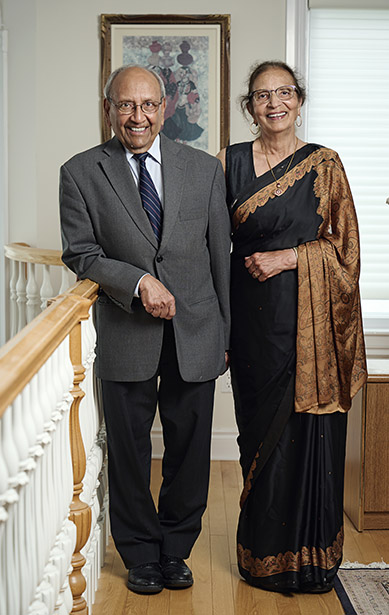 Dr. Jindal helped establish the Department of Nephrology at the Civic Hospital when the field was in its infancy. Professionally, he is a passionate advocate for disease prevention, and in 2007, the Jindals donated $1 million to fund a chair at the hospital's Kidney Research Centre for research to help prevent chronic kidney disease. Their most recent donation of $1 million underscores their profound desire to help make their city, and beyond, a healthier place. The Jindals view this gift as an investment in a campaign that has the power to improve the lives of patients and help redefine our approach to preventative healthcare, particularly at the New Campus Development.
The $500-million Campaign to Create Tomorrow ― the largest fundraising campaign in Ottawa's history ― sets in motion a vision to transform how the world delivers healthcare by building the most technologically advanced hospital in Canada and taking groundbreaking research and innovation to unprecedented heights.
The Jindals have a long legacy of generosity and are highly respected among our local Indo-Canadian and medical communities. But their desire to improve the lives of others has never stopped at the Ottawa city limits. Most winters from 1995-2015, the Jindals would spend four to six weeks in India, working with more than 60 villages on disease prevention, education, and job creation. It would seem altruism is in their very DNA.
Thank you, Shiv and Sarita, for your inspirational generosity and steadfast commitment to making our city, and our world, a better place.
About the Campaign to Create Tomorrow
The Campaign to Create Tomorrow is the largest fundraising campaign in our region's history. It will help fulfil the most ambitious vision ever for the future of The Ottawa Hospital, focused on four critical pillars.