September 22, 2023, OTTAWA, ON – Jennifer Van Noort, Vice-President of Philanthropy at The Ottawa Hospital Foundation was recognized for her leadership in our community at the annual gala hosted by Women's Business Network. Van Noort won in the Accomplished Category for Enterprise Leaders. This recognizes women who work for for-profit, not-for-profit, non-governmental organizations, social enterprises, a charity, or a foundation.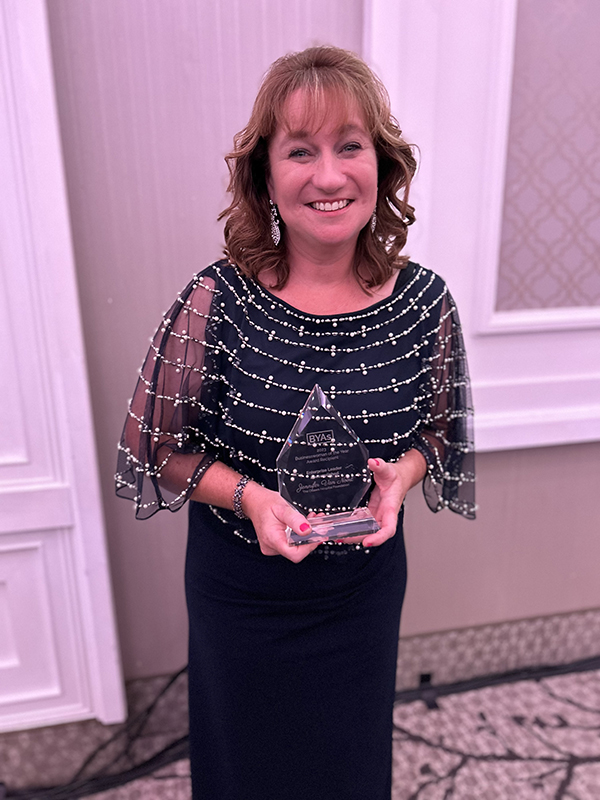 In a true testament to Van Noort's leadership, she was deeply moved by the recognition. "Receiving this award is both an honour and a reminder — that it takes passion, purpose, and a united community to drive real change. Every day, I have the privilege to work with donors who are passionate about supporting The Ottawa Hospital's mission to provide world-class care, and I couldn't do what I do without the entire team at the Foundation who works tirelessly to help make that mission a reality."
Over the last two decades, Van Noort's leadership has been an invaluable asset to The Ottawa Hospital Foundation where she is an integral part of the $500-million Campaign to Create Tomorrow. Tim Kluke, President and CEO of The Ottawa Hospital Foundation, celebrated this incredible honour. "Jennifer is standing alongside an elite group of changemakers — and our team couldn't be prouder. Her impact not only on our Foundation, but also in the community is immeasurable, and her passion and positivity continue to inspire us all."
For Van Noort, the success she's experienced is thanks to the generosity of donors and the relationships she's built over her lengthy career in philanthropy. "I believe at the heart of fundraising is relationship building. Making connections, earning trust, and having the most genuine dialogue possible. It is what informs every aspect of what I do. I also believe that's why we've seen the success we have to date with our historic campaign."
Van Noort takes the recognition to heart as she and the Foundation team move forward with the campaign that currently stands at $294 million raised.
To join the Campaign to Create Tomorrow in support of The Ottawa Hospital, visit CreatingTomorrow.ca.
About The Ottawa Hospital: 
The Ottawa Hospital is one of Canada's top learning and research hospitals where we are guided by our vision to provide the world-class and compassionate care, we would all want for our loved ones. Our multi-campus hospital, affiliated with the University of Ottawa, is home to the Regional Trauma Centre and Cancer Centre, and to discoveries that are adopted globally.
Backed by generous support from the community, we are focused on reshaping the future of healthcare to improve the health of our diverse population of patients from eastern Ontario, western Quebec, and Nunavut.
For more information about The Ottawa Hospital, visit OHFoundation.ca.   
-30-