Shaping Ottawa's landscape through construction and philanthropy
Urbandale Corporation and the Nadolny and Sachs families donate $7 million to the Campaign to Create Tomorrow to help ensure the city they love has the healthcare our region deserves
Few deals these days are done over a simple handshake. But when you've garnered the kind of trust that Herbert Nadolny and Lyon Sachs did, that's all it took. The two school chums, who first met in Grade 7 at York Street Public School, were lifelong friends who would forge a bond that would last through the decades. That bond would give rise to a company called Urbandale that, today, is as successful and strong as the day Herb and Lyon shook on their very first deal.
"We didn't know anything about building," Lyon Sachs once said, describing the land they had just bought that would become Urbandale Acres. "There was a ditch and a two-by-ten plank of wood that I walked across. Then Herbie tried and fell into the ditch and the mud."
It was clear, even from that moment, that Herb and Lyon were visionaries who could look at a muddy plot of land and see the potential it held.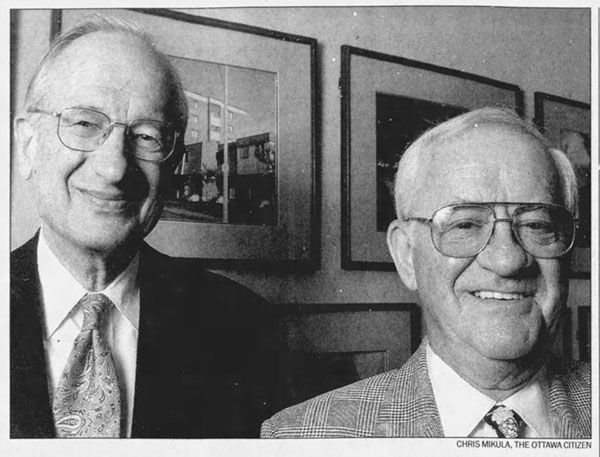 And as their company has grown over more than 60 years and continues to grow, so has their vision — to create strong, welcoming neighbourhoods, while also bettering our community through philanthropy. 
"For more than 60 years, the Urbandale philosophy has been about building a community and being active members of that community. This will continue to be our focus well into the next century," says Richard Sachs, Lyon's son.
Sadly, Herb passed away in 2005, but the Nadolny and Sachs families remain deeply involved with our community and honour both Herb and Urbandale's special legacy. As a family and as a company, they've contributed to a wide range of causes, from the arts and education to food banks and the Ottawa Jewish Community Foundation. Their generosity and passion, however, know few bounds when it comes to the healthcare needs of our community.  
"We had no choice!" laughs the family as they share how they felt an overwhelming need to give back to the very hospital where Lyon was born in 1927. 
"It's critical for us to pave the way for the next generation. We need to support the hospital and all the services they provide," says Richard. "We are proud to live in this city and are grateful for the ways the hospital has cared for our families, our employees, and our clients. This gift is our way of giving back."
They are, indeed, doing that and more with their recent gift of $7 million to the Campaign to Create Tomorrow. Even though their preference is to remain firmly behind the scenes, the Nadolny and Sachs families hope by stepping forward they can lead by example and encourage others to give. 
"It's how we were raised and how we are raising our children and grandchildren," says Sharon Weinstein, Herb's daughter, who proudly shares that giving back is something every single member of their two families have been taught to do for generations. 
The $500-million Campaign to Create Tomorrow sets in motion a vision to transform how the world delivers healthcare — by building the most technologically advanced hospital in Canada and taking groundbreaking research and innovation to unprecedented heights.
When the New Campus Development opens in 2028, it will be 70 years since Herb and Lyon founded Urbandale. They have inspired us to focus on the importance of community. And, with this gift, they continue to inspire us to focus on the community's need for healthcare.
Thank you, Urbandale and the Nadolny and Sachs families, for your transformational leadership and your ongoing dedication to our community.
About the Campaign to Create Tomorrow
The Campaign to Create Tomorrow is the largest fundraising campaign in our region's history. It will help fulfil the most ambitious vision ever for the future of The Ottawa Hospital, focused on four critical pillars.