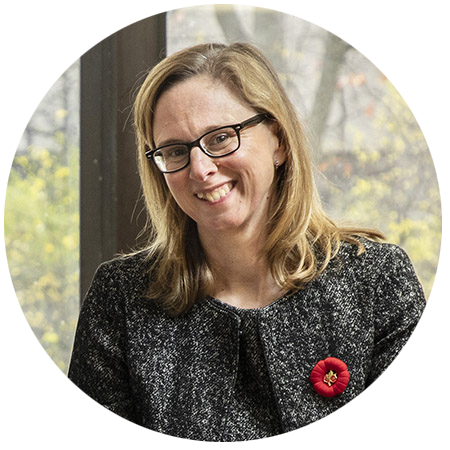 As the Medical Director of the Amputee Program, Dr. Nancy Dudek is one of the many faces you may see if you were a patient in our Rehab Centre.
She joined our team at The Ottawa Hospital in 2004 and focuses on caring for individuals with limb amputations, limb difference, and complex bracing needs. She is the recipient of multiple awards in medicine and education.
As a prosthetics expert in amputee medicine, she leads our team helping patients who have lost limbs get back to what they love to do. Her patients appreciate the confidence she instills in them and her encouraging words; with her help, they work hard toward recovery.
We had the opportunity to have a conversation with Dr. Dudek about what she loves most about her work.
Q: When did you first realize you wanted to become a doctor, and why rehabilitation?
A: I knew I wanted to be a doctor by the time I was 12 years old. I did well in science, and I really liked helping people. As a young person, I thought the career that best fit those things was a doctor. I did not decide to go into rehabilitation medicine until I was in medical school. I had always thought I would be an orthopedic surgeon as I wanted to be able to help people with their mobility. However, I realized I did not love being in the operating room as much as a surgeon does. A classmate directed me to consider Rehabilitation Medicine given my interests. I did an elective rotation, and I've never looked back. It is a perfect fit for me.
Q: How has amputee rehabilitation changed since you started?
A: There has been a tremendous change in the types of prostheses available, which enables people with amputations to achieve much higher levels of function. As well, there are newer surgical and medical advances to deal with some of the challenges patients have with things like pain. These advances do create some disparity in what different patients have access to, though, as prosthetic devices are not fully funded by the provincial healthcare system. As a result, advocacy for funding is a necessary part of my work.
Q: You worked with Bushra Saeed-Khan for a decade after she was injured by an IED explosion in Afghanistan. Is it normal to work with someone for that long, and what sort of bond forms from such a long relationship?
A: Absolutely. An amputation is a permanent condition, so I get to continue to work with people on a long-term basis. This is one of my favourite parts of the job. It is wonderful to be able to know people and assist them at different phases of their life.
Q: Bushra used the CAREN system at The Ottawa Hospital. What makes the CAREN system such an important tool?
A: The CAREN system provides people with the opportunity to gain new skills such as walking up and down hills, handling rough ground, and running. It is a safe environment where a harness system prevents the person from falling and hurting themselves. This lets people really push themselves and gain confidence in their abilities, which they can then use in their day-to-day life in the "real world."
Q: You also worked with Marcie Stevens, one of the Westboro bus crash patients. She had an incredibly positive attitude during rehab, how did that impact her recovery?
A: Her attitude is amazing. She is such a positive person and a joy to work with. I always smile when I see she's booked for a visit with me. There is no doubt that her positive approach to handling her situation has helped her to achieve great things during her rehabilitation.
Q: What is the most gratifying part of your job as Medical Director of the Amputee Program at The Ottawa Hospital?
A: Helping people achieve their goals. As an example, there really is nothing better than having a father come back to the clinic and show me the pictures of him dancing with his daughter at her wedding. There are a lot of challenges to having an amputation, but when I see people back in clinic and doing well, there is tremendous satisfaction in that.
Q: How do donations from the community support your work at The Ottawa Hospital and how do they help patients?
A: Donations from the community are vital. The technological advances in rehabilitation care are truly remarkable and absolutely result in better outcomes for our patients. However, they come at a cost that is often not covered by provincial healthcare funding. Community support allows us to provide world-class care to patients at the Rehabilitation Centre.
Q: Why did you choose to work at The Ottawa Hospital?
A: I did my residency training at TOH and got to experience the dedication of the healthcare professionals who truly do strive to provide the best care possible for their patients. On a personal note, I benefited from an excellent mentor, Dr. Meridith Marks, who developed the Amputee Program at the Rehabilitation Centre into one that was recognized across the country as a true centre of excellence. I was grateful to be recruited to take over that role from her. My goal is to continue to earn that reputation for excellence by providing the best care possible for patients with amputations.