Transformative gift is deeply personal for the Jones family
The Jones Family Foundation donates $10 million to the Campaign to Create Tomorrow and continues to shine a light on the need for kidney research and organ donations.
In the business world, just as in the world of healthcare, numbers matter. Customers served and problems resolved. Patients seen and lives saved. But numbers only tell part of the story.
That's certainly been the experience for the Jones family. Their journey with The Ottawa Hospital has involved some critical numbers: 33 — the years June Jones has lived with IgA nephropathy, a form of kidney disease; 10 — the years she's depended on lifesaving dialysis; 8 — the hours per day she's frequently connected to a dialysis machine.
But the number that matters most is 1. June needs one new kidney, and the Jones family has one fervent hope for a cure.
Like us, the Jones family knows that hope can often be found in the numbers, and they believe their transformative gift will help find a cure for kidney disease, once and for all.
That's why June and her husband Russ (Shopify's first CFO before his retirement), with their two grown children and their families, have made a $10-million donation to the Campaign to Create Tomorrow through their family foundation.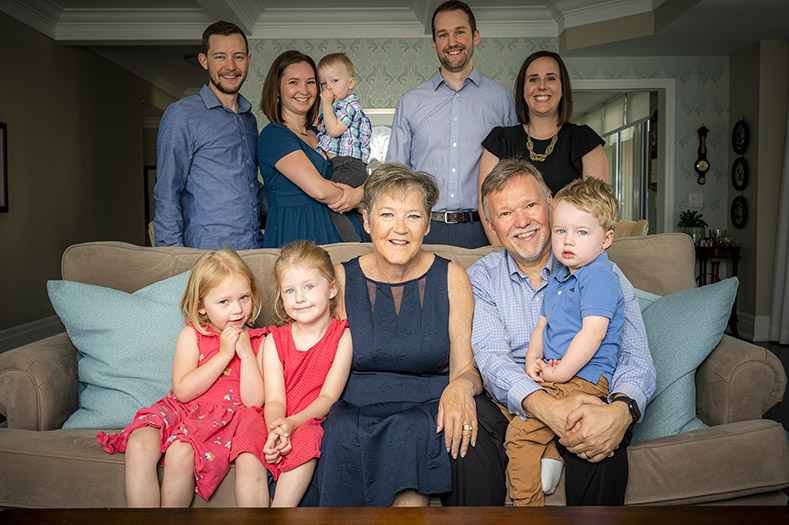 "We want to help researchers at The Ottawa Hospital have the support they need to find cures right here in our hometown."

— The Jones family
The $500-million Campaign to Create Tomorrow sets in motion a vision to transform how the world delivers healthcare — by building the most technologically advanced hospital in Canada and taking groundbreaking research and innovation to unprecedented heights.
Philanthropy is a central tenet of the Jones family philosophy. They've given generously to a multitude of charities and are longtime supporters of kidney research, both through the Kidney Foundation and here at our hospital. In fact, three laboratories at our Kidney Research Centre at the General Campus and the Hemodialysis unit at the Riverside Campus bear the Jones Family Foundation name.
Thank you, Jones family, for your ongoing transformative generosity and your unwavering belief in a brighter future. From your inspiring advocacy for organ donations to your dedicated support of healthcare, our hospital and our city will benefit from your kindness.
Hear June Jones in her own words explaining what it's like waiting for a second kidney transplant and why research is so important.
About the Campaign to Create Tomorrow
The Campaign to Create Tomorrow is the largest fundraising campaign in our region's history. It will help fulfil the most ambitious vision ever for the future of The Ottawa Hospital, focused on four critical pillars.