Local activist donor pledges $500,000 to take on cancer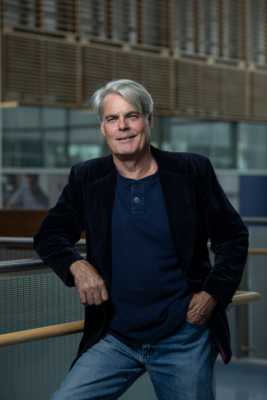 Gavin Murphy is unwavering when it comes to his desire to maintain a world-class health care system in our city. He's unwilling to settle for anything less and he doesn't think anyone in our community should either. Gavin believes each resident needs to play an active role in giving back, and that's why this self-described "activist" donor is sharing his story – a story he hopes will lead to a cure for cancer.
This New Edinburgh resident has committed $500,000 to support the Radiation Medicine Program at The Ottawa Hospital – it's what he wants his lasting legacy to be.
While the Ottawa lawyer isn't looking for public recognition, he's not shy about sharing the news of his gift as he hopes it will inspire others to do the same. "Scarce government resources requires those in a position to give significant gifts to step forward and support The Ottawa Hospital." Gavin adds, "By giving serious thought to my philanthropy, I am hoping to help improve discovery and care for our families, friends, and neighbours."
Gavin's interest in cutting-edge research is what enticed him to make this tremendous gift to Radiation Medicine Program with the hope that findings will one day be published. He's excited about the opportunities which lie ahead and the advancements that will be made.
"I want to give this money while I'm still alive. It's great that people leave money in their estates, I think that's wonderful but I want to see the fruits of my labour, in my lifetime." – Gavin Murphy
It's the fruits of his labour, which will leave his fingerprints on advancements in cancer care to help others in the future. For Gavin, that's truly exciting. "I like the idea of funding new, innovative technology. It will leave a lasting legacy and this gift is providing the building blocks for future research in this field."
Donor support is vital to providing doctors and researchers with state-of-the-art tools. It's also what allows The Ottawa Hospital to be a trailblazer when it comes to transformational advancements. Dr. Miller MacPherson, the Head of Medical Physics at The Ottawa Hospital says, "It's the generosity of donors like Gavin which allows The Ottawa Hospital to be innovative with new technologies. This support will provide insight for new discoveries and will have an impact on care through research and technology advancements in the field of cancer research."
Dr. Jason Pantarotto, Head of Radiation Oncology at The Ottawa Hospital, echoes that sentiment, noting that donations to the Radiation Medicine Program are particularly precious. "Despite radiotherapy being a key treatment for nearly 5,000 cancer patients each year in Ottawa, the amount of research dollars available to improve the science is pretty sparse. We are extremely grateful to donors, such as Gavin, who see the benefits of investing in the team and equipment that exists here at The Ottawa Hospital."
For Gavin, his ultimate goal is to help find a cure for cancer.
"This gift will provide a foundation to greater understanding of cancer and I hope it will help obliterate cancer sometime down the road."- Gavin Murphy
The reality is The Ottawa Hospital will touch each person in our community in some way. For Gavin, that's a good reason for not only himself but also for others to step forward. "If people want to be well looked after in a world-class system, we have to ensure a world-class system is maintained."
The way Gavin sees it, we'll all need The Ottawa Hospital at some point, and there's a way for each person in our community to support it. "You need people who are in the position to give, and those who can give smaller amounts, in greater numbers to support the hospital equally."
Download Pulse podcast to hear Gavin's message to the community about why future support is critically important.


---
The Ottawa Hospital is a leading academic health, research, and learning hospital proudly affiliated with the University of Ottawa.